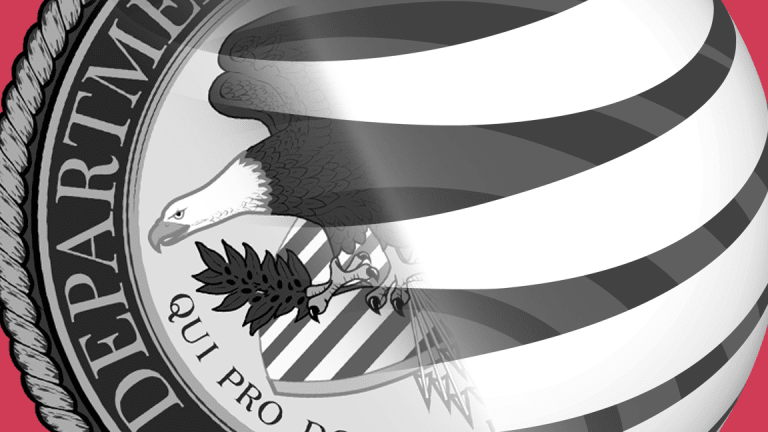 AT&T-DOJ Closing Arguments Cheat Sheet for Monday
Six weeks in Judge Richard Leon's courtroom flew by, and closing arguments in the DOJ suit to block AT&T's purchase of Time Warner start Monday. If you haven't been following along, here's what you need to know for Monday's big event.
After weeks of testimony in a landmark antitrust case, AT&T (T) - Get AT&T Inc. Report , Time Warner (TWX) and the Department of Justice have one last chance to sway Judge Richard Leon when they present closing arguments on Monday.
Justice argues that AT&T will use Time Warner's content to harm rivals to its DirecTV satellite television service. The government says the telecom will use the threat of blackouts to coerce companies such as Dish Network Corp. (DISH) or Charter Communications (CHTR) - Get Charter Communications Inc. Report to pay higher rates, which will force cable bills to rise $571 million in 2021. 
AT&T Chairman and CEO Randall Stephenson says the merger will let the company sell targeted ads on Time Warner's Turner Networks, and to sell more expensive, targeted ads akin to Facebook (FB) - Get Meta Platforms Inc. Report and Alphabet's (GOOGL) - Get Alphabet Inc. Report Google. As advertisers pay more, AT&T and Time Warner argue, the merger partners will be able to lower consumers' pay-TV bills.
Here are some of the key people, buzzwords and numbers at the center of the battle.
Carl Shapiro 
University of California Berkeley economist Carl Shapiro created a financial model supporting the government's case, and both sides will focus on his projections. Shapiro's work provides the backbone for lead Justice litigator Craig Conrath's case, who successfully opposed the merger of Aetna (AET) and Humana (HUM) - Get Humana Inc. Report . Meanwhile, defense attorney Dan Petrocelli, who made his name representing the family of Ron Goldman in the civil case against O.J. Simpson, will try to discredit Shapiro's theories. 
Lifetime Value 
AT&T and Time Warner argue that Shapiro used an outdated figure for the lifetime value of DirecTV customers. Lifetime value equals the expected length of the contract times the profit margin minus the cost of acquiring a customer. The higher the value, theoretically, the greater incentive AT&T has to use Time Warner's content to drive subscribers to DirecTV. AT&T and Time Warner argue that when they plug the lower numbers into Shapiro's model, the government's damages disappear. 
12% 
Government witness MIT Sloan School of Management professor John Hauser calculates that a pay-TV carrier would lose 12% of its subscribers to rival operators if Turner's networks permanently stopped providing programming from CNN, TNT, TBS and other networks. Hauser suggested an 8% subscriber loss if the Turner networks went dark for just one month. Time Warner Chairman and CEO Jeff Bewkes, and other witnesses for the defense, scoffed at the number, suggesting the real losses would be much lower.
MVPDs
Multichannel video programming distributor, or MVPD, is industry lingo for traditional cable and satellite TV providers such as Dish, Charter and Cox Communications Inc. As AT&T jacks up prices for MVPDs, Justice argues, consumers will have to pay higher prices.
V-MVPDs
The government suggests that virtual MVPDs, such as Google's YouTube TV and Dish's Sling TV, will also suffer. AT&T and NBC-parent Comcast (CMCSA) - Get Comcast Corporation Class A Common Stock Report will collude to deprive online video providers such as YouTube TV and Dish Network's (DISH) - Get DISH Network Corporation Report Sling TV with programming, the government argues.
Elimination of double marginalization
This mouthful is central to the merger partners' defense. AT&T's DirecTV and Time Warner each generate a profit margin by selling video. The merger would result in "the combination of each company's profit margin into one," pleadings by the defense state. And "will immediately result in the merged firm charging lower consumer prices."
Baseball-style arbitration
AT&T's DirecTV unit has proposed "baseball-style" arbitration, so called because Major League Baseball uses the approach to resolve contract disputes, to address the government's concerns that it will raise prices. In baseball arbitration, each side puts forward their final offer. Unlike traditional arbitration in which the arbiter can split the difference, the arbitrator picks one deal or the other. The system theoretically motivates the bidders to start with reasonable offers. If a pay-TV company took AT&T to arbitration, the company would pledge not to black out Turner's networks. 
Vertical integration
The merger of AT&T and Time Warner would combine film and television production and distribution, akin to Comcast's purchase of NBC in 2011. AT&T argues that Netflix Inc. (NFLX) and Amazon.com Inc. (AMZN) - Get Amazon.com Inc. Report , which are generally considered to be beneficial to consumers, are also vertically integrated companies. The online video powers produce their own content, and they have distribution platforms that provide them with direct links to customers--and more importantly to customer data. AT&T says that it can pair data from its wireless and pay-TV networks to more effectively compete with Netflix, Amazon, Google and Facebook. 
Vertical disintegration
Defense witness University of Chicago professor Dennis Carlton testified that M&A trends show that vertical media groups are likely to break up--undercutting the government's argument that combining content production and distribution creates excessive negotiating leverage. While Comcast still owns NBC, Carlton noted that News Corp. (NWS) - Get News Corporation Report spun off its controlling stake in DirecTV (later purchased by AT&T) and Time Warner divested its holdings in Time Warner Cable.
Jim Cramer and the AAP team hold positions in Facebook, Alphabet, Comcast and Amazon for their Action Alerts PLUS Charitable Trust Portfolio. Want to be alerted before Cramer buys or sells FB, GOOGL, CMCSA or GOOGL? Learn more now.
Editor's note: This article was first published by The Deal, a sister publication of TheStreet that offers sophisticated insight and analysis on all types of deals, from inception to integration. Click here for a free trial.