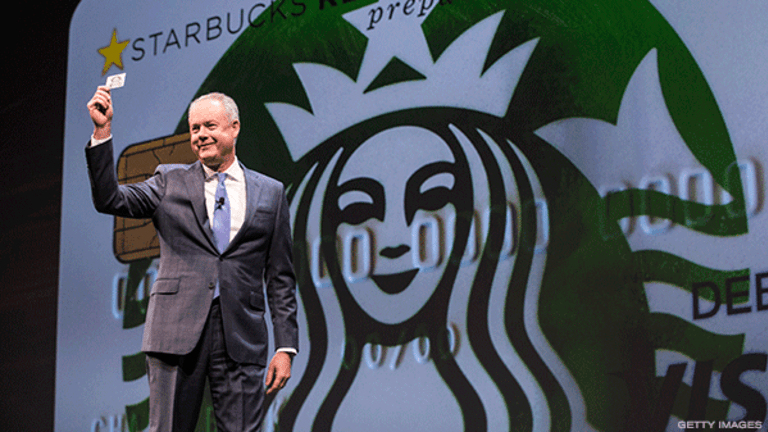 Publish date:
At Starbucks, Swan Song for Schultz, and What's Next for the Company
COO Kevin Johnson will replace longtime CEO Howard Schultz, who will remain with the coffee giant as its executive chairman.
COO Kevin Johnson will replace longtime CEO Howard Schultz, who will remain with the coffee giant as its executive chairman.
At Starbucks' (SBUX) - Get Report last annual meeting under longtime CEO Howard Schultz, the coffee giant unveiled plans to open 12,000 new stores by fiscal 2021 and improve its technology and food offerings.
"For his skill, his leadership, and above all, his love for the company, I am proud to call Kevin Johnson the next CEO of Starbucks," Schultz, who'll remain as executive chairman, said Wednesday during an annual shareholders' meeting of his successor, the company's current COO. "He is perfectly positioned to lead our brand into the future together...And yet, we are still in the early stages of growth, as we strive to meet our highest growth aspirations for the company."
Johnson, who officially takes the reins April 3, told shareholders that Starbucks is looking to expand its Roastery concept, with locations opening in Shanghai this year and in New York, Milan and Tokyo in 2018. Milan is a longtime dream of Schultz's; he was inspired by its coffee culture from the beginning of his career at Starbucks. All told, Starbucks may open "20-30 Roasteries globally over time." Roastery has provided "a foundation for the company's coffee innovation pipeline," piloting new offerings companywide, like the Cascara and Smoked Butterscotch Lattes.
Starbucks also unveiled expanded lunch options, the Mercato line of salads and sandwiches made daily. (Leftover products will be donated to Starbucks' FoodShare partnership with Feeding America.) The company has grown its food business 50% since 2013 and plans to double it by 2021, with "strong growth" in lunch products. Mercato will launch at 100 Starbucks locations in Chicago on April 11, before expanding to other U.S. markets.
Starbucks has been a victim of its own mobile-ordering success, losing traffic due to long lines. Among the tech improvements outlined to shareholders by chief technology officer Gerri Martin-Flickinger, are the launch this year of voice-ordering capabilities on Amazon's (AMZN) - Get Report Alexa. Ford (FORD) - Get Report drivers can also order Starbucks products directly from their cars, as the manufacturer is collaborating with Amazon to integrate Alexa in its vehicles.
Microsoft (MSFT) - Get Report CEO Satya Nadella joined Starbucks' board this year, and the partnership between the two companies appears to have paid off. Microsoft Outlook users can gift beverages to friends, and next month, a similar capability will be unveiled on Apple's (AAPL) - Get Report Messages app with Apple Pay. A similar social gifting product in China, on messaging service WeChat, has handled more than 1 million transactions since it launched in the Starbucks' new Chinese market last month.
Starbucks is also expanding its own proprietary chatbot, the My Starbucks barista, which is available to more than 100,000 customers in the United States. Touting the personalization improvements in the Starbucks Rewards program, the company said total spend is up 20% year over year among its 13 million members.
In addition, Starbucks has big plans for hiring candidates from various demographics.
For instance, Schultz announced in January that the company will hire 10,000 refugees. Even though the plan was met with public outcry against it—those critics argued that Starbucks should focus on hiring Americans—the company is doubling down on efforts to locate potential employees. To find them, it will join the United Nations High Commissioner for Refugees' #WithRefugees campaign and the Tent Partnership for Refugees, the company said.
Starbucks had countered the anti-refugee criticism saying it has already met its goal, set in 2013, to hire 10,000 veterans and military spouses by 2018 and added that it's increased those numbers to 25,000 hires by 2025. It also said that it has introduced a range of "programs and relationships" to "help us bridge the civilian-military divide and enable veterans to serve in their communities." Additionally, through 2022, Starbucks is opening another 100 Military Family Stores, up from 32, near major military bases and staffed by veterans and spouses.
Another hiring program zeroes in on younger workers. That includes hiring an extra 40,000 such employees, ahead of its goal of 10,000 through 2018; it hopes to add another 60,000 by 2020.
On the board front, besides Nadella, newly elected Starbucks board members include former Sam's Club CEO Rosalind Brewer and former Lego CEO Jorgen Vig Knudstorp. Longtime director James Shennan Jr., a venture capitalist, left the board after reaching its mandatory retirement age.
Since its IPO 25 years ago, Starbucks said in a statement, it's achieved 18,000% shareholder returns, with $10 billion in cash returned to shareholders over the past five years alone.
Apple and Starbucks are holdings in Jim Cramer's Action Alerts PLUS Charitable Trust Portfolio. Want to be alerted before Cramer buys or sells AAPL and SBUX? Learn more now.