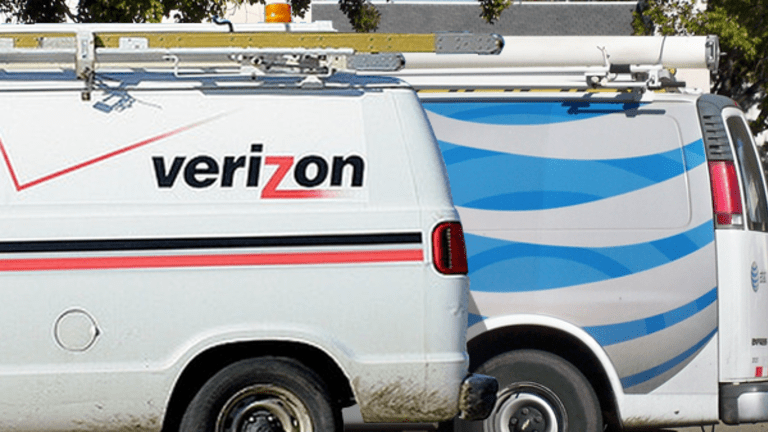 AT&T, Verizon to Report on the Wireless Industry's Q2 Pain
What to listen for as AT&T's Randall Stephenson and Verizon's Lowell McAdam run down second-quarter results this week.
AT&T (T) - Get AT&T Inc. Report and Verizon (VZ) - Get Verizon Communications Inc. Report  will tell investors just how much pain industry-wide unlimited plans are inflicting, when the telecoms report second-quarter earnings in the coming days.
AT&T Chairman and CEO Randall Stephenson will discuss unlimited plans, the outlook for the telecom's $85.4 billion purchase of Time Warner Inc. (TWX) and other topics after the market close on Tuesday. 
Wall Street expects AT&T to report 73 cents per share in the second quarter from $39.79 billion in sales, a drop of 2% from the carrier's $40.52 billion top line in the same period a year ago. Analysts polled by FactSet expect AT&T to post 1.056 million net customer additions. Also expect details on new customers for AT&T's DirecTV Now online streaming service.
Shares of AT&T Inc. were essentially flat ahead of the report on Tuesday, trading at $36.25 each. Shares are down 15% for the year.
Stephenson has been a vocal critic of the Obama FCC's decision to regulate broadband with rules created for traditional phone service, and will likely address Commission Chairman Ajit Pai's plans to roll back regulations. 
AT&T has reportedly opened talks with the Department of Justice about the acquisition. The FCC's Pai has said the Commission will not review the deal.
Even though questions remain about whether the Trump administration will clear the telecom's purchase of Time Warner, markets are buzzing about whether Stephenson will remain CEO after the deal and whether AT&T will keep the Time Warner brand.
Verizon CEO Lowell McAdam is likely tired of questions about mergers and acquisitions, but that does not mean they will stop when the telecom reports earnings before the market open on Thursday. 
As the telecom closed the $4.48 billion purchase of Yahoo! in the second quarter, speculation has swirled that Verizon would buy everything from Time Inc. (TIME) to Walt Disney Co. (DIS) - Get Walt Disney Company Report and Charter Communications Inc. (CHTR) - Get Charter Communications, Inc. Class A Report .
Verizon Communications Inc. stock gained 0.6% to $43.97 on Tuesday. Shares are down 18% for the year.
Analysts expect Verizon to earn 96 cents in the second quarter, as revenues drop from $30.53 billion to a forecast $29.86 billion. As Verizon's unlimited plans kick in, Wall Street projects that the company will rebound from a loss of 324,000 net subscribers last quarter with a gain of 171,000 net subscribers in the second quarter, according to FactSet.
The second quarter marks Verizon's first full reporting period with its new unlimited plan, launched in February. Wells Fargo Securities LLC analyst Jennifer Fritzsche suggested that the offering may cannibalize Verizon's other wireless plans. "Some consultants we have spoken with indicate as much of 80% of [Verizon]'s unlimited sub base has come from existing customers," Fritzsche wrote in an earnings preview. 
McAdam likes to talk up 5g wireless networks, and will probably update investors on trials for the next generation of mobile broadband service. Verizon gained spectrum for 5g when it outbid AT&T with its $3.1 billion purchase of Straight Path Communications Inc. (STRP) in the second quarter.
Don't miss these top stories on TheStreet:
Advanced Micro Devices Could Explode Another 17% Within Hours: Chart
A Stock Analyst Thinks Apple's iPhone 8 Release Will Resemble a Snake Eating a Pig
Starbucks Has an Alarming Problem That Even Its Fans Must Admit Has to Be Fixed -- and Soon!
Micron Technology: What Today's Sloppy Drop in MU Means for Nervous Investors