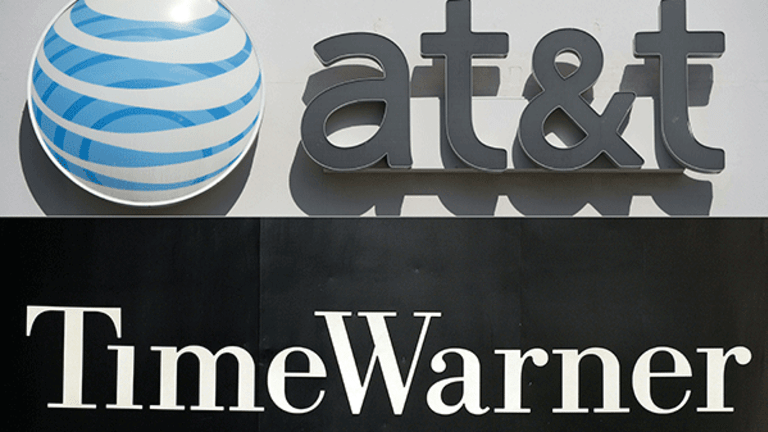 AT&T Awaiting Justice Department Details for Time Warner Deal
AT&T senior executive VP Bob Quinn said the company is still unsure what final conditions may be needed as part of the approval process.
The Justice Department is continuing its review of the $85.4 billion acquisition of Time Warner Inc. (TWX) by telecom company AT&T (T) - Get Report , with AT&T still awaiting details about any final requirements to get the deal done, Reuters reports.
Speaking with C-SPAN this week AT&T senior executive VP for external and legislative affairs Bob Quinn said the company is still unsure what final conditions may be needed as part of the approval process.
"That conversation is just beginning really. We've gotten through the point where we're produced all the data and answered all the questions and I think that process will kick off this summer," Quinn said, according to Reuters.
AT&T's shares were up 0.1% to $38.17 on Thursday afternoon.
What's Hot On TheStreet
Tesla still doesn't deserve it valuation: Tesla (TSLA) - Get Report fanboys have just gained their daily pound of flesh. The electric car company has reportedly reached a deal with officials in China to open a production facility in the world's biggest clean-energy car market. The deal would likely allow it to form a joint-venture with a China-based partner and avoid the 25% tariff applied to imported vehicles. The move would also substantially cut shipping and production costs when compared to Tesla's facility in Nevada, TheStreet's Martin Baccardax reports.
Tesla is now valued at an insane $61 billion...and counting.
What was this Kroger exec drinking: Maybe this Kroger (KR) - Get Report fella has been up too late studying the aftershocks of Amazon's (AMZN) - Get Report big deal for Whole Foods (WFM) . "I'm glad their stores are finally open," Kroger CFO Michael Schlotman said about German rival Lidl at Oppenheimer's Consumer Conference Wednesday. Schlotman said he is excited, in fact he feels "great about it," to finally start seeing if the preparations Kroger put in place to compete with Lidl will stand the heat. TheStreet's Lindsay Rittenhousewas all over this bizarre exchange.
Having your profit margins crushed by a ruthless German grocer shouldn't be exciting, Kroger.
Don't forget about Intel: Advanced Micro Devices (AMD) - Get Reportmay beatIntel Corp. (INTC) - Get Reportto selling the fastest computer chip this year, but the technology giant is working on other projects that are pushing the limits.
From artificial intelligence to drones, Intel is working to connect everything to the internet to collect data that can be used to improve safety, efficiency and lifestyles. Whether it is helping athletes perform better or making cars autonomous, Intel's technology is working to transform multiple industries. Here's 11 cool projects Intel is working on that investors seem to have forgotten about.
Visit here for the latest business headlines.