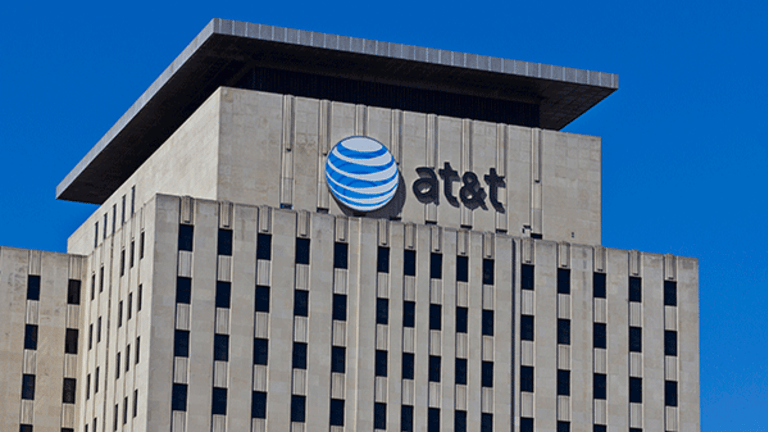 AT&T's Telecom Woes Led It to Make a Questionable Deal for Time Warner
Wireless competition, landline disconnections and cord-cutting are all taking a toll on AT&T. Time Warner is in better shape, but perhaps only for the near term.
For a while, AT&T (T) - Get AT&T Inc. Report used large stock buybacks and conservative capital spending to prop up its earnings and free cash flow per share to offset the impact of stiff wireless competition and plummeting wireline voice revenue. But starting with last year's $49 billion DirecTV purchase and now continuing with its $85.4 billion deal to buy Time Warner (TWX) , Ma Bell has decided its best bet to lower the impact of telecom sales pressures is to make giant acquisitions involving companies in adjacent pay-TV and media markets.
But those adjacent markets have their own long-term issues. And even after accounting for the acquisitions and various synergies they provide, telecom headwinds are likely to remain a big problem.
A look at AT&T's third-quarter results, released in tandem with news of the Time Warner deal, helps explain why the company is so intent on cutting its telecom dependence. Business Solutions revenue, which covers mobile and wireline services provided to businesses, rose just 0.4% annually to $17.8 billion, while Consumer Mobility revenue fell 5.9% to $8.3 billion. Entertainment Group revenue, which covers pay-TV and consumer broadband services, saw revenue rise due to the closing of the DirecTV deal in the year-ago quarter.
Subscriber losses were widespread. Mobile postpaid phone subscribers fell by 268,000 sequentially to 65.3 million, and were down by over 1.4 million relative to the year-ago period. AT&T also lost 315,000 mobile reseller subs relative to Q2. Business wireline voice connections fell by 280,000 sequentially to 8.65 million, and business wireline broadband connections fell by 18,000 1.44 million.
In the Entertainment Group, pay-TV and broadband subs respectively fell by 3,000 and 5,000 sequentially to 25.3 million and 14.2 million, and wireline voice connections fell by 282,000 to 11.5 million. Larger pay-TV and broadband losses were recorded in Q2.
There are admittedly some bright spots -- 1.3 million mobile "connected devices" were added in Q3, as were 304,000 prepaid phone subs (generally less lucrative than postpaid subs). But subscriber losses are clearly widespread, thanks to competitive threats and secular trends that aren't going away anytime soon and in some cases could intensify.
In wireless, smartphone penetration rates are now quite high, and T-Mobile (TMUS) - Get T-Mobile US, Inc. Reportand to a lesser extent Sprint (S) - Get SentinelOne, Inc. Class A Reportare peeling away consumer subs from AT&T and Verizon (VZ) - Get Verizon Communications Inc. Report with aggressive pricing and promotions. Just today, T-Mobile reported it added 851,000 branded postpaid and 684,000 prepaid phone subs in Q3. While AT&T and Verizon's superior networks are enough to keep many businesses and high-income consumers loyal, more cost-sensitive consumers are increasingly deeming T-Mobile and Sprint good enough to switch.
On the wireline front, consumers and businesses continue disconnecting landlines at a rapid pace in favor of relying solely on mobile and perhaps VoIP services. VoIP is also taking a toll on long-distance voice revenue, and cable providers continue to present tough broadband competition.
Then, of course, there's cord-cutting, which is a big problem for both DirecTV and AT&T's U-verse TV business. And looking further down the line, 5G and other wireless broadband technologies stand to provide serious competition to telco and cable ISPs that have duopoly-like positions in many big U.S. markets. Google Fiber, for example, now appears to be pinning its broadband hopes on fixed wireless networks, after having made limited headway with its last-mile fiber efforts.
In some respects, buying Time Warner could lower the impact of the aforementioned pressures. Whether it's distributed via pay-TV or online streaming services, there will still be a market for quality content. And Time Warner, as the parent of HBO, Warner Bros. and Turner Broadcasting, has quite a lot of it.
Having Time Warner in its fold could also lower AT&T's pay-TV content costs a bit and provide opportunities to bundle the media giant's content with mobile and broadband subscriptions. In addition, AT&T might be able to use its customer data to deliver more effective ads to viewers of Time Warner's material.
But it's hard to overlook how Time Warner also remains vulnerable to cord-cutting. While HBO might offset cord-cutting's impact by selling subscriptions to its standalone HBO Now service, other Time Warner TV networks such as CNN, TBS, TNT and The Cartoon Network will have a harder time doing anything similar. On top of that, Turner has tens of billions of dollars worth of obligations related to broadcast deals with the MLB, NBA, NCAA and other sports rights owners. Cord-cutting could make it harder and harder to recoup the costs of those deals.
It's also very debatable just how much Time Warner's content will prop up AT&T's mobile and broadband businesses. To date, Verizon's video content investments appear to have done little to strengthen its mobile business, and Comcast's (CMCSA) - Get Comcast Corporation Class A Report ownership of NBCUniversal has been of little value to its broadband business.
Unless AT&T is willing to heavily discount or give away Time Warner's most popular content, or unless it's willing to restrict access to Time Warner content to third parties (quite unlikely, given Time Warner's entire business model requires broad distribution), Time Warner's assets might not do much to keep customers loyal when they're offered substantially cheaper and/or faster services from rivals.
In some ways, acquiring Time Warner buys AT&T some time (figuratively, but not literally). Thanks to the popularity and reach of its content, Time Warner will probably have less trouble maintaining positive sales growth in the near-term than AT&T's core businesses. But unless cord-cutting slows down, it might be just a matter of time before AT&T has another declining business on its hands.