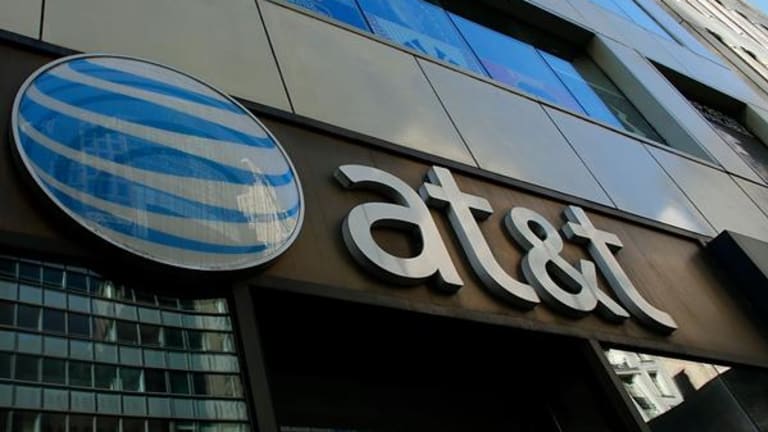 AT&T Meets Earnings Forecasts, Hails Time Warner Purchase and Trump Policies
Chairman and CEO Stephenson says tax and regulatory reforms will spur investment.
Updated from 6:50 p.m. with additional information.
As
AT&T
(T) - Get Free Report
matched forecasts for fourth-quarter earnings on Wednesday, Chairman and CEO Randall Stephenson told investors that policy changes by the Trump administration, the telecom's pending purchase of
Time Warner
(TWX)
and the launch of the DirecTV Now video streaming service would benefit the company in the coming year.
Stephenson discussed his Jan. 12 meeting with then-President-elect Trump. "I was impressed," Stephenson said. "I was meeting with a CEO. It was obvious."
The Dallas telecom and pay-TV conglomerate earned 66 cents per share, in line with the consensus according to FactSet. Shares were rising 0.17% to $41.46 in after-hours trading on Thursday.
Revenues slid from $42.1 billion a year ago to $41.8 billion, slightly below the target of $42 billion. T-Mobile USA (TMUS) - Get Free Report and Sprint (S) - Get Free Report have aggressively targeted AT&T and Verizon (VZ) - Get Free Report , which reported declining wireless revenues on Tuesday.
T-Mobile USA CEO John Legere took a shot at AT&T on Twitter after the report.
Stephenson suggested that Trump's tax reforms would help AT&T and the economy.
"If we want to get off this 1% to 2% [economic] growth plane, there is nothing that will trigger that like tax reform," he said.
A lower tax rate would spur investment by businesses, he said. "If you saw tax rates move to 20% to 25%, we know what we would do," Stephenson said. "We would step up our investment level."
Likewise, the AT&T boss said appointment of Ajit Pai as FCC Chairman would streamline telecom regulation and spur investment. It "will be very, very helpful to clear the underbrush of regulation, bring clarity and some level of predictability to the regulatory environment," he said.
AT&T management suggested that its purchase of Time Warner would win regulatory clearance, even though Trump has said the deal would concentrate too much media clout within one company. "We remain confident that the deal will be approved later this year," CEO John Stephens said.
Meanwhile, AT&T touted the success of its DirecTV Now streaming service, which launched on Nov. 30. The service has gained of more than 200,000 video subscribers in the fourth quarter "entirely driven" by DirecTV Now.
An introductory offer of 100 channels for $35 per month, which ended in January, likely boosted subscriptions to the streaming service. The promotion comes with a cost, however. Over the lifetime of their contract, Craig Moffett of MoffettNathanson projects, AT&T will actually lose $355 on the average subscriber who signed up for the introductory rate.