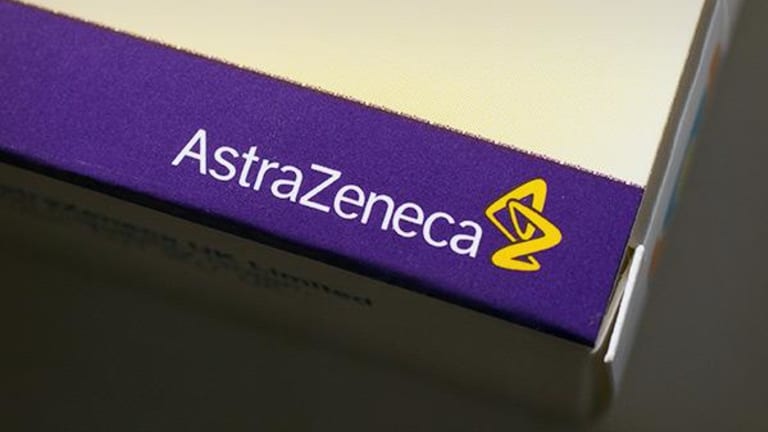 Correction: Tesaro's PARP inhibitor niraparib demonstrated a median PFS of 21 months in recently presented clinical trial, not 25 months as a previous version of this story stated. The story below has been updated and corrected. 
AstraZeneca's (AZN) - Get Astrazeneca PLC Sponsored ADR Report PARP inhibitor Lynparza delayed the recurrence of ovarian cancer by more than two years compared to a placebo, according to results from a phase III study presented Tuesday.
The strong benefit observed with Lynparza as ovarian cancer maintenance therapy exceeded investor expectations and bolsters AstraZeneca against a competing PARP inhibitor from Tesaro (TSRO) - Get TESARO, Inc. Report .
The new Lynparza study results are also likely to impact the way investors view the market value of Clovis Oncology (CLVS) - Get Clovis Oncology, Inc. Report and its recently approved PARP inhibitor Rubraca.
Tesaro shares were down 14% to $148.50 in reaction to the Lynparza study results. Clovis was up 12% to $67.67. AstraZeneca rose 1% to $30.38.
AstraZeneca, in the phase III study known as SOLO-2, enrolled 295 women with ovarian cancer containing a mutation to a tumor suppressor gene known as BRCA. All the women entered the study having achieved a complete or partial tumor response to platinum-based chemotherapy. The women were then randomized to receive Lynparza tablets or a placebo as maintenance therapy and followed to determine the length of time before their cancer started to grow again.
The results: Treatment with Lynparza reduced the risk of ovarian cancer tumor progression by 75% compared to placebo, according to a blinded and independent review of the patient scans.
At the median, the ovarian cancer patients treated with Lynparza went 30 months before their tumors started to grow again compared to 5.5 months for placebo-treated patients -- a benefit of just over two years.
"The magnitude of this benefit for patients is really quite impressive," said Dr. Richard Penson, associate professor of medicine at Harvard Medical School and an investigator in the Lynparza clinical trial. Penson spoke by phone about the Lynparza study results Tuesday in advance of a presentation at the Society of Gynecologic Oncology annual meeting being held in National Harbor, Maryland.
The most serious adverse events reported by Lynparza patients were anemia (19.5%) and neutropenia (5%.) Mild thrombocytopenia was reported by 14% of Lynparza patients with 1% of the cases considered serious. Eleven percent of Lynparza patients dropped out of the study due to side effects.
Last fall, Tesaro presented results from a clinical trial assessing its PARP inhibitor niraparib as an ovarian cancer maintenance therapy. In that study, known as NOVA, among the women with tumors containing mutations to the BRCA gene, niraparib reduced the risk of tumor progression by 73% compared to placebo.
At the median, niraparib delayed tumor progression by 21 months compared to 5.5 months for placebo -- a difference of 15.5 months. The most widely reported serious adverse event was a 34% rate of serious thrombocytopenia.
The AstraZeneca and Tesaro clinical trials were not identical, complicating the comparisons investors are wont to make between the competing PARP inhibitors. From an eyeball's perspective, however, AstraZeneca's Lynparza appears to be equally effective, if not a tad more potent, than Tesaro's niraparib in the slice of patients with BRCA-mutated ovarian cancer.
Heading into Tuesday's Lynparza data, Tesaro's enterprise value had grown to almost $8.5 billion on the view that niraparib could have the broadest efficacy among all the competing PARP inhibitors. Tesaro's stock price has soared on speculation the company could be a prime acquisition candidate for a larger drug or biotech company seeking a PARP inhibitor for their oncology portfolio.
If the PARP inhibitors are more similar than investors had previously anticipated, Clovis Oncology, with an enterprise value of just $2.7 billion, might benefit the most.
PARP inhibitors are pills which work by blocking an enzyme, poly (ADP-ribose) polymerase, that cancer cells use to repair their DNA after being damaged by chemotherapy. Mutations in the BRCA gene are correlated with a higher risk for breast and ovarian cancers. But BRCA mutations also inhibit DNA repair, which is why PARP inhibitors are thought to work better in these types of tumors.
Lynparza is already approved in the U.S. as a treatment for ovarian cancer patients with BRCA mutant tumors no longer responsive to three or more prior therapies. In Europe, Lynparza is approved as a second-line maintenance therapy for ovarian cancer patients with BRCA mutated tumors.
AstraZeneca's plan is to expand Lynparza's marketing label in the U.S. to include maintenance therapy for ovarian cancer, a larger commercial opportunity, based on the data from the SOLO-2 phase III study presented Tuesday. The company has not offered a timetable for when the data will be submitted to the U.S. Food and Drug Administration.
Tesaro has already submitted niraparib to the FDA with an approval decision expected on or before June 30. The company is seeking a broader ovarian cancer maintenance therapy label that includes patients with ovarian cancer that lacks the BRCA mutation.
Last December, Clovis secured FDA approval for Rubraca to treat BRCA-mutant ovarian cancer no longer responsive to two or more prior therapies.
Pfizer (PFE) - Get Pfizer Inc. Report also has a PARP inhibitor in clinical trials, acquired through the purchase of Medivation last year.
Adam Feuerstein writes regularly for TheStreet. In keeping with company editorial policy, he doesn't own or short individual stocks, although he owns stock in TheStreet. He also doesn't invest in hedge funds or other private investment partnerships. Feuerstein appreciates your feedback; click here to send him an email.