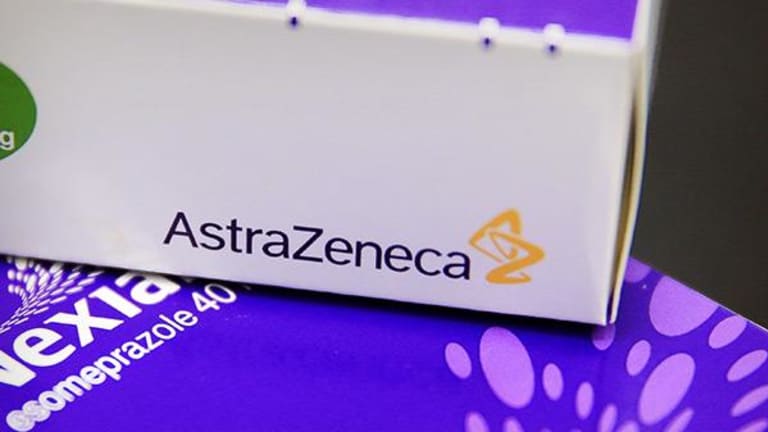 Publish date:
Astrazeneca Scores Milestone Victory in Oncology
A double victory in oncology failed to lift Astra stock, amid broad weakness in European markets
A double victory in oncology failed to lift Astra stock, amid broad weakness in European markets
AstraZeneca (AZN) - Get Report stock was treading water on Friday despite the pharma titan receiving full approval from the U.S. Food and Drug Administration for a key drug within its oncology portfolio and announcing a licensing deal over another cancer treatment.
The FDA granted Tagrisso 80mg once-daily tablets full approval for treatment of a T790M mutation-positive non-small cell lung cancer (NSCLC), after it was found superior than the one other available treatment - chemotherapy - for the condition.
Tagrisso is one of six drugs that could make or break Astra's oncology portfolio and with it, expectations for the Anglo-Swedish pharma giant's top line over the coming years. Other pipeline projects include Mystic, durvalumab, Acalabrutinib, Lynparza and ZS-9.
"As a reminder the AstraZeneca turnaround story largely hinges on what happens to its oncology portfolio," said Alistair Campbell, an analyst at Berenberg, in a recent note.
AstraZeneca stock broke even in London during early trading, with bids and offers accepted either side of 4,925 pence, leaving its three-month gain unchanged at 11.41%.
Oncology is the cornerstone of AstraZeneca's attempt to move on from a series of key patent expirations that have been a source of concern for investors in recent years. The latest patent to go was for Crestor, a blockbuster statin drug, which saw more than $5 billion of sales put at risk from generic competition.
But Campbell and his team at Berenberg have estimated that lung cancer treatments alone could add $2.5 billion to Astra's revenue before 2023, and the overall oncology pipeline could add a total of $10 billion.
Also on Friday, AstraZeneca said it expects to collect a $250 million payment from Iowa-based TerSera Therapeutics LLC after agreeing a deal that gives it the commercial rights for breast cancer drug Zoladex in the U.S. and Canada.
Back in February, Astrazeneca said that its Lynparza breast cancer drug fared well in clinical trials, showing meaningful improvement in survival for patients with germline BRCA mutated breast cancer.
That announcement came just a day after the FDA granted approval for Siliq, a psoriasis treatment, which triggered a $130 million payment from development partner Valeant Pharmaceuticals (VRX) .