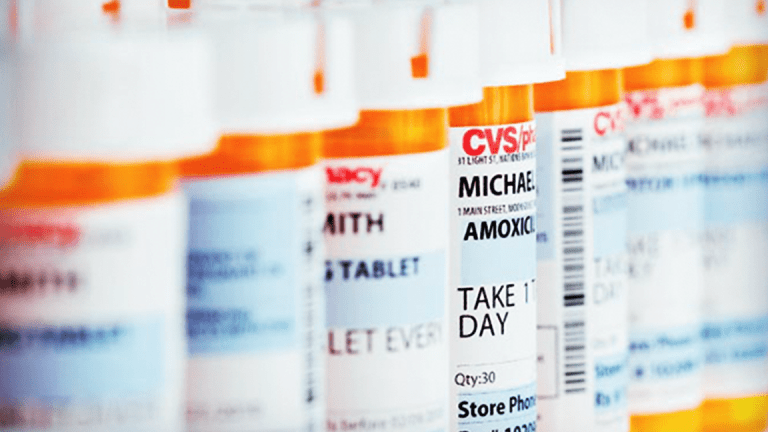 AstraZeneca Stock Gains as Crestor Sales Decline Slows
Sales in China picked up as decline in Crestor revenue slowed.
Sales in China picked up as decline in Crestor revenue slowed.
AstraZeneca (AZN) - Get Report  leaped to near the top of the London market Thursday after it reported improved sales performance in the third quarter and brightened its full-year outlook.
AstraZeneca shares were up 2.35% in the first half hour of trading, changing hands at 5,110.50 pence, extending a three-month rise of 11.4%.
The pharmaceutical company said that it now anticipate 2017 core earnings per share to be the "favourable end of the guidance range of a low to mid teens percentage decline," after its decline in sales of its older drugs slowed. Revenue is expected to have a low to mid single-digit percentage decline.
The company also said that the raft of news flow and approvals, including the positive developments for Tagrisso and Imfinzi in lung cancer and benralizumab and tezepelumab in asthma offset the disappointment of the first readout from the MYSTIC trial.
Meanwhile, the Accelerated Approval for Calquence in the treatment of an aggressive form of blood cancer was hailed as an important milestone for a medicine that will be the cornerstone of the company's presence in blood cancers.
"This impressive momentum is set to continue with regulatory and data milestones that have the potential to show how our science-led strategy and pipeline-driven transformation are delivering for patients and shareholders," CEO Pascal Soriot said in a statement.
This however did not do much for the company's core earnings per share, which fell 15% in the quarter to $1.12.
AstraZeneca reported revenue of $6.232 billion in the third quarter, a 9% increase on last year. This was due to the falling impact of losing patents on some of its most profitable drugs, including Crestor. Product sales were down 3% in the quarter, compared with 11% over the first half.
In the U.S. sales were down 23% due to the impact of the loss of exclusivity of Crestor. Asthma medication Symbicort saw sales in the region decline by 15%. However, sales in emerging markets were a bright spot, increasing 5%, with sales in China up 12% in the quarter.
"Our financial performance in the quarter was in line with expectations, reflecting good commercial execution, including strong growth in Emerging Markets with standout sales in China," Soriot said.
More of What's Trending on TheStreet: