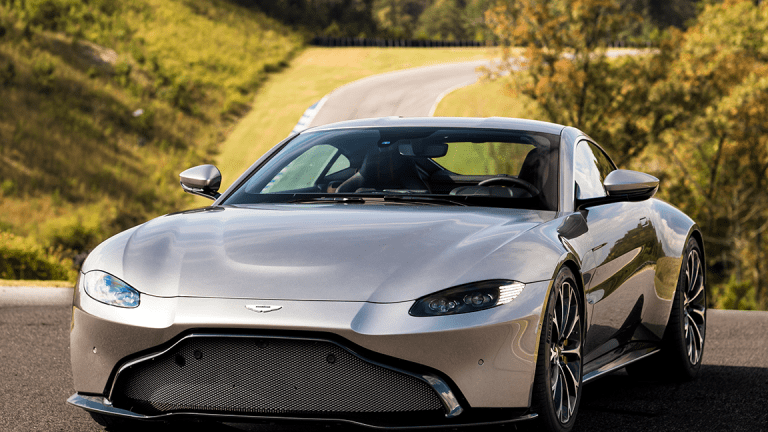 Aston Martin Flies Into the Future With Autonomous Aircraft
Aston Martin's Volante Vision Concept looks to put autonomous luxury aircraft in the sky.
Aston Martin isn't limping into the sunset with old and boring technology. No, instead the luxury automaker is roaring ahead like many industry observers may not have expected.
The move toward electrification wasn't a surprise. Bentley CEO Mark Del Rosso told us that much earlier this year at the Detroit Auto Show. Since then, other high-end luxury automakers like Rolls Royce, Lamborghini and Ferrari have announced plans for all-electric and/or hybrid vehicles going forward.
Aston Martin joined the pack just a few months ago and now it's taking an even larger step. Only this move doesn't involve a four-wheeled luxury automobile, it involves a three-person aircraft. Previewed at the Farnborough Airshow in France, Aston Martin's Volante Vision Concept officially has life. 
The vehicle is designed for vertical take-off and landing (VTOL) and will be autonomous. It's meant to act as a "congestion-free luxury travel" solution, according to the company.
If an autonomous VTOL concept sounds familiar, it's because we've seen it before -- and it's not as ridiculous as it may seem. In fact, Uber is working on such an approach. It's teaming up with the the U.S. military and NASA, and plans to test the vehicles in cities like Los Angeles and Dallas around 2020. Commercial flights are expected to begin in 2023.
An autonomous aerial taxi service makes great sense -- particularly if you've ever tried to go even just a few miles in LA during rush hour. Of course, Aston Martin's version would be far more luxurious than its competition and thus, far more costly. 
For the first time since 2008, Aston Martin eclipsed the 5,000 mark in vehicle sales, selling 5,117 units in 2017. So clearly Aston is in the quality over quantity game -- but that probably doesn't need to be said.
However, the automaker's latest luxury move shows that it doesn't plan on missing out in the future of transportation. Within a span of just a few months, we now have the Volante Vision Concept and the re-energized Lagonda lineup; and Aston plans to include an electric coupe and SUV with autonomous driving capabilities.
This article is commentary by an independent contributor. At the time of publication, the author had no positions in the stocks mentioned.