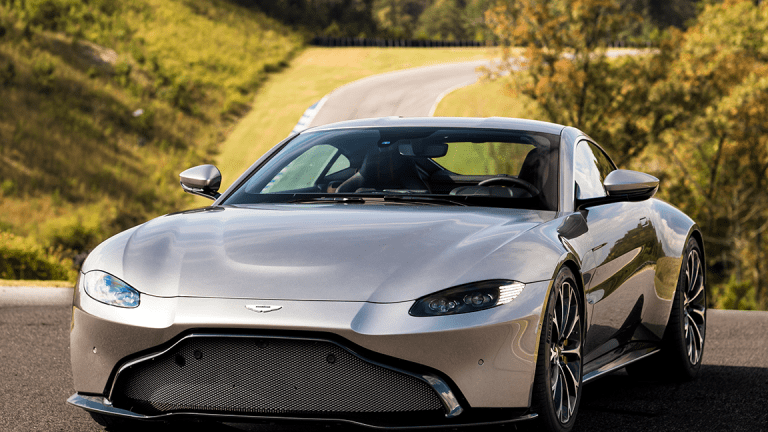 When consumers think of electric cars, Tesla Inc.  (TSLA) - Get Tesla Inc Report is one of the first names that come to mind. 
But with Mercedes-Benz, Audi, BMW and others entering the race, the demand for luxury electric vehicles is clearly building. But they're not the only ones entering the race. 
Earlier this year, I was lucky enough to speak with Bentley CEO Mark Del Rosso for a few minutes. He explained that, government mandated or not, customers want hybrid and electric options. That's exactly why Bentley has started to go in this direction, offering its Bentayga SUV plug-in hybrid option this year, with its signature Continental GT following soon after.
Simply put, high-end shoppers want an electric or hybrid option without sacrificing on luxury.
Del Rosso is clearly right on the matter. Ferrari is working on a potentially silent hybrid SUV and now Aston Martin is also working on an electric lineup as well.
Almost 50 years ago, Aston Martin's Lagonda line was used as a way to entice customers when the automaker was a bit short on cash. After several series of the vehicle, Aston Martin stopped producing its Lagonda lineup in 1990, before reviving it in 2014. Think of it as an exclusive series from Aston Martin. 
Now, it's being used for the company's electric and autonomous vehicle lineup. Aston Martin is looking to produce both a coupe and an SUV, each featuring level 4 autonomous driving capabilities.
Aston Martin Enters the High-End Electric Vehicle Race
From the company:
"The Lagonda Vision Concept has been configured to accept powerful solid state electric batteries enabling it to cover up to 400 real world miles between charges. That's the distance from Los Angeles to San Francisco, London to Edinburgh or Berlin to Vienna without stopping. The concept has also has been designed to be compatible with the latest wireless conductive charging technology."
The vehicle has vertically opening doors in the back, reminiscent of Tesla's Model X. It also plans to have 180-degree swiveling seats, so that passengers can have a face-to-face conversation with each other. 
Is any of it realistic? As costs for electric cars comes down and advances in automotive technologies continues at a torrid pace, it may very well be possible for production of this futuristic ride to begin in three years.
It would be a year after Ferrari's hybrid introduction and a bit behind Mercedes, which plans to have 10 electric cars in its line-up by 2022. It will also lag Tesla, which should be producing a fair amount of Model S, Model X, Model 3 vehicles by then, along with the Model Y, Roadster and its semi truck. Although, Tesla has been known to miss its own targets fairly often. 
However, Aston Martin's offerings likely won't take away from Mercedes, Tesla, Audi or any other higher end production automaker. This group will more or less battle amongst itself for market share, leaving ultra-high-end automakers -- like Bentley, Ferrari and Aston Martin, for example -- to battle each other.
With the Aston Martin Lagonda series, let's just say we're excited to see what rolls out of the factory in a few years.
This article is commentary by an independent contributor. At the time of publication, the author had no positions in the stocks mentioned.