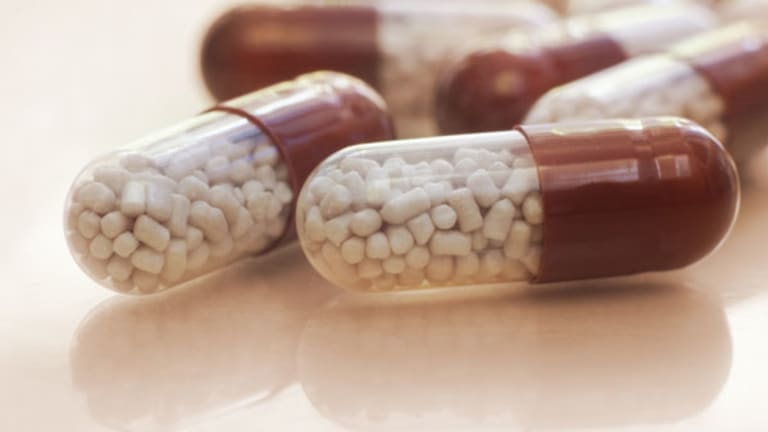 ASCO's Abstract Release Day: Preview
Here's a primer for the American Society of Clinical Oncology's abstract release tomorrow night.
BOSTON (
) --Biotech investors take note that Thursday (tomorrow) the
American Society of Clinical Oncology
(ASCO) will be posting online the full content of research abstracts to be presented next month at its closely watched annual meeting in Chicago.
The
will be posted on the group's web site starting at 6 p.m. EDT -- free for everyone to browse and download. The ASCO annual meeting runs June 4-8.
To its considerable credit, ASCO has moved away from its
of disclosing the annual meeting research abstracts only to its members, which of course meant that the stock-moving information (sometimes, not always) contained in the abstracts quickly found it way into the hands of Wall Street trading pros.
Many biotech and drug stocks have already started to run up as investors anticipate cancer drug data destined for presentation at this year's ASCO meeting. Late last month, I put together a list of
expected to present new clinical data at next month's meeting. The list was put together using the research abstract titles, which ASCO released online on April 12.
On Friday, I will update and republish this list of
with new information gleaned from the full content of the research abstracts.
The following FAQ will help set the scene for Thursday night's ASCO abstract release:
What's a research abstract?
A research abstract is simply a summary of clinical data to be presented at a medical conference. The abstract typically includes a brief description of the clinical study, the types of patients enrolled and sometimes, a brief summary of the study results, including efficacy and safety data.
Study results, sometimes?
That's right. Research abstracts can be flinty on the important details investors want to know. Think of a research abstract as a placeholder a company uses to reserve a spot at a medical meeting. A cancer research meeting like ASCO is a very hot ticket, so companies vie for presentation slots well in advance. Often, that means the cancer drug data companies want to present isn't ready or fully analyzed yet.
ASCO abstracts, therefore, often summarize the study but put off disclosing the important details (like if the drug being studied works and is safe) until the actual data presentation at the meeting.
If ASCO research abstracts skimp on these important details, why do investors get worked up about their release?
Well, abstracts sometimes lack efficacy and safety data, but other times, that sort of information craved by investors is in there, either in interim or final form. Investors have no way of knowing how detailed research abstracts will be until they're released, which is why Wall Street's biotech and drug investors make a big deal out of ASCO abstract release day.
The importance of the ASCO abstract is also ruled by tradition. Back in the old days when ASCO selectively disclosed this information, institutional investors with privileged access to the data could make real money well before the general public had its chance.
To make this process even more complicated, ASCO purposely withholds certain late-breaking abstracts, delaying the releases until the meeting begins.
Is this investor fixation on ASCO and its abstracts the reason why biotech and drug stocks run up in advance of the ASCO meeting?
It sure is. This year's "hot" ASCO stocks -- defined by their surging stock prices this spring -- include
Celldex Therapeutics
(CLDX)
,
Keryx Pharmaceuticals
(KERX)
and
Delcath Systems
(DCTH)
. Each of these companies will be presenting data at next month's ASCO meeting and each stock is on a huge run.
Other ASCO-related stocks making a more modest run ahead of the meeting include
Pharmacyclics
(PCYC)
,
Ziopharm
(ZIOP)
,
Arqule
(ARQL)
and
Sunesis Pharmaceuticals
(SNSS)
.
Does the actual ASCO meeting really matter if investors get the information they need in advance from the research abstracts?
Yes, I think the ASCO meeting does matter. Remember, these abstracts were submitted months ago, so the clinical data you'll read about Thursday might be outdated by the time the meeting starts next month. That's why final presentations with updated data at the meeting are important.
The ASCO meeting can also be a telling barometer for the relative importance of clinical data. When
Genentech
(now
Roche
) presented Herceptin breast cancer data to a packed auditorium of 15,000 people a few years ago -- nearly everyone stood up and clapped -- you knew that Herceptin was going to be very big deal.
Conversely, a company that puts up a research poster in the corner of a cavernous exhibition hall and is then ignored by almost everyone can be signal that this avenue of research isn't ready to make headlines.
How do I know which research gets applause and which research is ignored?
That's where I can help, hopefully. I'll be at the ASCO meeting this year, reporting on the all the hits and misses.
What happens to the hot ASCO stocks once the meeting ends?
Ah, investors should be aware of the post-ASCO selloff. Historically, stocks that run higher into the ASCO meeting sell off once the meeting ends. Investors often take profits post ASCO, regardless of how strong the data presented might be.
Shares of Celldex, for example, surged into the start of the 2009 ASCO meeting but sold off quickly once the meeting ended. That's not an unusual trading pattern.
Oncogenex Pharmaceuticals
(OGXI)
was another hot stock from ASCO 2009, but it defied the odds and continued to rise well after the ASCO confab ended.
If there's a system to reliably predict which ASCO stocks sell off and which continue to move higher, I haven't heard or seen it. Experienced stock traders tend to have a better sense of how this works, but unfortunately, I'm not a trader.
-- Reported by Adam Feuerstein in Boston.
Follow Adam Feuerstein on
.
Adam Feuerstein writes regularly for TheStreet.com. In keeping with TSC's editorial policy, he doesn't own or short individual stocks, although he owns stock in TheStreet.com. He also doesn't invest in hedge funds or other private investment partnerships. Feuerstein appreciates your feedback;
to send him an email.