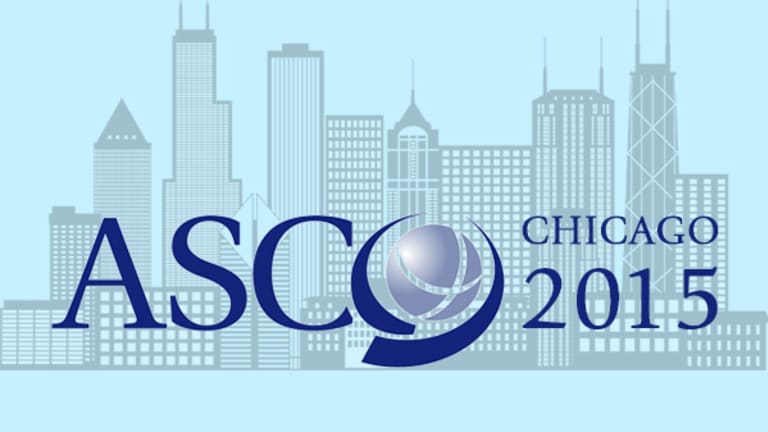 ASCO '15 Report Card: Grading Biotech and Drug Stocks at Cancer Drug Confab
The ASCO winners include Oncothyreon, ImmunoGen and Celldex Therapeutics, while Puma, Clovis and Bristol-Myers lost ground.
CHICAGO (TheStreet) -- I spent a long weekend in chilly, rainy Chicago listening to endless cancer-drug data presentations at the American Society of Clinical Oncology (ASCO) annual meeting. Here are my flash impressions on the biotech and drug companies at this huge cancer conference, and whether they come out looking stronger or weaker.

Oncothyreon (ONTY) : Stronger. The ONT-380 breast cancer data impressed and its market value is still reasonable relative to the competition.
ImmunoGen (IMGN) - Get ImmunoGen, Inc. Report: Stronger, because of the potential for IMGN583 to effectively treat a targeted segment of ovarian cancer patients. And because ImmunoGen owns 100% of the drug's rights.
Bristol-Myers Squibb (BMY) - Get Bristol-Myers Squibb Company Report: Weaker, but just barely. Bristol-Myers still has more positive clinical data on checkpoint inhibitors than any of its competitors, but some of that data (Opdivo in non-squamous, non-small cell lung cancer) was only "meh" and left room for others to gain ground. To its credit, the Opdivo data in liver cancer showed some of the strongest results I saw this weekend, although the commercial market opportunity there might be on the smallish side. I'm not sure anyone leaves ASCO this year convinced that one PD-1 or PD-L1 checkpoint inhibitor is better than the other, which blunts Bristol-Myers' first-mover advantage.
Merck (MRK) - Get Merck & Co., Inc. Report: Stronger. The mixed match repair (MMR) biomarker data in colon cancer were impressive and provided a path for Keytruda to be effective in a tumor type not normally dented by checkpoint inhibitors.
Clovis Oncology (CLVS) - Get Clovis Oncology, Inc. Report: Weaker, because the rociletinib lung cancer data were disappointing and investors focus more on that drug than its PARP inhibitor rucaparib in ovarian cancer. The rucaparib data were really good.
Roche (RHHBY) : Stronger, because the cancer-drug juggernaut almost always emerges from ASCO stronger. The depth and breadth of the company's pipeline is impressive.
CTI Biopharma (CTIC) - Get CTI BioPharma Corp. Report: Stronger. The pacritinib data were well received at ASCO even if questions remain about the size of the myelofibrosis patient population most likely to benefit. The "Jim Bianco discount" was NOT addressed at ASCO but is certainly relevant to investors. Will people hold their nose and buy CTI Biopharma despite the ugly track record of its CEO? Perhaps an activist investor finally gets involved here.
Celldex Therapeutics (CLDX) - Get Celldex Therapeutics, Inc. Report: Stronger. Rintega rocked! Coming out of ASCO, Celldex has a stronger argument to make to the Food and Drug Administration for the accelerated approval in recurrent brain cancer.
Puma Biotech (PBYI) - Get Puma Biotechnology, Inc. Report: Weaker, because more people are asking the question, "Why would a relatively healthy breast cancer survivor want to take a drug, neratinib, that will make them feel horrible and provide only a small reduction in the risk that that their cancer reappears?" The correct answer is, "Not many," which is a problem for Puma and its $6 billion-plus market valuation.
Express Scripts (ESRX) : Stronger; see above. Parity among checkpoint inhibitors and more oncologists complaining about drug costs hurting patients strengthens the negotiating power of pharmacy benefit managers.
And from a wider perspective:
Biomarkers: Stronger. Weaker. Who the hell knows? The ability to use PD-1 or PD-L1 biomarkers as a reliable way to predict and guide treatment with checkpoint inhibitors is a muddled mess. The companies are developing competing, dissimilar diagnostics which define PD-1/PD-L1 over-expression different ways. Some studies show biomarkers work, others show they don't.
Cancer drug pricing: Weaker, meaning that once again biotech and pharma companies faced more criticism about the rising and unsustainable cost of all these new therapies. In an ASCO talk on Sunday, Memorial-Sloan Kettering oncologist Dr. Len Saltz fired a shot at Bristol-Myers' Opdivo-Yervoy combination therapy in melanoma, which could cost almost $300,000 per year (unless Bristol-Myers offers a discount.) Saltz acknowledged cancer immunotherapies offer great benefit to cancer patients but he also said "cancer drug prices are not related to the value of the drug."
Adam Feuerstein writes regularly for TheStreet. In keeping with company editorial policy, he doesn't own or short individual stocks, although he owns stock in TheStreet. He also doesn't invest in hedge funds or other private investment partnerships. Feuerstein appreciates your feedback; click here to send him an email.