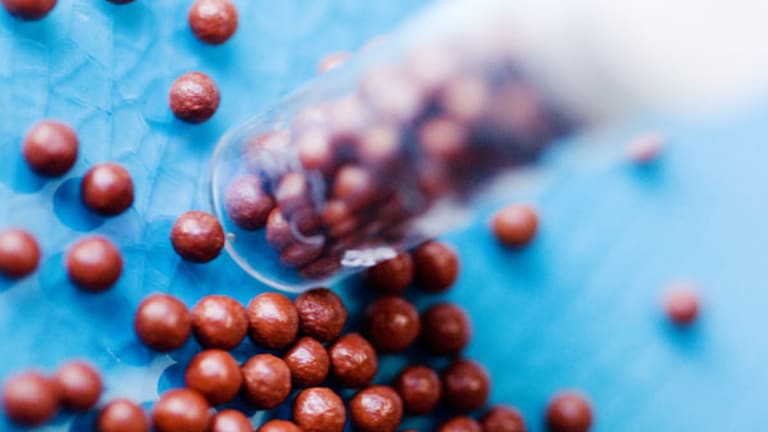 ASCO '15: Celldex Immunotherapy Maintains Survival Benefit for Recurrent Brain Tumor Patients
Celldex is meeting with FDA to determine if the Rintega data from the recurrent brain tumor study known as ReACT are strong enough to file for accelerated approval.
CHICAGO (TheStreet) -- An experimental, targeted immunotherapy developed by Celldex Therapeutics (CLDX) - Get Free Report continues to delay tumor growth and extend survival in patients with a certain type of recurrent brain tumor, according to an update of a clinical trial disclosed Sunday.
The clinical benefit of the Celldex therapy, known as Rintega, narrowed somewhat compared to results from the phase II study first disclosed last fall but remain statistically significant.
Rintega combined with Roche's Avastin reduced the risk of death in a genetic subtype of recurrent brain tumor patients by 43% compared to Avastin plus a control agent, according to the study update reported Sunday at the American Society of Clinical Oncology (ASCO) annual meeting. Last November, an earlier analysis of the same study showed Rintega tied to a 53% reduction in the risk of death.
Celldex is meeting with regulators at the U.S. Food and Drug Administration to determine if the Rintega data from the recurrent brain tumor study known as ReACT are strong enough to file for accelerated approval.
Celldex CEO Anthony Marucci said more definitive regulatory plans for Rintega will be announced once those FDA talks are complete.
One of the issues being worked out is how to package the Rintega data for an accelerated approval filing in recurrent brain tumors based on a study with a primary endpoint -- progression-free survival at six months -- not typically used by regulators, said Celldex Chief Medical Officer Tom Davis. Further complicating the regulatory discussions -- in a good way -- is the survival benefit from Rintega observed in the study. The FDA has also already anointed Rintega as a Breakthrough Therapy for the treatment of brain tumors.
"I would hope [these results] are well received by regulatory agencies and this treatment gets out to patients as soon as possible," said Dr. David Reardon of the Dana-Farber Cancer Institute in Boston and the lead investigator of the Rintega study. "If there was ever a situation designed for accelerated approval to address, [Rintega] is it."
Like all cancer immunotherapies, Rintega is designed to stimulate a patient's immune system to identify and kill cancer cells. In this case, Rintega''s target is a mutated protein known as EGVRvIII (v3), found in about 30% of primary brain tumors known as glioblastoma multiforme (GBM.) Brain tumors containing high levels of EGVRvIII protein grow more aggressively and are more difficult to treat.
In the phase II "ReACT" study, 72 patients diagnosed with recurrent GBM who had not yet been treated with Roche's (RHHBY) Avastin, were randomized into two treatment arms: Rintega plus Avastin or a control agent plus Avastin. The study's primary endpoint was progression-free survival at six months, which captures the number of patients still alive with tumors that are not growing following six months of treatment. The study also looked at overall progression-free survival, overall survival and response rate.
The ReACT study update encompasses analysis of additional patients and longer follow up compared to results announced last November. The newer results were also confirmed by independent, blinded review.
Reported Sunday, 28% of recurrent GBM patients are alive and without tumor growth after six months of treatment compared to 16% of patients in the Avastin control arm. The Rintega benefit is statistically significant.
The updated median survival reported Sunday was 11.6 months for patients treated with Rintega-Avastin compared to 9.3 months for the Avastin-control patients. The statistically significant survival benefit of 2.3 months favoring Rintega fell from 3.2 months last November.
At 18 months, 30% of the Rintega-Avastin patients remain alive compared to 15% of patients treated with Avastin-control.

"For this patient population with recurrent disease to see a survival benefit from an investigational therapy is really exciting," said Reardon. "The other efficacy endpoints add weight to the survival benefit. Everything else is lining up in parallel including [reduced] steroid use. These patient hate steroids because of the side effects and morbidity."
Patients randomized to the Rintega arm of the study had fewer recurrences of their brain tumors and more successful, complete surgical resections compared to patients randomized to the control arm.
Whether or not these baseline imbalances helped Rintega produce the results presented is a "fair question to ask," said Reardon. Analyses designed to tease out the effect of baseline characteristics, including prior surgery and number of relapses, still show overall survival favoring Rintega compared to the control, although not always with statistical significance.
Avastin is currently the only approved therapy for recurrent GBM patients, based on data showing significant tumor shrinkage. So far, Roche has been unable to conduct a study in either recurrent or treatment-naive GBM patients demonstrating a survival benefit. Rintega, therefore, has the potential to become the first therapy approved to prolong survival in recurrent GBM patients.
Celldex is also conducting a phase III study of Rintega in newly-diagnosed GBM patients. An interim analysis will be conducted later this year once 50% of the planned patient deaths take place. In order for the phase III study to be stopped early for efficacy, Rintega must reduce the risk of death by 45% compared to the control arm. 
"That's a high hurdle for success with only 50% of the events in the study," said Marucci. If the study in newly diagnosed GBM patients continues, a second analysis will take place after 75% of the planned deaths are recorded, most likely in the first quarter of next year.
Adam Feuerstein writes regularly for TheStreet. In keeping with company editorial policy, he doesn't own or short individual stocks, although he owns stock in TheStreet. He also doesn't invest in hedge funds or other private investment partnerships. Feuerstein appreciates your feedback; click here to send him an email.