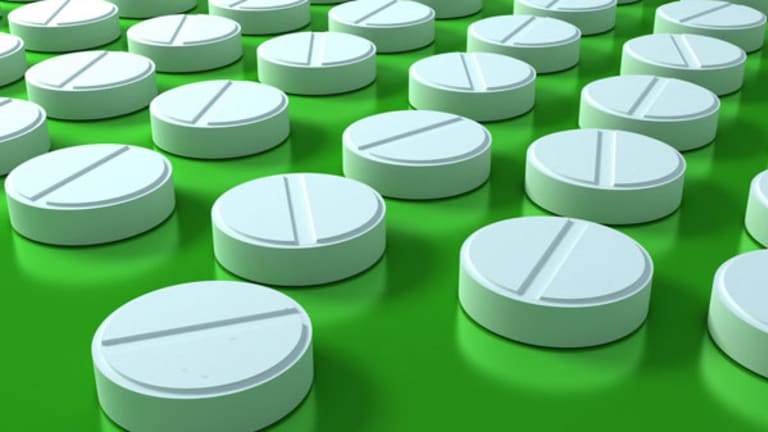 ASCO '13 Preview: New 'Anti-PD-1' Therapies Shrink Tumors
A new class of immune-boosting drugs are showing great promise against melanoma, lung and kidney cancers.
CHICAGO (
) --
Bristol-Myers Squibb
(BMY) - Get Bristol-Myers Squibb Company Report
,
Roche
(RHHBY)
and
Merck
(MRK) - Get Merck & Co., Inc. (MRK) Report
are each developing a new generation of cancer drugs that work by dismantling a cloaking mechanism used by cancer cells to hide from a patient's immune system. Bristol-Myers' Yervoy was the first of these drugs to be approved for melanoma in 2011 but the newer drugs, which act against cellular signals known as PD-1 and PDL-1, may be more potent in melanoma and have broader use against lung, kidney and breast cancer.
A preview of early-stage clinical trial results on these immune-boosting cancer drugs was released Wednesday night ahead of next month's American Society of Clinical Oncology (ASCO) annual meeting. Ultimately, PD-1 and PDL-1 drugs could generate billions of dollars in new sales for Bristol-Myers, Roche and Merck if early results are confirmed in ongoing and larger phase III studies.
The highlights:
The combination of Bristol-Myers' Yervoy plus an experimental drug nivolumab shrank tumors in almost half of patients with advanced melanoma. Tumor response was greater and faster with the combination therapy than when either drug is used alone.In a long-term followup to a separate phase I study, nivolumab, when used on its own, contributed to median overall survival of 9.6 months and one-year survival of 43% for patients with advanced non-small cell lung cancer; median overall survival of 16.8 months and one-year survival of 61% for patients with melanoma; and a greater than 22 month median overall survival and 70% one-year survival for kidney cancer cancer patients. Phase III studies of nivolumab are already underway.
The Roche drug MPDL3208A produced meaningful tumor shrinkage in 21% of patients with advanced lung, skin, kidney and other cancers. Some patients responded to treatment with MPDL3208A within days and nearly all the responses are durable and still ongoing. Based on these results, Roche is moving ahead with a phase III study in lung cancer patients and is considering studies in other cancers.
Treatment with Merck's lambrolizumab in patients with advanced melanoma yielded a tumor shrinkage rate of 35%. Notably, the study included patients with skin cancer that had started to regrow following treatment with Bristol-Myers' Yervoy. Some of the tumor responses to lambrolizumab have lasted more than eight months.
Additional and more up-to-date study results for all these drugs will be presented at the ASCO annual meeting, which runs May 31 through June 4.
The cellular receptor PD-1 and related protein PDL-1 work together to disguise cancer cells from being identified by the body's immune system. The drugs being developed by Bristol-Myers, Roche and Merck work by blocking the immune-suppressing signals sent out by PD-1 and PDL-1, allowing T cells to recognize and attack cancer cells more effectively.
In a phase I trial sponsored by Bristol-Myers, patients with advanced melanoma who had undergone up to three prior therapies were treated with six different combinations or sequences involving Yervoy plus nivolumab.
In 52 patients treated with the two drugs concurrently, the overall response (tumor shrinkage) rate was 40%. In a cohort of 17 patients treated with 1 mg/kg of nivolumab and 3 mg/kg of Yervoy, the response rate was 53%.
For comparison, about 11% of patients typically respond to Yervoy when used alone. In recent studies of nivolumab alone, the best melanoma response rate has been around 41%. The drugs appear to be more effective when used in combination.
Patients treated with Yervoy alone tend to respond slower due to the longer period of time needed for the immune system to recognize and attack cancer cells. But the combination therapy produced more rapid tumor shrinkage, with most responding patients showing significant tumor shrinkage within three months.
A separate group of 30 patients with melanoma that was either stabilized or stopped responding to Yervoy were also treated with nivolumab. Here, the overall response rate was 20%. Four of the patients who responded to nivolumab had stable tumors on their prior Yervoy therapy, while the other two patients stopped responding to Yervoy.
"The complete and near-complete response rates we're seeing are unprecedented for an immunotherapy in melanoma. We were particularly impressed that the drugs work together so well," said Dr. Jedd Wolchok, of the Memorial Sloan-Kettering Cancer Center. "Melanoma researchers have been hopeful that combination regimens would increase the effectiveness of single-agent immunotherapies, and now we have confirmation that such an approach has significant potential."
Serious adverse events related to the combination therapy were reported by 59% of patients and included swelling inside the eye, inflammation of the colon and reversible lab abnormalities.
Bristol-Myers is planning to start a phase III study of the Yervoy-nivolumab combination in melanoma patients next month.
Phase III studies of nivolumab as a stand-alone therapy in lung cancer, kidney cancer and melanoma are already underway.
The Roche phase I study of MPDL3280A enrolled 140 patients with advanced solid tumors. The overall rate of tumor shrinkage was 21%, with the highest number of responses seen in lung cancer (22%) and melanoma (31%.) Responses have been durable, with only three responders reporting tumor re-growth following MPDL3280A treatment so far.
MPDL3280A targets the cellular receptor PDL-1, and in a subgroup of patients with tumors positive for PDL-1, the overall response rate was 36%. Conversely, the response rate in patients PDL-1-negative tumors was 13%. Roche is developing a diagnostic test to better identify and define PDLI-1 positive tumors.
Thirteen percent of patients reported serious adverse events considered to be related to MPDL3208, but immune-related adverse events were reported by only 2% of patients.
"We are impressed with the frequency and duration of the responses in these patients with very difficult-to-treat tumors. So far, almost none of the patients that have had tumor shrinkage have progressed," said Dr. Roy Herbst of the Yale Cancer Center.
Roche is starting a phase III study of MPDL3280A in non-small cell lung cancer, which will enroll patients with PDL-1-positive tumors, detected by the companion diagnostic. Additional, follow-on studies of MPDL3208A in other cancers are being considered.
Given the striking efficacy observed with all these drugs, even in early stage trials, investors essentially assume approval. The big questions that remain are which company -- Bristol-Myers, Roche or Merck -- has the most effective PD-1 and PDL-1 drugs, and how fast can the new therapies be approved.
ISI Group analyst Mark Schoenebaum expects Bristol-Myers' nivolumab to be approved first, perhaps late next year in lung cancer, followed by Merck's lambrolizumab in late 2015. Roche's approval timeline for MPDL3208A is relatively unknown.
-- Reported by Adam Feuerstein in Boston.
Adam Feuerstein writes regularly for TheStreet. In keeping with company editorial policy, he doesn't own or short individual stocks, although he owns stock in TheStreet. He also doesn't invest in hedge funds or other private investment partnerships. Feuerstein appreciates your feedback;
to send him an email.