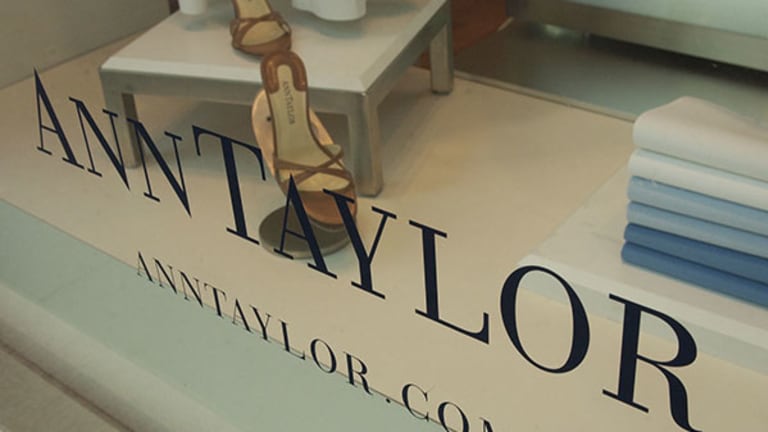 Ascena Retail's Stock Is Being Blown to Pieces - Jim Cramer Sees One Fatal Error
Ascena shares are tumbling more than 40%. What's going on?
Brutal.
Ascena Retail Groupundefined shares crashed as much as 43% on Thursday after the company gave a grave warning to investors yesterday.
For its fiscal third quarter, Ascena said in a statement that it expects a same-store sales decline of 8%, compared to the 4.8% slip analysts surveyed at Factset were expecting. The company said for the full year, it anticipates its comparable store sales to drop 6% to 7%.
Ascena also revised its third-quarter earnings outlook down to 4 cents to 6 cents a share for the third quarter, a far cry from its earlier guidance of 7 cents to 12 cents. The company expects to generate earnings of 10 cents to 15 cents a share for the full year.
"The specialty retail sector is in a period of unprecedented secular change that is disruptive to traditional business models, and we believe operating conditions in our sector are likely to remain challenging for the next 12 to 24 months," Ascena CEO David Jaffe said in a statement.
One primary source of Ascena's troubles can be traced back to May 2015, when it made the ill-timed decision to acquire the retailer behind mall staples Ann Taylor and Ann Taylor Loft for $2.16 billion. With the purchase of the women's clothing brand, Ascena essentially dug its own grave as it grew its primarily mall-based store count to a staggering 4,900, a detriment given the current consumer shift away from bricks-and-mortar to online retail.
Ascena also owns brands Justice, DressBarn and Lane Bryant. 
Surprisingly, the company isn't reducing its store count yet, TheStreet's Jim Cramer, manager of the Action Alerts PLUS portfolio, said on CNBC's "Stop Trading" segment.
But make no mistake, "this is trouble -- with a capital T," Cramer reasoned. Ascena is suffering the same mall-based fate as every other retailer and right now, it doesn't look as if there's a way out. 
The e-commerce competition, which is driving the majority of shoppers away from malls, has led more retailers, including the dyingSears Holdings Corp. (SHLD)  to close stores, and more still to file for bankruptcy, so far this year than they did in all of 2016.
Ascena is expected to report its third quarter on June 6, and it looks like it will join the slew of struggling retailers posting horrendous quarters, including Macy's (M) , J.C. Penney (JCP) and Kohl's (KSS) .
Over on Real Money, Jim Cramer gives advice to investors looking at how to play the Trump Trade. Get his insights or analysis with a free trial subscription to Real Money.
Click here for the latest business headlines.
Read more of TheStreet's top stories:
If Apple, Facebook and Netflix Keep Diving, the Ugly Trump Stock Market Correction Could Be a Thing
Look How Walmart Just Schooled Everyone Else in Retail -- Jim Cramer Weighs In
Former Fox News Chief Roger Ailes Is Dead at 77