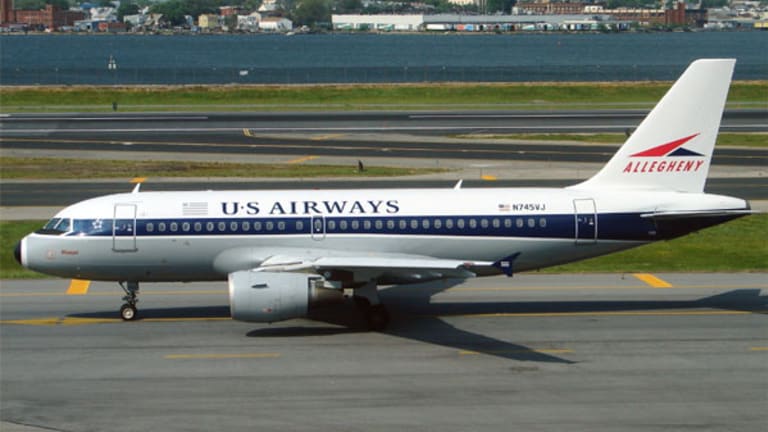 As US Airways Plans a Sixth Merger, Ed Colodny Recalls the First Four
Ed Colodny ran US Airways for 16 years and oversaw four mergers. It's tough to put together two successful airlines, he says.
CHARLOTTE, N.C. (
) -- Ed Colodny knows mergers, particularly mergers involving
US Airways
(LCC)
. As head of USAir from 1975 to 1991, he presided over four of them and considered a half dozen more.
"Putting together any merger is difficult," said Colodny, who is 86 years old and sharp as a tack, in an interview. "When you have large organizations like this, it's (hard) to try and figure out where the future is going to be."
US Airways today flies an Allegheny-themed A319.
"Mergers work best when one (carrier) is weak and one is strong and the weak one appreciates being bought up so they can all survive," he added. "Merging two strong airlines is inherently a culture clash, particularly at the top."
Nevertheless, Colodny said the impending merger between US Airways and
American
(AAMRQ.PK)
will "probably be a great combination if it does occur -- just don't expect (a successful integration) to happen in six weeks or six months."
"American has a very proud heritage going back to its earliest days, and US Airways is equally proud if not more so," he said. "It had to come up the hard way because it did not start out as one of the chosen trunk airlines; it was a small regional carrier."
Colodny joined US Airways-predecessor Allegheny, previously called All American Airways, as its first staff attorney in 1957. The carrier had begun flying passengers in 1949. It was based at National Airport and had routes from Washington north to Buffalo and west to Pittsburgh.
Colodny was deeply involved in four mergers starting in 1967, when Allegheny merged with Indianapolis-based Lake Central Airlines. At the time, the Civil Aeronautics Board encouraged mergers to reduce subsidies. "Lake Central was the easiest, a friendly deal with few problems," he said. In 1971, Allegheny merged with Utica, N.Y. -based Mohawk Airlines. "Mohawk was in trouble and the banks forced it into a merger," he said. "It worked out fairly easily."
In 1987, USAir bought PSA. "That worked out easily too," Colodny said. "They wanted to do it. But from a cultural standpoint, there were differences, and when we took the smile off the PSA planes, there were screams up and down the West Coast."
During the 1980s, Colodny also engaged in merger discussions with Continental, Eastern, Northwest and
United
(UAL) - Get United Airlines Holdings, Inc. Report
. "We saw we had to bulk up or we would not go anywhere," he said. "We came close with Continental."
The fourth and best-remembered USAir merger came in 1987 with Piedmont Airlines. Today, it is often cited as an example of an extreme case of corporate culture clash. As Jerry Orr, director of Charlotte Douglas International Airport, once said: "When you buy somebody, you ought to save the good parts and throw away the bad parts, but USAir did the opposite." Orr added: "They thought the sun rose and set in Pittsburgh."
Colodny said the merger was not so bad, despite the challenge of merging two successful airlines. "There was a very proud group of employees and managers at Piedmont," he said. "They had built a wonderful airline and they weren't anxious to lose their identity. As with many things, there was emotional resistance, and they thought US Air people were imposing USAir operating policies on their systems.
"But it did come together," he said. "When we merged with Piedmont we doubled the size of the airline and Charlotte became a wonderful hub."
Still, leadership conflicts simmered. A few years before the buyout, USAir had sought a friendly merger. "It fell apart largely over the issue of leadership," Colodny said. At the time, Bill Howard was Piedmont CEO. "I was willing to let Bill be CEO first for a couple of years, but then, at 65, he would retire and become chairman and I would take over as CEO. But he claimed he had a deal with his board to be CEO until he was 67. I said 'I am sorry, I can't buy that deal' and we walked away from each other." When US Air acquired Piedmont, Howard left. Recalled Colodny: "I would not say we parted on lovey-dovey terms."
Additionally, Colodny said, a dispute with the International Association of Machinists made it difficult to merge work forces. And one other thing: a small, Phoenix-based airline slowed things down. The airline was America West, and CEO Ed Beauvais thought he could obtain slots at Washington National as part of a merger divestiture. "He went to court to try to break up the merger," Colodny said: "It caused a delay; we lost over a year. That particularly hurt the Piedmont operation because management people started to defect."
Now the America West people, who have run US Airways ever since a 2005 merger, have more slots at Washington National than they ever dreamed of. They also have bigger fish to fry.
-- Written by Ted Reed in Charlotte, N.C.
>To contact the writer of this article, click here:
Ted Reed