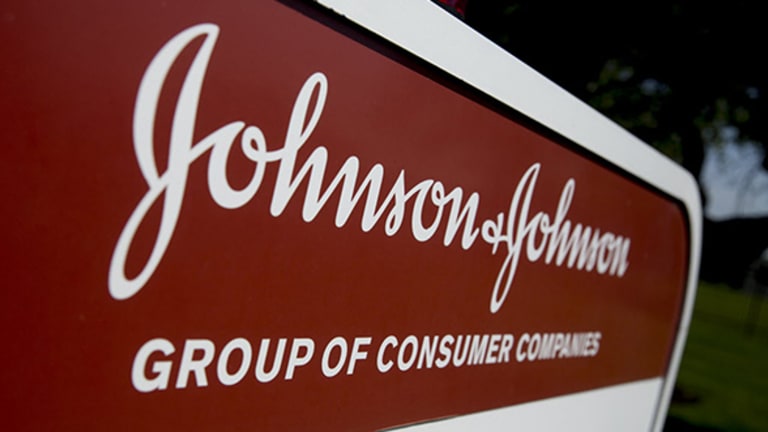 As the Trump Rally Resumes, Buy This Battered Health Sector Blue-Chip
Stocks hit record highs this week, indicating that the postelection surge still has momentum. Bargains are hard to find, but this health giant is a smart value play now.
In the words of a sick and elderly man about to be thrown on a cart of corpses in the 1975 comedy Monty Python and the Holy Grail: "I'm not dead yet!"
That plaintive cry also applies to the Trump rally. It's not dead yet!
The S&P 500 and Nasdaq reached record highs on Wednesday, indicating that it's too early to write the obituary of this old and wheezing bull market. 
As it enters its eighth year, the bull run that began in April 2009 is now the second-longest in history, exceeded in length only by the bull market that ran from October 1990 to March 2000. Sure, there's precedent for nine consecutive years of gains, and the market could defy gravity throughout 2017. You'd be reckless to count on it, though.
By almost every yardstick, stocks are overvalued and long overdue for a correction. At the same time, most economists expect a recession in 2017, and the vicious political combat unleashed by Trump's surprise victory is likely to continue throughout his first term. Interest rates are rising, and with each executive order and pronouncement from President Trump, trade wars with countries such as China and Mexico become increasingly likely.
What's an investor to do? You should tune out the momentary passions of the day, focus on quality, and bide your time for the emergence of reasonably valued opportunities. Below are the details on a battered blue-chip that's ripe for your portfolio.
The last thing that you want to do is make trading decisions based on Trump's executive orders, bombastic tweets and staged photo ops. Stick to the fundamentals.
It's difficult to find bargains in this frothy market, as strong sectors such as financial services and energy continue to soar. One source of value now is health services and biopharmaceuticals, which have lagged most other sectors as uncertainty surrounds the fate of Obamacare and political posturing abounds over drug prices.
President Obama's signature domestic achievement will almost certainly get repealed, or at the very least gutted, but the details remain murky. Fact is, about 20 million Americans received coverage under Obamacare, but the GOP-led Congress and President Trump have put forth no clear plans for a replacement.
Certain big-name biotech and health care companies have really taken it on the chin, largely because they're perceived as vulnerable under Trump's policies.
Over the past 12 months, Teva Pharmaceuticals (TEVA) - Get Free Report has dropped 47% (although it soared more than 3% on Wednesday), Bristol-Myers Squibb (BMY) - Get Free Report has fallen 23%, and Tenet Healthcare (THC) - Get Free Report has fallen nearly 27%, to name just a few. Since peaking in July 2015, the NASDAQ Biotechnology Index has fallen by nearly one-third. Over the past year, the S&P 500 has gained more than 20%, while the Health Care Select Sector SPDR (XLV) - Get Free Report has lagged, with a gain of 2.8%.
In addition to Obamacare anxieties, investors are worried about Trump's vows to clamp down on drug pricing, but if history is any guide, those promises will prove to be empty rhetoric. Under this fiercely business-oriented administration, drug companies probably can expect a free hand. We think health care and biotech are poised for a comeback, as unstoppable demographic trends provide lasting tailwinds.
According to the Centers for Medicare & Medicaid Services, U.S. health spending is projected to grow an average of 5.8% a year from 2015 to 2025. On a per capita basis, average annual growth is expected to be 4.8%.
One stock that's been unfairly punished lately is biotech and health services company Johnson & Johnson (JNJ) - Get Free Report . If you're looking for a good buy in an overbought market, now's the time to pounce and pick up shares of beaten-down Johnson & Johnson.
Johnson & Johnson reported earnings on Tuesday morning, and investors were disappointed by the company's sales growth. The stock's price fell on the news and is down more than 2% year to date.
The company reported revenue of $18.11 billion for the fourth quarter, which represents a year-over-year increase of only 1.7%, when investors expected sales to increase 3%. Adjusted earnings per share came in at $1.58, however, exceeding the consensus analyst expectation of $1.56.
We think Johnson & Johnson has hit a temporary speed bump and faces strong growth prospects this year and beyond. With a market capitalization of nearly $310 billion and a diverse portfolio of famous branded drugs and consumer products, Johnson & Johnson is a global powerhouse that's virtually a mutual fund for the health and drug industries.
According to average estimates from analysts, Johnson & Johnson's adjusted earnings should grow 5.5% this year. Next year, growth is pegged at 5.1%, and for the next five years annual growth is expected to average 6.5%.
The median 12-month price target from analysts covering the stock is $125, which is more than 10% higher than its current price of about $112.80. The dividend yield is a strong 2.8%, and the trailing 12-month price-to-earnings ratio is a reasonable 19.6, compared to 20.2 for its industry.
In a nervous but rising market in which reasonably priced blue-chips are hard to find, Johnson & Johnson is a safe "defensive growth" play that should weather the coming storm better than most.
---
As we've just explained, Johnson & Johnson is a solid value play now. But the broader market is volatile and poised for a correction. If you're looking for other safe growth opportunities, we've found a genius trader who turned $50,000 into $5 million by using his proprietary trading system. His time-proven system cranks out steady gains, in up or down markets. Click here now for details.
This article is commentary by an independent contributor. At the time of publication, the author held shares of JNJ and TEVA.