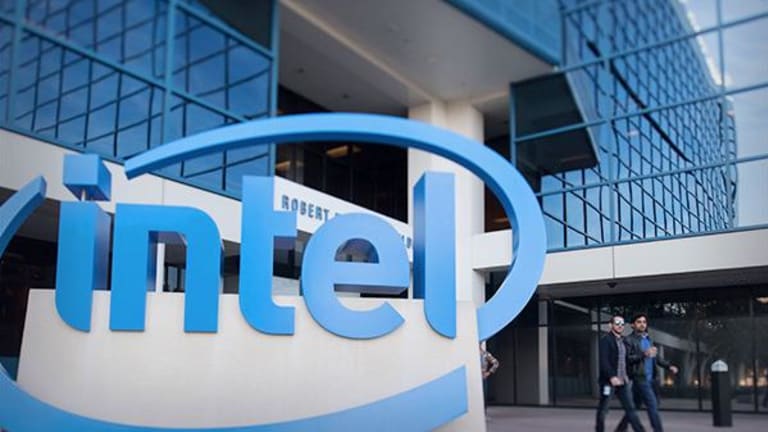 As the Intel-AMD Wars Reignite, Consumers and PC Makers Will Benefit
Intel's new X-series CPUs take aim at AMD's Ryzen 7 CPUs. Together with upcoming Intel and AMD chip launches, these products should boost an already-resurgent high-end PC market.
In the wake of Intel's (INTC) Tuesday unveiling of its X-series high-end desktop processors, the PC CPU market is starting to feel a bit like the U.S. mobile carrier market. In both industries, intensifying competition from a smaller player that for a long time felt like an also-ran is driving a highly profitable market leader to revamp its product line offerings to deliver much more bang for the buck.
There are important differences between the markets as well, and ultimately, Intel may be better-positioned to weather AMD's (AMD) chip assault than either Verizon (VZ) and AT&T (T) are to weather T-Mobile USA's (TMUS) . But in each case, consumers and businesses are reaping the benefits of a fiercer competitive environment. And in the case of the PC CPU market, PC OEMs could prove to be winners as well.
At the annual Computex PC and consumer electronics trade show, Intel announced it's launching 9 new desktop CPUs whose names will end with an "X" or "XE," and which sport prices ranging from $242 to $1,999. The two cheapest products in the lineup sport 4 CPU cores, are based on the Kaby Lake architecture Intel launched in late 2016 and will be part of Intel's existing Core i7 and i5 product families.
The costlier X-series chips feature anywhere from 6 to 18 cores, are based on the more mature Skylake architecture launched in mid-2015 and will be part of a new Core i9 product family. All 9 chips will rely on the X299, a new motherboard chipset that features more input/output (I/O) connectivity than the X99 chipset used by prior-generation high-end Intel desktop CPUs based on the Broadwell architecture, which was first launched in 2014.
The products were once expected to be launched in August. But Intel apparently pushed up their launch date to better contend with AMD's recent Ryzen desktop CPU launches. Likewise, Intel has been rumored to be planning to launch the first CPUs based on its next-gen Coffee Lake architecture as soon as August, a few months earlier than previously expected.
The Core i9-7980XE, an 18-core monster of a new flagship CPU aimed at content creators demanding extreme performance, is getting a lot of attention. It can handle 36 simultaneous instruction threads, contains large on-chip caches and should easily outperform the 10-core Core i7-6950X, Intel's prior top-of-the-line desktop part. When Intel's Turbo Boost 3.0 technology is engaged, an individual 7980XE core can hit a top speed of 4.5GHz.
The chip will square off against AMD's upcoming Threadripper CPU, which will be part of the company's Ryzen desktop line. Threadripper will feature 16 cores and support for 32 simultaneous threads; its pricing and clock speeds haven't been disclosed yet. Chances are that Threadripper will sport a four-figure price, but undercut the 7980XE's $1,999 price.
Of course, Intel is also launching four Core i9 chips containing 10 to 16 cores that are priced from $999 to $1,699. The cheapest of these products, the 10-core Core i9-7900X, drives home just how much Intel is improving the price/performance of its high-end desktop CPUs in response to AMD. With a newer CPU architecture, a base clock speed of 3.3GHz and a Turbo Boost clock speed of 4.5GHz, the 7900X outclasses the 10-core 6950X, which has a 3GHz base clock speed and a 3.5GHz Turbo Boost speed -- even though the 7900X's recommended price is over $500 lower than what the 6950X has been retailing for.
Further downmarket, Intel is offering the Core i9-7820X, a $599 CPU featuring eight cores, a relatively smaller cache, a base clock speed of 3.6GHz and a Turbo Boost speed of 4.5GHz. It's also launching the $389 7800X, which contains six cores and lacks Turbo Boost 3.0 support (it does support Intel's older, complementary Turbo Boost 2.0 technology). The chips will target gamers -- 10-plus cores is overkill for most games -- along with more budget-conscious content creators.
The two cheapest Core i9 chips will compete against AMD's eight-core Ryzen 7 high-end desktop CPUs, which are priced from $329 to $499. So will the $369 Core i7-7740X, which only has four cores but features a high 4.3GHz base clock speed. As the first Ryzen 7 reviews showed, a four-core chip with high clock speeds can still outperform chips with more cores running at lower clock speeds in many gaming benchmarks. This might not be as true down the line, as more games are written to take advantage of extra cores, but for now it makes the 7740X a tempting option for gamers.
Importantly, Intel is charging $100 more for the 7820X than what AMD is charging for the 1800X, its most powerful Ryzen 7 chip. This price delta, along with the one that the 7980XE will likely have relative to Threadripper, suggests that Intel remains confident in its ability to maintain pricing premiums, even if they may be smaller at times than ones it has maintained in the past.
As it tries to keep AMD at bay, Intel isn't just counting on cores and clock speeds, but also various architectural improvements -- the fruits of a long history of spending billions annually on PC and server CPU R&D. These include improvements to Turbo Boost 3.0, which can now goose the performance of two cores rather than one, and a new "smart cache" hierarchy that provides larger dedicated caches to individual cores. The X-series will also support the use of Intel's Optane high-speed memory (co-developed with Micron (MU) ) as a caching solution that sits between a storage drive and a PC's main memory.
Still, AMD's Ryzen 7 launches, together with the subsequent launches of its cheaper Ryzen 5 and 3 CPUs, have clearly ushered in a new era of competition in the desktop processor market. And while AMD has been conservative with its Ryzen forecasting to date, sales should get a boost as more top PC OEMs launch Ryzen systems. Dell, it should be noted, just launched all-in-one desktops relying on Ryzen 5 and 7 chips.
And as AMD launches notebook APUs pairing Ryzen CPUs with GPUs based on its new Vega architecture in the second half of 2017, competition will intensify in the portable PC market as well. Intel will likely try to counter with Coffee Lake parts.
Consumers and creative professionals are clear beneficiaries of all this competition: The amount of processing power that one can get for $300, $500 or $1,000 will soon be markedly higher than what it was a short while ago. But PC makers also have much to gain, considering how interest in Intel and AMD's latest offerings can provide additional fuel for a high-end PC market that has been looking pretty strong lately.
HP Inc  (HPQ) and Lenovo each reported seeing high-end PC strength when releasing earnings last week, with Lenovo claimed its gaming PC shipments rose 20.5%. Similarly, Intel previously reported its March quarter PC CPU platform average selling price (ASP) rose 7% annually, helping offset a 4% drop in platform volumes.
The X-Series and Ryzen launches give high-end PC users additional reason to mull upgrades, and the same should hold for upcoming Ryzen and Coffee Lake notebook processor launches. And while Intel may not be thrilled about having to compete this way again, it can't complain about how the PC market is shaping up to be a lot stronger in 2017 than it was expected to be a year ago.