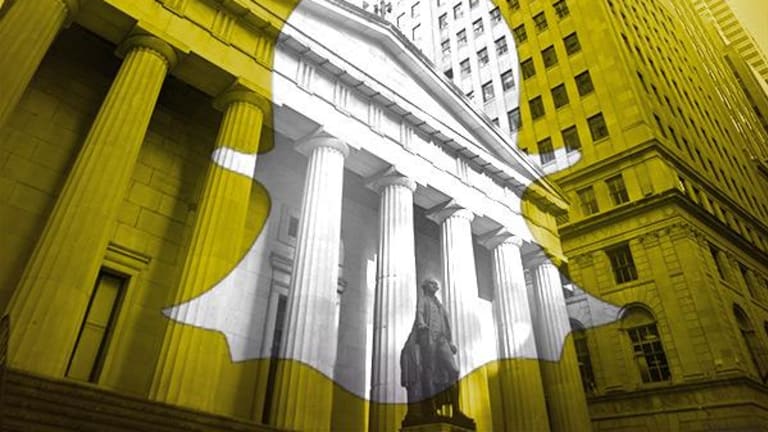 Should Snap Consider Selling Itself?
The idea is not as crazy as it sounds.
The idea is not as crazy as it sounds.
Updated from July 31 with additional information.
When Snap Inc. (SNAP) - Get Report announced that it would go public in March, Wall Street got whipped into a frenzy over its potential. 
The social media upstart had a lot going for it. Its 27-year-old CEO, Evan Spiegel, was grabbing the attention of the elusive teens so highly sought after by advertisers. Snap's primary product (other than its quirky augmented reality Spectacles), disappearing message app Snapchat, looked poised to be the next Facebook Inc. (FB) - Get Report . The company wound up going public with a valuation of about $24 billion, completing the largest U.S.-listed technology offering since Alibaba Group Holding Ltd. (BABA) - Get Reportin 2014.
After just a few months of being a public company, however, things have turned starkly sour for Snap. The stock has fallen below its $17 IPO price and hit a fresh all-time low of $11.90 a share on Aug. 3 -- less than half of its high of $29.44 reached on March 3. Snap's stock has fallen 18% in the past month alone as it's in the throes of its first lockup expiration and Instagram Stories celebrated its one-year anniversary with new data showing its dominance.
Shares of Snap were up 0.6% to $13.64 early on Thursday, however, ahead of the company's second-quarter earnings report, which is due after the closing bell. Wall Street is hoping to see improvement from last quarter's dismal results and, particularly, modest growth in daily active users. 
TheStreet will be hosting a live blog analyzing Snap's earnings report after the close on Thursday. Please check TheStreet.com for more details.
Investor confidence in the stock has been continuously tested, first when it reported gloomy first-quarter results, then as Facebook rolled out one copycat feature after another. Earlier this month, Morgan Stanley (MS) - Get Report , one of Snap's leading underwriters, declared that it "has been wrong" about the company's ability to innovate and improve its advertising products. It's worth noting that the firm's analysts are separate from its underwriters. 
As criticism of the company has continued to build, many have begun to wonder if and when Snap will recover. And one crazy idea begs to be considered: Could Snap put itself up for sale or be approached by an interested buyer?
It's not entirely unheard of for a company to be bought shortly after debuting on the public market. In 2002, eBay Inc. (EBAY) - Get Report bought online payments company PayPal Inc. for $1.5 billion, just months after its IPO. (EBay later spun off PayPal in July 2015 as PayPal Holdings Inc. (PYPL) - Get Report .) To be sure, the conditions surrounding that deal were much different from that of Snap. Unlike Snap, PayPal was not in trouble; instead, eBay was looking to consolidate the payment service market and saw PayPal as a natural fit to extend its presence in that space.  
And there are other case studies to consider. Twitter Inc.
(TWTR) - Get Report
, just two years after its 2012 IPO, was thought to be an attractive takeover target. Similar to Snap, the microblogging website
 and dwindling investor interest, not to mention continual management turnover. At the time, Twitter's market cap stood at around $17 billion, not far off from Snap's current valuation of roughly $16.1 billion. No deals ultimately were done, but last summer, a number of bidders were floated as being interested in Twitter, including Salesforce.com Inc.
(CRM) - Get Report
, Alphabet Inc.'s
(GOOGL) - Get Report
Google, Walt Disney Co.
(DIS) - Get Report
and Apple Inc.
(AAPL) - Get Report
.
Also similar to Snap now, Twitter has struggled to stay above its $26 IPO price and has since lost more than a third of its value. Twitter's takeover rumors eventually faded, but for Snap, they could be coming in its future. 
Facebook, Apple and Alphabet are holdings in Jim Cramer'sAction Alerts PLUS Charitable Trust Portfolio. Want to be alerted before Cramer and the AAP team buy or sell FB,AAPL or GOOGL? Learn more now.
Watch More with TheStreet:
Who Holds the Biggest Share of Snap?
It's Not Just North Korea, This Is a Stronger Time for Gold

"At some point it makes sense for everybody to sell, but I don't think Snap is really there yet," said Loup Ventures analyst Doug Clinton. "The sense I get from Evan is that his vision is to build a really big company. He's in it for the long haul." 
CFRA Research analyst Scott Kessler believes a sale is probably off the table, but for an entirely different reason. 
"Could companies look at it? Sure," Kessler said. "But I think it would be a pretty bold decision for a company to potentially spend upwards of $15 billion to $20 billion to buy a company that not only is unproven but is under siege, from Facebook in particular."
It seems that very few people knew just how aggressive Facebook would be in ripping off Snap's features. The social media giant has introduced copycat features such as Instagram Stories, interactive lenses and others. It's also started going after Snap's ad business by offering discounts for brands, as well as sponsored lenses. Instagram Stories now boasts 250 million daily active users, compared with Snapchat's 166 million DAUs. As Instagram continues to up the ante, Snap has been forced to further differentiate its offerings, through various product updates and expanded tools for advertisers. 
Even if a company wanted to buy Snap, it would have to convince its founders to sell. Snap only sold nonvoting shares in its IPO, giving an outsized amount of control to co-founders Spiegel and Bobby Murphy. According to the company's Form S-1 filing with the Securities and Exchange Commission, Spiegel controls 44.3% in votes across all classes, while Murphy also controls 44.3%, meaning that combined, the pair hold nearly 90% of Snap's voting power. This voting structure means that any major decisions at Snap, including a possible sale, are controlled by two people. 
Spiegel and Murphy built the company and took it public, so they probably would not be enthusiastic about selling. But should investor frustration continue to bubble (like it did over Spiegel's extended post-wedding vacation while shares continue to fall), there's a chance that things could change. 
Snap putting itself up for sale would be an "insane idea," said Johnny Won, founder of tech consulting firm Hyperstop, but it's likely that some folks are sizing up the company. Many Chinese megafirms are looking to tap into the U.S. internet market, making Alibaba, Tencent Holdings Ltd. (TCEHY)  or SoftBank Corp. interested in an investment or deal of some kind, he noted. Alibaba, in particular, might view Snap as a catalyst for its e-commerce business, since its original content makes it similar to a next-generation Netflix Inc. (NFLX) - Get Report , Won said. 
Others such as Comcast Corp.'s
(CMCSA) - Get Report
NBCUniversal have invested heavily in Snap and might be interested in gaining access to Snap's millennial audience. One pie-in-the-sky scenario could have Amazon.com Inc.
(AMZN) - Get Report
-- which Won said is "always a wildcard" -- or Apple bidding for Snap. 
One thing is for sure -- if any potential buyers approach Snap, they'll have to fork over a lot of cash. Kessler estimated that Snap would ask for as much as $20 billion.
For all of the pessimism about Snap, Kessler said it's still very "early days" in Snap's business, and it's possible that Spiegel is up to something big that we outsiders aren't aware of yet.
"All these people that piled into the company did so perhaps because of the perception that Evan Spiegel is a product visionary," Kessler said. "I would imagine they'd want more than what they've seen."