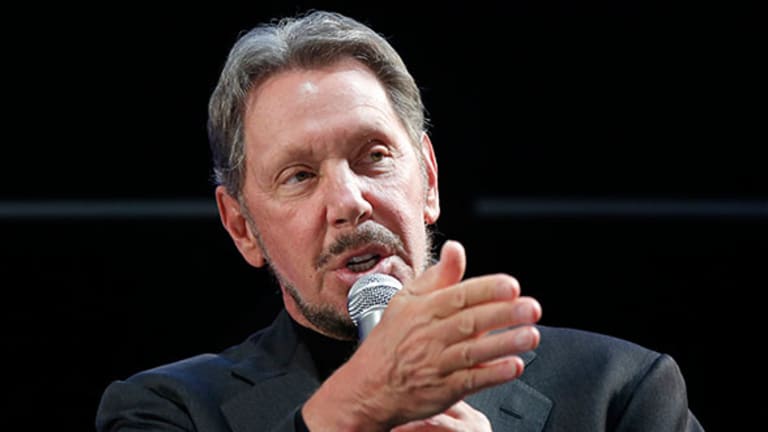 As Oracle's Cloud Business Grows, Ellison Throws Verbal Jabs at Rival Salesforce
With $2 billion in new cloud annual recurring revenue during the FY 2017, Ellison said Oracle has topped Salesforce for the second consecutive year.
Larry Ellison continued to take jabs at rival Salesforce.com Inc. (CRM) - Get Report , after Oracle beat fiscal fourth-quarter forecasts after the close Wednesday.
With Oracle Corp. (ORCL) - Get Report shares jumping 1.2% to $50.88 in post-market trading on Friday, the market seems to be buying Ellison's pitch that Oracle was gaining on its cloud nemesis Salesforce.
Ellison and Saleforce founder Marc Benioff, who worked at Oracle for 13 years, typically trade barbs during investor presentations. In the latest call, the Oracle founder, Executive Chairman and Chief Technology Officer pointed to ways that the company is already ahead of Salesforce and touted a major deal with AT&T Inc. (T) - Get Report to move data to the cloud. 
Oracle's fourth-quarter sales of $10.94 billion were about $500 million above forecasts. Cloud revenues gained 64% to $1.4 billion.
Ellison hyped Oracle's $2 billion in new annual recurring revenue from cloud services during the full fiscal year, noting that Oracle topped Salesforce for the second consecutive year.
"We are now well on our way to passing them and becoming number one in the enterprise [Software-as-a-service] market," he said.
Oracle will beat Salesforce, he suggested, because of its broader array of software as a service application suites. Enterprise resource planning, human capital management and customer relationship management.
Oracle has offerings for managing finances, procurement, supply chains, manufacturing, human resources, payroll, marketing, sales and service, he noted. "Salesforce in contrast, only competes in three of these nine market areas," Ellison said.
Further, Ellison said that enterprise resource planning, where Oracle leads, is a bigger market than customer relationship management, which is Salesforce's stronghold.
Oracle co-CEO Mark Hurd made similar claims Thursday on CNBC. 
Salesforce responded that Gartner Inc. IT reports that customer relationship management is growing faster than enterprise resource management and human capital management. Further, a spokesperson said that Salesforce's customer relationship management market share is greater than that of Oracle, SAP SE (SAP) - Get Report and Microsoft Corp. (MSFT) - Get Report combined.
As part of a multi-year deal, AT&T will move thousands of Oracle databases to the company's cloud service. Ellison suggested that Oracle has similar opportunities with other clients. "The AT&T deal is just the beginning," he said.
While the AT&T agreement could be a harbinger of more deals to shift corporate data to the cloud, Wedbush Securities analyst Steve Koenig suggested in a Thursday report that Amazon.com Inc. (AMZN) - Get Report will be a more formidable competitor as it incorporates databases into its cloud platform.
"[Oracle]'s shift to the cloud will place the company in a more competitive pricing environment in both database and applications, and AWS's prospects for traction in database sales for new application development looks like a pressure point that's here to stay," Koenig wrote.
Don't miss these top stories from TheStreet:
Disney's Stock Is Toxic, This Chart Shows