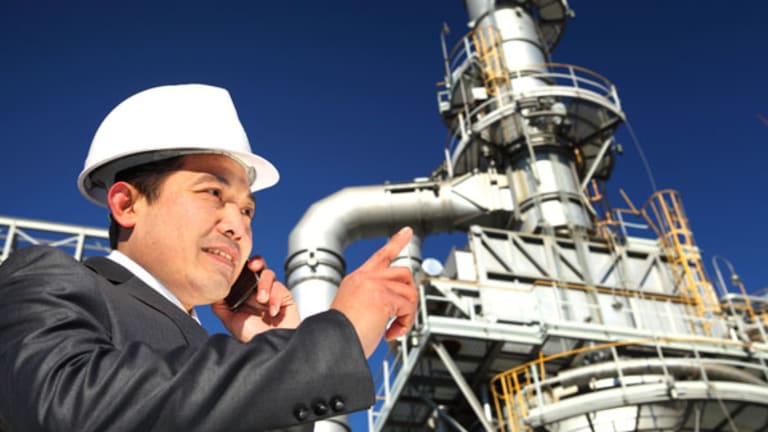 As Heavy Industry Pulls Back, Layoffs Pile Up
Job losses continue to mount as industrials are forced to keep reducing their headcount, prompting some market observers to wonder when the economy will turn.
The next wave of job cuts has arrived, and this time major industrial concerns are shedding workers at an alarming clip.
On Monday, more than 50,000 workers around the globe were shown the door, many of those emanating from heavy-equipment maker
Caterpillar
(CAT) - Get Report
. While that number is extraordinary on its own, combined with the other job cuts over the past few weeks the picture for U.S. employment becomes even bleaker.
As economic conditions continue to worsen in the U.S. and around the globe, market observers are questioning whether the majority of workforce reductions have arrived or are still yet to come.
Signs suggest it's the latter. In addition to Caterpillar,
Pfizer
(PFE) - Get Report
,
Home Depot
(HD) - Get Report
, and
General Motors
-- all components of the
Dow Jones Industrial Average
-- said they would reduce their headcounts.
Sprint Nextel
(S) - Get Report
,
Philips Electronics
(PHG) - Get Report
and
ING
(ING) - Get Report
also greeted the new week with firings.
"One of the remarkable things about Monday's announcements is that the big cuts were not in financial services, housing and construction or automotive, where the economic storm started," said John Challenger, chief executive officer of employment consulting firm Challenger, Gray & Christmas. "Every corner of the economy was affected. Even the strongest global companies, like Caterpillar, are being hit."
During the last two months,
Alcoa
(AA) - Get Report
,
Boeing
(BA) - Get Report
,
3M
(MMM) - Get Report
,
Dow Chemical
(DOW) - Get Report
and
DuPont
(DD) - Get Report
have all committed to workforce reductions.
"Each recession, it seems manufacturing really takes it hard, and this one seems to be no exception. Certainly, the industrial sector is seeing heavy job cuts," Challenger said. "No question, this recession is much wider in scope and much broader than previous ones."
Already some 200,000 workforce reductions have been announced in the first month of the year. On top of the 2.6 million jobs lost in 2008, that's not good news for the U.S. economy or industrial companies, which are expected to take a bigger hit to headcount totals.
"It was to be expected because of the global nature of the slowdown," said Quincy Krosby, chief investment strategist with The Hartford. "It's an environment in which you control what you can, and headcount is something you can control. While they are groping for any sign that the global economy is going to pick up, in order to control costs one of the first things they are going to do is lay people off."
Some market observers fear that the staff reductions could continue to accelerate as the recession becomes deeper and longer than many expected. Peter Morici, professor at the University of Maryland School of Business and former chief economist at the U.S. International Trade Commission, argues that the burden of oil imports, the growing trade deficit, and abuses of the banking system have pushed the U.S. beyond a mere recession.
In a recession, Morici said, the cycle becomes one where contractions and expansions come due to a disruption in the economy. However, the fundamental structural issues in the U.S. have built up over time and have yet to be addressed.
"We've had manufacturing layoffs for quite a while, but what we've seen in the last couple days is indicative of a depression rather than a recession," Morici said. "We're seeing the kind of responses to reductions in demand where employers believe what is happening is permanent and enduring. The economy has shifted down to a lower level of activity."
Both Morici and Krosby noted that recent comments from
Microsoft
(MSFT) - Get Report
, though not an industrial company, summed up how the problems facing many industrials are not necessarily cyclical, but could be viewed as massive structural changes. During the company's conference call on Jan. 22, Microsoft CEO Steve Ballmer referred to the current set of economic conditions as "once in a lifetime."
"The perspective I would bring is not one of recession, what I would say rather is the economy is resetting to a lower level of business and consumer spending that is based largely on the reduced leverage in the economy," Ballmer said during the call, indicating that some of the 5,000 jobs the tech giant eliminated may not be filled in the foreseeable future.
Several concerns arise from the idea that major industrial giants could be in for massive restructurings. "What's crucial is whether the stimulus packages around the world are gaining traction," Krosby said. "At some point they will kick in. But until it gets to the stage, companies are going to keep cutting costs."
Morici believes that if the U.S. economy is indeed shifting down fundamentally, stimulus packages like the
$825 billion plan President Barack Obama
and his economic team have crafted won't be enough to reignite it.
"They're basically priming a dry well," said Morici. "As effects of the stimulus package wear off, the job cuts will start again. The government can't have one stimulus package after another with trillion-dollar deficits without bankrupting the country. Before you know it, we're going to have the kind of debt crisis that Bolivia has. It's that serious."
Another major concern is that slowing manufacturing activity will lead industrial companies to eliminate too many positions, limiting the ability to rebound when the economy improves.
"My worry is that companies are cutting deeper into the muscle, which will make it harder for them to rebound quickly," said Challenger. "They're really dropping key resources. They know how damaging layoffs are in terms of cutting into their core, but they have no choice when they see what's going on in the global economy. They're between a rock and a hard spot."
Krosby also wonders if industrial companies cut too far, they may have to rehire employees back but at a much higher wage. "If this economy gains traction and if Washington comes up with a stimulus package that truly works, many of these companies will have to go out and hire," she said.
While Challenger, Morici and Krosby all agree that more job cuts are certainly still to come, Challenger argues that we may be seeing the worst of the staff reductions now.
"This November through January period has seen heavy job losses, so we're at the worst now. I'm optimistic that things will improve in the spring to summer period," Challenger said. "But with revenue dropping and until gross domestic product turns positive, you'll see a lot of companies working to cut their costs."