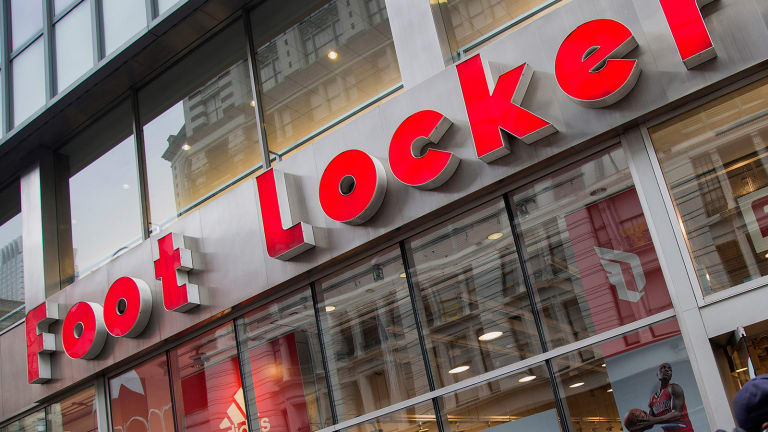 Foot Locker's Surprising Disaster Could Mean Only One Thing for Under Armour
More bad news for Under Armour?
Foot Locker  (FL) - Get Foot Locker, Inc. Report warned Thursday morning that its first-quarter and full-year report won't be pretty.
The New York City-based footwear retailer lowered its guidance, with earnings for the three months ending April 29 expected to come in between $1.36 and $1.39 a share, compared to earnings of $1.47 a share that analysts had anticipated.
Foot Locker said its same-store sales for the first quarter should increase by a low-single digits percentage.
"We mentioned on our 2016 earnings conference call that the first quarter of 2017 would be challenging based on the slower than usual start in the U.S.," Foot Locker CEO Richard Johnson said in a statement.
Johnson said the delay in the issuance of the income tax refund until after the NBA All-Star Game on Feb. 19 contributed to the hit on February comparable store sales. Because of a new law called the PATH Act, refunds to filers claiming the Earned Income Tax Credit and Additional Child Tax Credit were delayed until Feb. 15, and direct deposits did not begin appearing in taxpayers' accounts until the end of that month.
While Foot Locker surely is not ecstatic about the new outlook, one other company need be concerned.
Struggling to attract sales is Under Armour's (UA) - Get Under Armour, Inc. Class C Report  shoe, the Curry 3,  named for Steph Curry, an NBA Golden State Warriors All-Star.  Johnson said on a November earnings call last year that the Curry 3 was off to a slow start compared to other sneakers.
READ MORE: Under Armour Just Got Some More Horrifying News - People Aren't Google Searching the Brand a Lot
As of January, Under Armour's stock had fallen 28.76% from the year before because kids don't think the brand is cool anymore. In a recent survey by investment bank Piper Jaffray, which analyzed responses from 5,500 teens, the retailer wasn't named among the top 10 apparel or footwear brands in the U.S.
Instead, Under Armour has been repeatedly crushed by competitors Adidas (ADDYY) and Nike (NKE) - Get NIKE, Inc. (NKE) Report , which were ranked on the Piper Jaffray survey the fastest-growing brand and the top apparel brand among teens, respectively.
READ MORE: Nike Crushes Competitors at Boston Marathon, but Fails to Deliver on One Goal
Still, Foot Locker did provide a glimmer of hope on Thursday, saying that March sales rebounded and the Easter season was strong, resulting in a surge in the stock.
Shares of Foot Locker are rising 2.57% to $74.52 in pre-market trading.