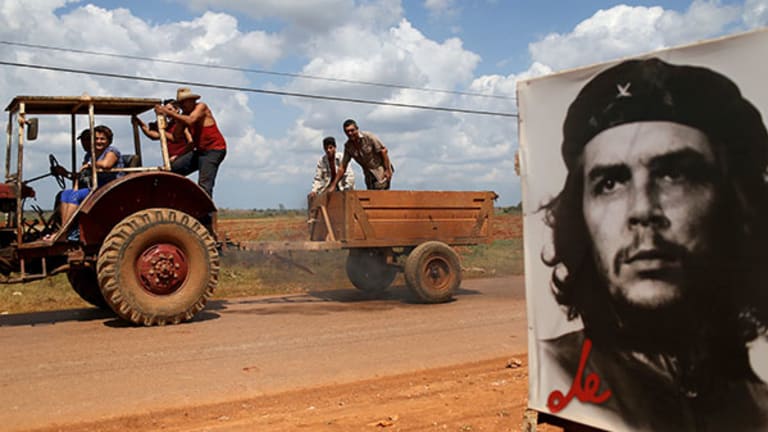 NEW YORK (TheStreet) -- As relations thaw, Cuba and the U.S. are set to become major trading partners for agricultural goods and that's making nearly everyone with any stake in the matter very happy -- except Florida farmers. 
"With a similar climate and much of the same crop diversity as Florida, but lacking the sanitary and phytosanitary programs and resources necessary to suppress plant pest and disease, Cuba is a fertile breeding ground for any number of harmful exotic pests and disease that would pose a threat to Florida's natural resources, environment and agriculture industry," said Adam H. Putnam's, Commissioner of Florida Agriculture and Consumer Service.
For Putnam, and those he represents, any relaxation in the restriction of trade and commerce could have a disproportionately negative effect on the state of Florida its $120 billion agriculture industry.
Others in Putnam's camp bring up a variety of concerns.
Florida is a "sentinel state for foreign pests, invasive species, and new diseases and infrastructure for detection and treatment of pests and disease is reportedly underdeveloped in Cuba," said Janell Hendren, National Affairs Coordinator of the Florida Farm Bureau Federation. "The USDA needs to conduct a thorough evaluation of the risk to U.S. farms, and, as with other countries, Cuba should be held to the same standard as domestic producers regarding food safety and production methods."
Florida farmers are also concerned about the unfair market competition they would face from government-controlled agricultural business. Cuba's subsidized citrus, avocado and sugar production could adversely affect growers in Florida.
"If the grain exporters want to sell their products to Cuba, we certainly won't object, but we have concerns allowing imports," said Hendren.
On the flip side, Gene Hall, a spokesperson for the Texas Farm Bureau, who has been to Cuba twice, thinks that the farmers of his state could benefit greatly with better economic relations with the island nation of 11 million.
"Cuban officials showed interest in Texan rice and other agricultural products of our state," he said. "They have to buy rice from Vietnam and other nations from the South East Asia. Those countries cannot compete with the quality of our products. Besides, we are closer."
Despite the relaxation of the ban on export of agricultural and other food items under the Trade Sanctions Reform and Export Enhancement Act of 2000, U.S. government agencies still are prohibited from providing export assistance or any form of credit or guarantees for export to Cuba.
All this is likely to change, or at least be tweaked.
Less than a month after President Obama's December 17 announcement of policy changes that explore a new approach in relations with Cuba, the Treasury Department's Office of Control of Foreign Assets published several amendments to Cuban Assets Control Regulation to create a more effective and less restrictive system of payments requirement for the sales of agricultural products to Cuba.
Much farm trade requires heavy financing of the kind Cuban farmers and those who exported to Cuba had difficulty getting in the past. Removing this obstacle could help spur agricultural trade growth. 
"If the embargo is removed, we could be poised to become a major trading partner with Cuba," said Michael Scuse, Under Secretary for Farm and Foreign Agricultural Service in the U.S. Department of Agriculture.
The U.S. already does export agricultural products to Cuba. In 2014, the U.S. exported $148.1 million of poultry products to Cuba, making the it the eighth largest export market for U.S. goods of that kind. Exports of soybean meal and bulk soybeans weighed in at $75 million and $29 million, respectively. Bulk corn exports reached $28 million.
But the numbers have been falling. 
Agricultural and other food exports to Cuba fell to $291 million in 2014 from $349 million in 2013 and $457 million in 2012, according to figures released under the Trade Sanctions Reform and Export Enhancement Act of 2000. (The Cuban government does not provide verifiable data.)
Cuba imports about 80% of its domestic food requirements. Although a number of steps are being taken aimed at increasing the food production, such of the allocation of idle land to private individuals and groups and the reduction of the amount of land devoted to sugar cane cultivation, the country's vulnerability to hurricanes and climate change, coupled with higher global food prices are serious hurdles to the path to national food independence.
According to World Food Program, the main health problem in Cuba is anemia. Some 57% of children under the age of 24 months and 20% of those between the ages of two and five are afflicted by the blood disease, which is often caused by poor diet, low in iron and certain vitamins. 
Analysts say that the primary reasons for the reduction of U.S. exports to Cuba are the lack of foreign exchange, the financial largess of the China and Venezuela which lessen the interests of the government to purchase products from the U.S., regardless of cost and quality, and the commercial relations -- on a barter basis and under substantial credits for political motivations -- with the governments of Brazil, Argentina, Mexico, Russia and Iran, among others.
With Cuba set to be moved off the U.S. State Department's State Sponsors of Terrorism list, financing for trade should become easier. 
"Fifty years of embargo have not worked," said Hall, the Texas farmers spokesperson. "The Castro brothers are still there. The carrot of trade is better than the stick of the embargo."
This article is commentary by an independent contributor. At the time of publication, the author held no positions in the stocks mentioned.