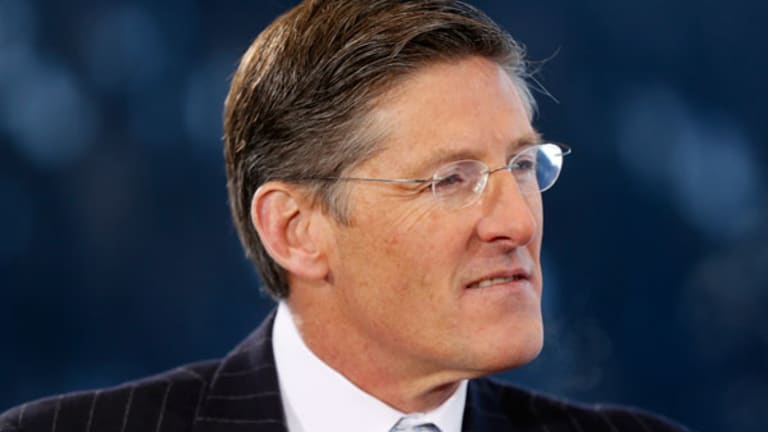 As Citi Gets Boring, Shareholders Get Excited
Shareholders want to see less surprises and more predictability from Citi's earnings.
Shareholders want to see less surprises and more predictability from Citi's earnings.
NEW YORK (
) --
Citigroup's
(C) - Get Report
future valuation hinges on it being a boring bank.
For years, shareholders have put up with declining returns as the bank grew through risky acquisitions and took outsized risks to deliver on impossible return targets.
Now, with new CEO Mike Corbat at the helm, the bank is on a massive restructuring drive that could see it become smaller, more efficient and more stable.
Judging by the positive reaction to Citi's
, it is clear that shareholders are watching the transition closely and are willing to reward any signs of progress.
Citigroup shares were up 3.28% to $46.34 in midday trading.
The third-largest U.S. bank beat expectations in the first quarter on higher trading revenues and reserve releases, which would normally be considered a "low-quality" beat, because those are not sustainable drivers of growth.
But Citi is also earlier in its credit recovery cycle compared to healthier peers such as JPMorgan Chase or Wells Fargo, because it has a more troubled balance sheet.
The continued release of mortgage reserves and consumption of
deferred tax assets that have trapped capital
are likely to provide a boost to profits in the upcoming quarters.
Besides, improvement in credit quality is a necessary condition for Citi to complete its overhaul.
"We have always maintained that improving asset quality is way more important than just the impact of declining provisions," Oppenheimer analyst Chris Kotowski wrote in a report. "It is important because once a bank management is out of the fire-fighting mode where they are throwing money at problems to staunch the bleeding, they can focus on optimizing the business and running it efficiently. Capital builds up nicely too, and that gives people more comfort in the balance sheet and earns a higher multiple."
Another promising development evident in the first quarter is that
, the bank's non-core arm that is in wind-down mode, is now a much lower drag on profits. A combination of asset sales and improving credit has helped shrink losses in the division from $1.05 billion in the fourth quarter of 2012 to $794 million in the first quarter.
Citi has built a significant amount of capital and now boasts a Basel III Tier I Common Capital of 9.3%, putting it ahead of
JPMorgan Chase's
(JPM) - Get Report
capital ratio of 8.9%. Management expects to finish the year with the capital ratio at 10% or more, giving it a buffer over the proposed regulatory minimum of 9.5% for too-big-to-fail banks.
These are all important elements to Citi's earnings recovery story, so it is natural that investors and analysts are welcoming the results.
But the key is for the bank to keep delivering on its promise.
"Citigroup's stock is still a show me stock, in our view," RBC Capital analyst Gerard Cassidy wrote
emphasis his. "As the result of the company's track record over the last five years, investors are demanding to see the results rather than give management the benefit of doubt that the results will materialize before they purchase the stock. Therefore, Citi shares will likely remain volatile for as long as Citi Holdings remains a sizable influence. We believe any sale or acceleration of disposals from Citi Holdings will leave little doubt in investors' minds that its recovery is sustainable. The more boring the company becomes the better the stock valuation, in our view."
Oppenheimer's Kotowksi echoes that view, noting that while Citi's topline growth in most segments was nothing to write home about, it exhibited tremendous stability in the first quarter. "Given that Citi's greatest weakness in recent years has been adverse surprises, we'll take stability
over growth. With the stock at 86% of tangible book value, we think that stability is all you need to get to TBV. Over time, stability leads to more capital for either buybacks or business investment that can drive it higher from there."
Joshua Siegel, CEO of Stonecastle Partners, which is actively invested in community banks, says Citigroup has a long road ahead of it, but has the right management in place to implement its turnaround.
"Citigroup is Titanic times 1000. It is very hard to turn that ship. The captain has turned the wheel but the ship won't turn on a dime," he said in an interview with
TheStreet
last week.
Siegel, who worked alongside Corbat at Salomon Brothers, calls him a "Closer". "You don't want lawyers running the business. They are built to argue, not resolve."
He believes the new CEO is doing a good job managing expectations in setting achievable return targets. "Corbat knows that the days of reaching for high return on tangible equity targets are coming to an end. The volatility that comes with it-- regulators don't want that anymore," he said.
In the coming quarters, Siegel would like to see fewer one-time earnings surprises from the bank, greater rationalization of costs and more signs that Corbat is providing the bank with a focused strategy.
Terribly boring stuff, but it's what shareholders want.
-- Written by Shanthi Bharatwaj in New York.
>Contact by
.
Disclosure: TheStreet's editorial policy prohibits staff editors and reporters from holding positions in any individual stocks.