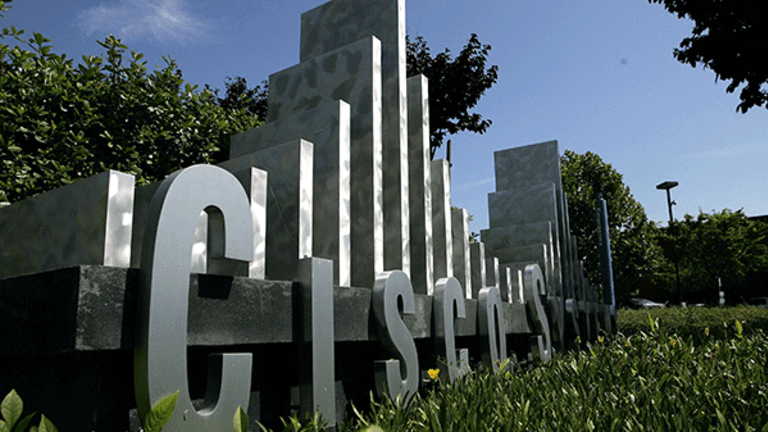 With Cisco's Competitive Threats Growing It's Wisely Doubling Down on Software
What you need to know.
If Cisco Systems Inc.'s (CSCO) $3.7 billion deal to buy top app performance monitoring (APM) software firm AppDynamics in January marked a major expansion of its efforts to use M&A to grow its software and services exposure amid serious hardware pressures, this week's product announcements did the same for its efforts to use internal R&D investments towards this end.
Cisco's goals are twofold: lower its hardware dependence, and strengthen the value of its proprietary switches and routers by making powerful software tools available for them.
Jim Cramer and the AAP team hold a position in Cisco for their Action Alerts PLUS Charitable Trust Portfolio. Want to be alerted before Cramer buys or sells CSCO? Learn more now.
On Tuesday, June 20, Cisco unveiled its Digital Network Architecture (DNA), a set of subscription-based software products and new switches collectively meant to enable a concept that Cisco calls "intent-based networking." Basically, it promises to let IT admins create big-picture policies -- for example, provisioning and setting rules for certain types of devices joining a network, or securing all traffic in one part of a network -- without having to worry about configuring individual switches or apps.
DNA includes a software dashboard (called DNA Center) said to let admins quickly manage and set policies for resources across all network functions. It also includes SD-Access, a product that automates everyday networking tasks to do things like speed network provisioning times and lower the impact of security breaches, and analytics software that collects networking data to speed up troubleshooting.
There's also a solution that leverages Cisco's Talos threat intelligence tools to analyze encrypted traffic for potential malware (not an easy thing to do). And new switches for Cisco's Catalyst office/campus switch line that rely on proprietary switching chips and will support DNA's software functions. Cisco also promises several router and Wi-Fi access point lines will support DNA.
Cisco asserts DNA can understand the context in which networking traffic is sent to make better decisions, and will use machine learning to get smarter over time as more data is taken in. In some ways, DNA complements Cisco's ACI software-defined networking (SDN) platform, which had 3,100 clients as of the April quarter, and its recently-launched Tetration analytics software. ACI works with Cisco's Nexus 9000 data center switch line to provision networking resources and set rules for for apps installed on servers. Tetration works with Nexus 9000 switches and Cisco and third-party hardware to provide insights on data center traffic and resource usage.
A common thread for all of these offerings is that many of their features are made possible by features built into Cisco-designed ASICs going into the company's networking hardware. Likewise, the company's StealthWatch security analytics platform uses sensors built into Cisco hardware to collect data and detect potential threats. By launching compelling software that needs Cisco hardware to work, the company is giving enterprise and service provider clients an incentive to stay loyal to its hardware rather than abandon it for cheaper alternatives.
Going forward, Cisco has signaled that it plans to enlist AppDynamics' APM software towards this end, by integrating it with Tetration to provide a full view of a data center's infrastructure and app performance. And for enterprise and carrier wide-area networks (WANs), Cisco could integrate software from recently-acquired startup Viptela to work with Cisco hardware to provide advanced tools for managing and automating WAN activity.
All these moves come as Cisco deals with the proliferation of rival SDN platforms that promise to let companies use software to provision resources and set rules for networks using a variety of switches, including commodity gear. VMware Inc. (VMW) has seen strong traction for its NSX SDN platform, and there's also decent momentum for the open-source OpenDaylight SDN platform. And last year, Microsoft Corp. (MSFT) unveiled SONiC, an open-source platform for programming data center switches; it has the support of Cisco rivals such as Arista Networks Inc. (ANET) and Dell Technologies Inc. (DVMT) , as well as switching chip providers such as Broadcom Ltd. (AVGO) and Cavium Inc. (CAVM) .
As the list of Cisco software acquisitions and product launches has swelled, the company has certainly made headway in up-selling and cross-selling its giant enterprise base on software offerings. The company's product deferred revenue balance for recurring software and subscriptions grew 57% annually in the April quarter to $4.4 billion, and 10% of total product revenue now comes from recurring streams.
Nonetheless, total product sales growth was nearly flat due to hardware declines, and with Cisco guiding for total revenue to be down 4% to 6% in the August quarter, chances are that product growth has turned negative. Switching sales were up a meager 2% last quarter, while routing sales fell 2%. Though SDN is a growing threat to the switching business, the bigger headwinds over the short-term have been weak carrier capital spending, stiff switching competition from Arista, HP Enterprise and Huawei and the heavy use of internal and open-source switch designs by cloud giants.
More software and services growth is clearly needed for Cisco's top line to fully stabilize, particularly since its hardware pressures will likely accelerate in the coming years. But given all of the moves it has made over the last two years, no one can accuse the company and CEO Chuck Robbins of being asleep at the wheel.
Visit here for the latest business headlines.