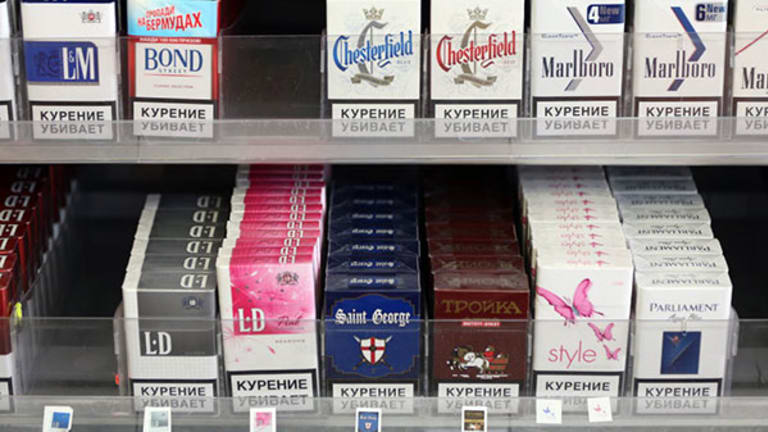 As Cigarette Demand Slows, Philip Morris Pursues a Paradigm Shift
This tobacco giant is developing alternatives to keep revenue flowing.
PhilipMorris International (PM)  is looking at new ways to drive long-term growth and profits that don't involve unsafe traditional tobacco products.
Chief Executive Andre Calantzopoulos has even mentioned completely replacing cigarettes with alternatives.
Of course, the company continues to produce more than 870 billion cigarettes every year.
Industry insiders say that Philip Morris International is looking at pushing the idea of heating nicotine as opposed to burning with its Iqos device, in which it has invested $3 billion.
The electronic device retails for $56, which is used with mini-cigarettes, is one of the hottest investment trends.
The product charges a cigarette holder once tobacco sticks are inserted, with a 20-stick pack costing about $10.
The underlying framework behind the product seems logical enough. Iqos delivers the same nicotine rush with a 90% decrease in other complementary toxin consumption.
There is no independent evidence showing that Iqos and similar products from British American Tobacco and Japan Tobacco International are substantially less harmful than other tobacco products, however.
Tobacco companies have in the past, often failed to deliver on their promises.
In fact, cigarette smokers are largely creatures of habit, and it isn't clear whether they would embrace a product as complex and esoteric as the Iqos device.
Iqos trials showed that the product has an effect that is almost akin to quitting smoking, making it hard to imagine that smokers would be ready to pay a premium for a similar experience.
The product's biggest hurdle is probably the eventual conversion rate.
Reports say only 20% to 30% of ordinary smokers switch to ecigarettes, and that number could be even lower for high-tech products such as Iqos.
This isn't the first time cigarette makers have experimented with "reduced-risk" products.
In the 1980s, Reynolds produced the Premier, which heated tobacco but still involved some burning. It lasted for just about a year, leaving customers unhappy with its complicated lighting procedure.
Given that the heat sticks used for the Iqos device are half the normal size but are priced nearly at the same margins, Philip Morris International could see a significant upswing.
Buy the stock before the herd catches on.
---
Trump's shocking election as president has turned the investment world upside down. If you're looking for new (and safe) growth opportunities in these uncertain times, we've found a genius trader who turned $50,000 into $5 million by using his proprietary trading method. For a limited time, he's guaranteeing you $67,548 per year in profitable trades if you follow his simple step-by-step process. Click here now for details.
The author is an independent contributor who at the time of publication owned none of the stocks mentioned.