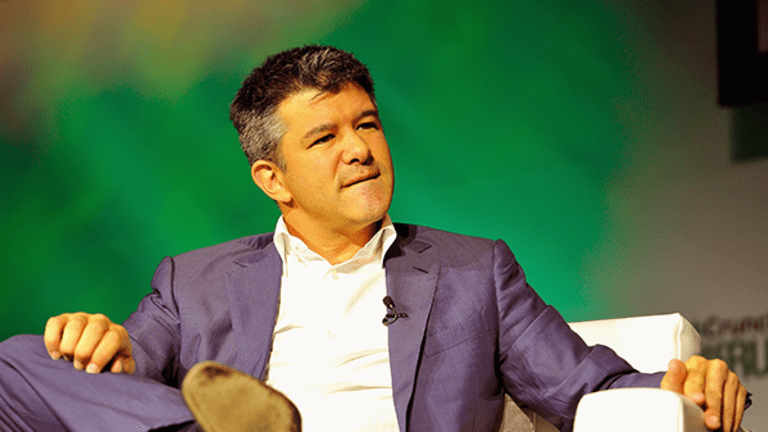 As CEO Travis Kalanick Takes Leave of Absence, What Is Uber's Final Destination?
Uber's board and investors will have to decide whether it's time for more adult leadership.
Uber is taking the first of many steps to reverse its dysfunctional company culture. 
On Tuesday, CEO Travis Kalanick said he will take a leave of absence from the ride-hailing startup as he grieves the recent loss of his mother, who died in a boating accident. Kalanick didn't say how long his leave of absence would last, but noted in a letter to employees that he would use the time to focus on personal growth and building a "world-class leadership team." He added that he takes full responsibility for Uber's past and future.
"There is of course much to be proud of but there is much to improve," Kalanick continued in the letter. "For Uber 2.0 to succeed there is nothing more important than dedicating my time to building out the leadership team. But if we are going to work on Uber 2.0, I also need to work on Travis 2.0 to become the leader that this company needs and that you deserve." 
Employees who report directly to Kalanick will be in charge of steering the company during his absence, he noted. 
Kalanick notified employees of his decision as workers learned of the findings of an investigation conducted by former U.S. Attorney General Eric Holder's law firm Covington & Burling. The 13-page report makes recommendations (which Uber's board had already unanimously approved on Sunday) about how the company should address complaints about sexual harassment, a lack of diversity and other workplace issues. Uber convened the investigation after former engineer Susan Fowler detailed allegations of harassment, discrimination and retaliation during her time at the company. 
Among several other recommendations, the law firm called for Uber to make changes to its senior leadership, including "reviewing and reallocating" Kalanick's responsibilities. Uber has yet to hire a chief operating officer, but the report noted that this position would alleviate some of these concerns and serve as a "full partner" with the CEO, tackling some of the thornier day-to-day operations. Other high-level positions at Uber that remain vacant are chief financial officer, chief marketing officer and senior vice president of business.
Editors' pick: Originally published June 13.
Hiring a chief operating officer will be a key step in Uber's efforts to become a serious corporation, said Vivek Wadhwa, an adjunct professor at Carnegie Mellon University and a director of research at Duke University. 
Many Silicon Valley companies have opted to hire experienced business executives to handle the day-to-day operations while the company's chief executive focuses on the big picture items, such as a company's vision. Wadhwa pointed to how Facebook (FB) - Get Reportbrought on former Google ad exec Sheryl Sandberg as its chief operating officer back in 2008 in an attempt to "get serious," while CEO Mark Zuckerberg remained at the helm. Alphabet's (GOOGL) - Get Report Google did something similar back in 2001 when it brought in Eric Schmidt to serve as CEO amid the company's rapid growth and impending IPO. 
"You can have these crazy visionary founders but after that, you replace them with seasoned adults," Wadhwa said.
Kalanick doesn't entirely fit the same mold, having founded Uber in his early 30s after founding and running several other tech companies, but the analogy still may fit. 
Uber investors are supposedly clamoring for Uber to hire an experienced business executive to step in at the company, Wadhwa noted. He suggested that former Ford (F) - Get Report CEO Mark Fields could be a good fit, as well as Carl Bass, who last served as CEO of Autodesk (ADSK) - Get Report. 
"I know investors that would be delighted to have that happen," Wadhwa explained.  
Others aren't so quick to dismiss Kalanick's contributions to the rapidly growing tech unicorn, which in its eight-year life span, has amassed a valuation of approximately $70 billion. Early Uber consultant and investor Bradley Tusk believes Kalanick is owed some credit for his vision of disrupting the taxi industry.
"Building something this big and this transformative this fast is unheard of," Tusk said. "Whenever Travis does return, Uber needs him relentlessly focused on growth, scale and innovation. It's not only what he does best --- it's what he does better than anyone else."
Facebook and Alphabet are holdings in Jim Cramer'sAction Alerts PLUS Charitable Trust Portfolio. Want to be alerted before Cramer buys or sells FB or GOOGL? Learn more now.