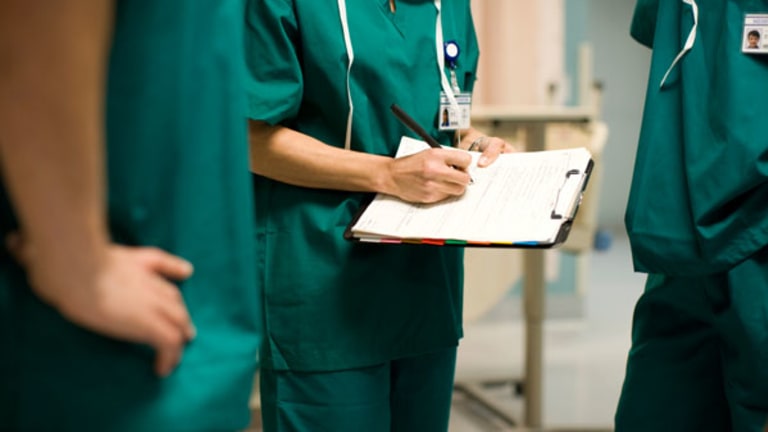 Arthrocare Unit Keeps Troubling Company
Its DiscoCare division has had dealings with suspected con artists.
Its DiscoCare division has had dealings with suspected con artists.
Editor's note: This article was corrected after its original publication on May 21. Please see Corrections and Clarifications.
OKLAHOMA CITY --
Arthrocare
(ARTC)
might want to examine its business partners a little more carefully.
Steven Woods, a South Florida attorney who handles cases on behalf of car insurance companies, has linked Arthrocare to several suspected con artists. Going forward, Woods hopes to question company executives under oath about these potentially troubling relationships.
Woods has been trying for months to arrange depositions of key Arthrocare leaders -- including CEO Michael Baker -- as he challenges payment for surgeries involving the company's SpineWand devices. Woods has expressed particular interest in SpineWands sold by DiscoCare, ArthroCare's South Florida billing division that's suspected of supplying the devices for questionable surgeries performed on car-wreck victims covered by pending insurance settlements. (Click
here for more on the increasing scrutiny facing DiscoCare.)
Arthrocare flatly dismisses such suspicions.
Still, Arthrocare has seen sales of its SpineWands skyrocket since DiscoCare first came along. Indeed, Arthrocare considered DiscoCare so valuable that it spent $25 million -- more than half its 2007 profit -- to gain complete control of the two-year-old company late last year.
"The biggest assets there," Baker explained at the time, "are the contracts and the relationships they have with providers and the excellent reputation they have with our customers and with the people who are ultimately paying the bills."
But Arthrocare is now facing uncomfortable questions from car insurers who have grown increasingly suspicious of DiscoCare. From the start, critics claim, DiscoCare has relied on two key sources -- Palm Beach Lakes Surgery Center and the Palm Beach, Fla., personal injury law firm of Steinger, Iscoe & Greene -- for a huge chunk of business. In court filings, Woods has expressed clear interest in questioning Arthrocare about the surgery center and the personal injury law firm alike.
When asking the court to subpoena Baker, in fact, Woods laid out plans to seek all correspondence between Arthrocare and DiscoCare about a number of troubling characters.
Jeffrey Kugler, the first person on that list, works as a spine surgeon at bustling Palm Beach Lakes Surgery Center. In a past deposition, Kugler boasted that he wrote Arthrocare's training protocol for plasma disc decompression (PDD) surgeries requiring the company's SpineWands. Based on pending lawsuits, however, Kugler is suspected of grossly overusing those procedures himself.
Kugler's partner, Jonathan Cutler, appears on Woods' lengthy list as well. Cutler, a podiatrist, reportedly founded DiscoCare and has pocketed $25 million for its sale.
Michael Steinger pops up on that list, too. His busy law firm is suspected of referring its clients to Palm Beach Lakes Surgery Center for unnecessary PDD surgeries requiring Arthrocare's devices.
Steinger's office failed to return phone messages seeking input for this story.
Woods also has singled out a convicted felon -- Mark Izydore -- on his list as well. In fact, when pursuing one case involving a questionable PDD surgery, Woods tried to arrange a deposition with Izydore himself.
In early February, before his opponents suddenly dropped their case, Woods hired a process server to subpoena Izydore, who reportedly was an employee at Palm Beach Lakes Surgery Center. But the process server and a private investigator lost track of the elusive Izydore in the end.
"I observed Mr. Izydore's black BMW 7451 departing his residential neighborhood," the private investigator stated in a formal affidavit at the time. "After departing the vicinity of his residence, Mr. Izydore made repetitive U-turns, drove into residential neighborhoods and drove behind a shopping mall for no apparent reason ... His driving was indicative of someone who was attempting to determine if they were being followed."
Based on court documents, Palm Beach Lakes employees -- including one identified as Steinger's brother-in-law, Marc Nathanson -- helped Izydore escape without being served.
TheStreet.com
tried to reach Izydore and Nathanson last month. The surgery center originally offered to check and see if they were available but, upon learning that a reporter was calling, denied that the men even worked there.
Of course, these days, Izydore may want a low profile. In mid-1997,
The Austin-American Statesman
reported, a federal judge sentenced Izydore to five years in prison for looting a bankrupt Texas company that he had promised to rescue instead. Before that, the newspaper stated, Izydore "had a long history of questionable deals in South Florida."
After serving time in federal prison, which offers no parole, Izydore apparently returned to Florida in search of a new opportunity.
For its part, Arthrocare has never hinted at any reason for alarm. Rather, Arthrocare has expressed strong confidence in DiscoCare -- and the people behind it -- all along.
"The people who were on the other side of this transaction really and truly are not the kind of people who would do something like that," Baker promised investors who were concerned about milder rumors early this year. "One of the sad things about this whole exercise has been that some of these people have basically been slandered ... It really is a shame."