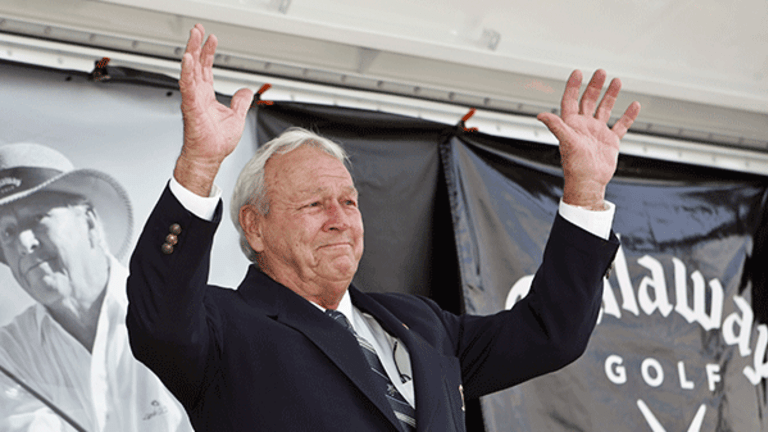 Arnold Palmer's Death May Prompt Callaway to Market His Legacy
Callaway Golf could see a jump in sales due to the tragic loss of the legendary Arnold Palmer.
Sad as it is, the death of golf legend Arnold Palmer could provide a lift for Callaway Golf (ELY) - Get Free Report , which bought the rights to Palmer's name and image regarding golf products in 2000.
Palmer, known affectionately as "The King" due to his army of fans who gravitated towards his good lucks and aggressive style of play in the 1960s, died at 87 on Sunday. He won more than 90 professional golf tournaments, including the Masters four times, the U.S. Open in 1960, and the British Open in 1961 and 1962. Along the way, Palmer pioneered making golf a business, pitching everything from motor oil to prescription drugs while also designing golf courses. And for a while, Palmer also had a golf equipment business, selling irons and woods inscribed with his signature in script.
In the mid-1990s, though, competition, poor financial performance and a lack of focus on the brand nearly drove the company out of business, and Callaway bought the company for an undisclosed sum. The deal ended three decades of mixed success selling golf clubs, in spite of Palmer's immense popularity. The sale to Callaway was seen as a win for the company given that just two years earlier it was losing money.
"Knowing the company ended in a good place is important to me. Now, the time is right for me to move on to new pastures with the Callaway Golf Co," said Palmer in a statement.
After the sale, Palmer signed on to endorse Callaway's golf balls.
"Arnold has been a major force behind the growth of the game worldwide because of his great skills as a golfer and his exceptionally magnetic personal qualities," said Callaway founder and CEO Ely Callaway at the time. "We are very proud that Arnold has chosen to use our new Rule 35 golf balls."
Ever since, Palmer has endorsed various Callaway products, mostly by wearing jackets and shirts on the golf course. He appeared in a Callaway sponsored web-show several years ago, too (below). On Callaway's website, Palmer is listed as having a full complement of Callaway clubs in his bag.
Seeing as Callaway owns the rights to Palmer's name and image on golf products, it may decide to market commemorative edition Palmer golf clubs and balls to take advantage of renewed interest in Palmer's life and legacy. A good pitchman for them could be Phil Mickelson, a Callaway endorser who mirrors Palmer's flair for the dramatic on the course and popularity among fans due to his outgoing personality.
Meantime Callaway has already seen an resurgence in its business stemming from better product releases and more golf rounds being played this year in the U.S. Callaway's second-quarter sales increased in all product categories, led by a 14.9% surge in golf balls. Shares have gained about 25% so far this year.