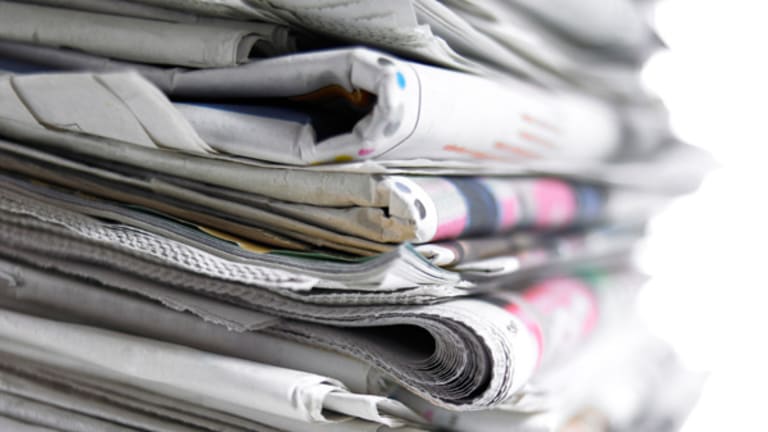 Arkansas Ravaged by Storms: Photo Slideshow
A powerful tornado tore through Arkansas on Monday night, destroying up to 80 homes and leaving at least seven people dead, according to several reports.
NEW YORK (
) -- A powerful tornado tore through Arkansas on Monday night, destroying up to 80 homes and leaving at least seven people dead, according to several reports.
Next>
Severe storms unleashed deadly flooding and a powerful tornado on Vilonia, Ark., a small town of about 3,000,
Reuters
said.
Emergency crews were frantically searching for dozens of people still missing early Tuesday before more storms were expected to strike the area in the afternoon,
The Associated Press
reported.
In Arkansas' Madison County, emergency officials said an elderly man and woman died after their car was swept off the road by powerful floodwaters on Monday afternoon. In neighboring Washington County, the sheriff's office said a woman died when her car was swept off the road.
"It rained so hard and the water rose pretty quickly, it caught a lot of people off guard," Washington County sheriff's spokesman Kelly Cantrell said. "When we were driving down of one of the state highways after the water had receded, sections of it were buckled up and the road was missing."
The sheriff's office had to perform more than 10 water rescues from homes and vehicles because of the rapidly rising water.
The tornado tore the roofs from homes and building throughout the town and yanked down power lines, while heavy rains flooded creeks. Police reported that the path of destruction was about a half a mile wide.
"The town's gone," Vilonia resident Sheldon Brock told the
AP
.
Arkansas Governor Mike Beebe declared a state of emergency in response to tornadoes and flooding, which have damaged and destroyed a number of roads and highways throughout the state.
Click through the following images to see the devastation left behind by Monday's powerful storm system that ravaged Arkansas, Missouri and several other southern U.S. regions.
Next>
Residents of Oak Glen Residential Community are assisted by rescue personnel as rising waters from a nearby creek forced them to evacuate their homes on Monday, in Johnson, Ark.
Much of Northwest Arkansas was hit with flash floods as heavy rains overflowed creeks and rivers throughout the state.
Portions of two state parks in northwest Arkansas were closed because of the dangerous rising of the river.
Many schools in northeastern Arkansas also closed Monday and Tuesday due to the damaging floods.
Next>
Members of the Missouri Highway Patrol set off by boat to patrol a flooded street and check for victims of a flash flood Monday, in Poplar Bluff, Mo.
About 17,000 southeastern Missouri residents were evacuated from about 500 structures by local county officials on Monday.
Poplar Bluff residents watched helplessly Monday as water topped the Black River levee and crept toward their homes. A number of people were trapped by the flooding and had to be rescued by boat.
The flooding may lead to a failure of the levee system between the city of Poplar Bluff and the town of Qulin, the National Weather Service said on Monday.
Next>
Workers and residents look over tornado damaged homes in Pulaski, Va., Monday.
A massive storm system has brought heavy rain and winds to several states over the past week, including Arkansas, Illinois, Indiana, Kentucky, Missouri, Mississippi, Virginia and Tennessee.
Two tornadoes ripped through Pulaski County in southwestern Virginia on Friday, authorities said. The twisters caused an estimated $8.5 million in damage.
More than 400 structures in Pulaski and Draper were damaged, according to the
AP
. Eight people were treated for non-threatening injuries.
Next>
A section of Township Avenue was closed due to the rising waters of Niokaska Creek on Monday in Fayetteville, Ark.
Many roads and highways throughout northwest Arkansas were closed on Monday and Tuesday due to the heavy rains and unpredictable flash floods.
Next>
Business owners work to prevent rising waters from entering their business along College Ave on Monday, in Fayetteville, Ark.
Regions in southern Indiana and Kentucky also had flooding, according to NWS hydrologist Mike Callahan in Louisville, Ky. Residents along the Ohio River near Louisville fled their homes ahead of the flood late last week. A few roads around the city were blocked off in anticipation of the heavy rain.
"This is the worst flooding we've had since 1997," Callahan said.
He also said more flooding was reported in southern Illinois.
The National Weather Service Storm Prediction Center in Norman, Okla., is forecasting a risk of severe weather for Tuesday afternoon into Wednesday morning in a few states, including northern Texas and southeastern Oklahoma, Arkansas, western Tennessee and northern Mississippi. The storm system includes a high possibility of a few strong tornadoes.
Severe thunderstorms are also forecasted for much of northern Texas and eastern Oklahoma, Tennessee, Ohio, Pennsylvania and New York.
NWS meteorologist Bill Davis expects problems to be especially bad along the Taneycomo River in southwest Missouri.
"It's only
going to get worse over the next couple of days," Davis said. "There's going to be more water on top of water."
--
Written by Theresa McCabe in Boston
.
>To contact the writer of this article, click here:
Theresa McCabe
.
>To follow the writer on Twitter, go to
.
>To submit a news tip, send an email to:
.
Disclosure: TheStreet's editorial policy prohibits staff editors and reporters from holding positions in any individual stocks.