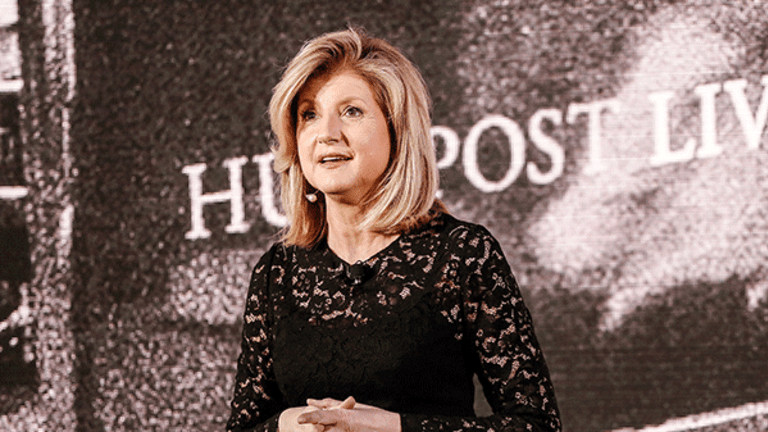 Arianna Huffington and Verizon Were Never Going to Be Easy Fit
Arianna Huffington's outsized personality was never going to fit easily into Verizon, but her departure from The Huffington Post doesn't minimize her impact on journalism and the Internet.
When Verizon (VZ) - Get Verizon Communications Inc. Report decided to pay $4.4 billion in May 2015 to acquire AOL, it begged the question what CEO Lowell McAdam planned to do with The Huffington Post and its mercurial founder and always-on leader, Arianna Huffington.
Verizon, of course, purchased AOL for its powerhouse advertising technology and the potential of integrating those operations with its wireless business, the country's largest, and most recently with the acquisition of Yahoo!'s (YHOO) core operations for $4.8 billion. Huffington Post and AOL's other websites such as Engadget were nice additions but were never going to be McAdam's focus.
In this context, Huffington's departure from the website she created, announced Thursday, isn't a surprise. Known widely for being a strong-willed if unpredictable editor-in-chief, Huffington was never going to blend easily into Verizon's top-down, button-up corporate culture despite the company's clear interest in owning more media content. 
But Huffington's exit from the website she created 11 years ago doesn't minimize the impact she had on journalism, political discourse and the nearly dated act of blogging. Websites such as Twitter (TWTR) - Get Twitter, Inc. Report and LinkedIn (LNKD) and Tumblr, which Verizon now owns, wouldn't be the same if not for Huffington headlining her web site.
"Arianna took a niche medium and made it into a mass medium," said Jeff Jarvis, a professor at the the CUNY Graduate School of Journalism and author of his own blog, BuzzMachine. "She brought blogs to scale; she saw the opportunity to create a space for people to talk, and often with a wide diversity of viewpoints. Arianna's impact is indeed huge."
The Huffington Post began operating in 2005 just months after George W. Bush was inaugurated for a second presidential term and opposition to the Iraq War was expanding. A one-time conservative pundit and wife of a former Republican congressman, she ran unsuccessfully for governor of California in 2003, turning that campaign into Ariannaonline.com.
But the focus of The Huffington Post was to appeal to a mass audience and the nascent digital advertising business. Together with Kenneth Lerer, the media investor and current chairman of Buzzfeed as well as that site's co-founder, Jonah Peretti, Huffington built a platform that gave bloggers national exposure and advertisers an early means of connecting online.
It also broke new ground by embracing a personalized brand, a stark contrast to the tradition of reporters working under the banner of a broad news service.
"She was the site's public and personal face, and while that seemed odd at the time, it certainly doesn't anymore," Rick Edmonds, media business analyst at The Poynter Institute, said in a phone interview. "Huffington Post also understood that you had to really scale, and to do that you had to offer content that spoke to a very large audience."
Mirroring the country's increasingly polarized political discourse, The Huffington Post took a liberal point of view in contrast to the right-wing Drudge Report, which was a dominant and popular destination at the time among supporters of George W. Bush. The site paved the way for Josh Marshall's Talking Points Memo and Andrew Breitbart's Breitbart.com, among others.
Huffington also embraced the celebrity writer and the life of celebrities, giving famous people a chance to pontificate -- essentially Twitter before the tweets.
Huffington sold the site to Tim Armstrong's Aol in 2011 for $300 million in cash and $15 million in stock affording her and the site's early investors a handsome payout. Soon afterward, the site spent heavily on video, eager to staunch declining readership and mindful that advertisers wanted more compelling digital content to sell their goods and services. 
In recent years, Huffington, 66, pulled back on engaging in political issues, writing almost exclusively on wellness topics such as sleep. That could have been the result of having Barack Obama as president rather than George W. Bush, or simply a change in personal priorities. Huffington said on Thursday that she's leaving the website to concentrate on her latest venture, Thrive Global, a business focused on the well-being of the consumer and the corporate employee.
The Huffington Post is also not what it used to be, having moved from a decidedly political site to one seeking to attract a broad audience. Its focus was forced to change with its business model.
"It was a political site with an intensely loyal and engaged audience around politics," Jarvis said. "When it showed it could get to a scale that could attract large-scale advertisers, it needed to expand into other areas like entertainment and health. Those were opportunities at the time but now probably hurts."
Indeed, Huffington Post's profile and reach aren't what they used to be, largely because blogging has been eclipsed by Facebook (FB) - Get Facebook, Inc. Class A Report and Snapchat and Twitter, among many other online mediums. Internet traffic no longer goes through a home page but instead through aggregator sites hosted by much larger media companies. Verizon, of course, would like to be one of them and by extension grab a larger share of the digital advertising market from Alphabet's Google (GOOG) - Get Alphabet Inc. Class C Report and once again, Facebook.
EXCLUSIVE LOOK INSIDE: Facebook and Twitter are holdings in Jim Cramer's Action Alerts PLUS charitable trust portfolio. Want to be alerted before he buys or sells the stocks? Learn more now.
"Arianna and the site are survivors because they were there early and they do have an established brand name," Edmonds said. "But the business has changed, and publishing online has changed with it."
For Huffington, Verizon's acquisition of the site she built marks another point in journalism's evolution and a chance for her to move on.