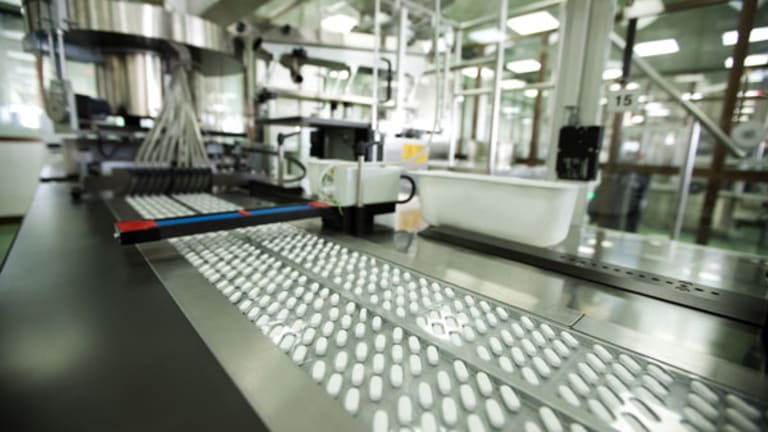 Ariad Pharma: The Contrarian Long Thesis
Iclusig may find use in other cancers and '113 is better than the market believes.
CAMBRIDGE, Mass. (
) -- First off, kudos and congratulations to
Ariad Pharmaceuticals
(ARIA)
skeptics and short sellers. They nailed this biotech disaster du jour. And a disaster it was, with Ariad shares tumbling from the $20s all the way down to the $2s. I was unfortunate and got caught owning a small long position in Ariad, but I'm actually buying more shares at these low prices.
Why? Because I believe Ariad is a good long-term investment. Let me explain.
I tend to be a contrarian investor because it's impossible to outperform the market by simply doing what everyone else does. Going along with market sentiment might be safe, but it's not necessarily profitable. So, while most investors are running away from Ariad amidst a deluge of analyst downgrades, I'm holding my nose and buying the stock. I have a 12-18 month outlook, looking for a substantial recovery in the 1-2 year time frame.
Ariad's Iclusig, for whatever problems it may now have, is actually an impressive scientific feat because it's the only chronic myeloid leukemia drug (CML) drug that hits the gatekeeper as well as other pesky mutations, most notably the T315i mutation. These mutations prevent competing CML drugs from being effective over time.
If Iclusig is only used to treat CML patients with the T315i mutation -- which is pretty much conventional wisdom these days -- the commercial potential is small and not very exciting. I'm not buying Ariad for the T315i market or even the possibility that Iclusig maintains or even grows market share in second-line CML.
First-line use is out.
Instead, I believe there is likelihood that Ariad is successful in developing Iclusig for use in treating other types of cancer outside of CML. Based on its potency and ability to block important cancer-causing molecular targets, I see a strong likelihood of success for Iclusig in treating GI stromal tumors (a billion-dollar market for
Novartis'
(NVS) - Get Novartis AG Report
Gleevec), medullary thyroid cancer, and the approximate 1% of lung cancer cases driven by the protein RET.
The risk in these indications is likely more safety related and not efficacy. It is important to realize these patients are in more traditional oncology indications where drugs are given for months not years, as is the case for CML. For these more acute cancer indications, the emphasis on efficacy over safety could favor Iclusig.
Bottom line. I'm looking at the science underlying Iclusig and making a prediction ahead of actual clinical data. A lower dose of Iclusig may end up being better tolerated and efficacious across multiple types of cancer.
The market today is not giving any credit at all to the potential for Iclusig sales in cancer beyond CML.
I also believe Ariad's second drug, AP26113, will ultimately be approved for ALK-driven lung cancer. Like with Iclusig, the market appears to be ho-hum about '113, in part because of competing drugs from Novartis and
Chugai
. I'm willing to be contrarian again and bet that '113 ends up being a stronger, more potent ALK-inhibitor than most believe it will be.
The prevailing view seems to be that '113 is undifferentiated from other ALK inhibitors and the commercial market is limited to a handful of patients who no longer respond to treatment with
Pfizer's
(PFE) - Get Pfizer Inc. Report
Xalkori.
But Xalkori is not a great drug. If fortunate, Xalkori patients will get about 12 months or more of progression-free survival, while the median is closer to just 8 months. This delay in tumor re-growth comes with unpleasant side effects.
Novartis' ALK inhibitor LDK378 received breakthrough therapy designation from the FDA but also has a troublesome side-effect profile that has limited dosing. Chugai's ALK inhibitor candidate looks promising, more similar to Ariad's '113, but its brain metastases data may be favorable skewed because doctors zapped tumor with radiation prior to treatment. The patients treated with '113 did not undergo prior radiation therapy, making Ariad's brain mets data look even more impressive.
About 10% of patients treated with '113 reported a serious lung toxicity but Ariad is addressing the issue with a short dose titration period. Interestingly, this side effect may be evidence '113 is working too well, too quickly, as it may be causing tumor lysis syndrome. Importantly the side effect appears to be transient and the new dosing strategy may effectively limit its occurrence.
Ariad is gearing up to start a registration study for '113 which should attract more interest and recognition for the drug as perhaps best among all the ALK inhibitors. At a minimum, I believe '113 will play substantial role in treating ALK-mediated cancers.
While Xalkori was the first approved ALK lung cancer drug, I expect its days are numbered. Within three years, as better ALK inhibitors are approved, Xalkori sales will disappear for Pfizer.
Should '113 (and other ALK inhibitors) end up extremely well tolerated with a durability far in excess of Xalfori, the ALK cancer market will grow exponentially, as patients remain on treatment for multiple years, instead of months. This is how the market for CML drugs also grew into blockbuster status. The challenge for Ariad is to move swiftly. The opening for better ALKs to replace Xalkori is ultra-competitive and finite. If Ariad blinks, it not only risks being passed but left in the dust.
Let's not kid ourselves. As an investment, Ariad has warts. Iclusig is under a cloud. Investors see '113 as a me-too drug with its own set of safety concerns. Ariad has over $300 million in cash, but also an excessive burn rate. Ariad needs to cut expenses without sacrificing the long-term growth potential of both Iclusig across multiple indications and for '113 in the hyper-competitive ALK race.
A contrarian bet carries a high risk of failure but at Ariad's current stock price relative to the upside, it's a bet I'm willing to make.
Silverman is long Ariad.
Jim Silverman is the managing member of RRC Bio Fund LP, a Boston-based hedge fund focused on small-cap biotech. RRC Bio was launched in 2007. Silverman also founded Risk/Reward Capital Management in 1997, a registered investment advisory. He lives in Cambridge, Mass., and received a BBA in finance from The George Washington University.