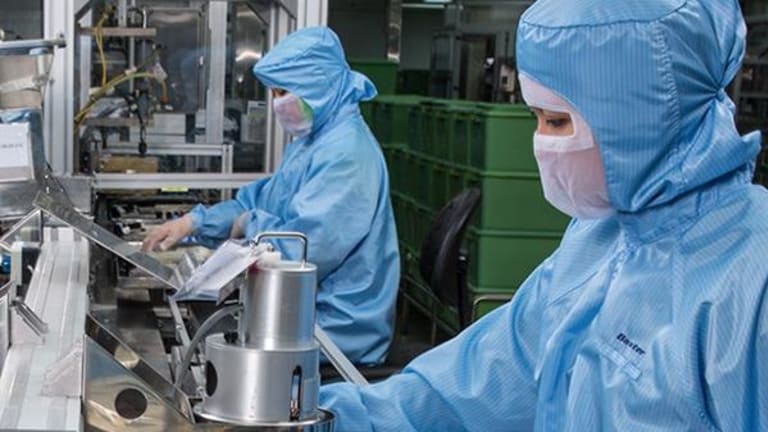 Argos Plummets 72%, Leads Biotech Movers
Also falling was Global Blood Therapeutics.
Argos Therapeuticsundefined plummeted Wednesday ahead of the opening bell, losing 72% of its value before the markets even opened. 
Argos, which makes drugs for cancer, announced that an independent board recommended that it discontinue its late-stage trial for a drug to treat metastatic renal cell carcinoma. 
The company's shares were trading at around $1.25 apiece ahead of market's open. This was after falling 6% Tuesday during intraday trading.
After reporting a turnaround during the fourth quarter of 2016, pain drugmaker Depomed'sundefined shares were climbing ahead of market's open Wednesday.
The company fell over 4% during intraday trading Tuesday, only to rebound Wednesday morning, hitting $16.98 per share, up more than 7% from Tuesday's close. The company posted net product sales in 2016 of $455 million, a 33% increase over 2015, but at its low end of its guidance.  
Meanwhile, PDL Biopharma (PDLI) was climbing ahead of market's open as well Wednesday. Shares were up 5.8% before the opening bell, hovering around $2.35 per share. The publicly traded shell company manages patents owned by companies like Roche (RHHBY) and others. 
On Feb. 22, the company announced it would release fourth quarter earnings on March 1. 
Trevena (TRVN) bounced back after a rough day on Tuesday. The company, which makes painkillers, fell 40% Tuesday, after announcing it was working on a novel opioid.
Ahead of market's open Wednesday, Trevena was climbing 4.5%, hitting $4.46 per share. 
Global Blood Therapeutics (GBT) was having a rough morning in comparison. The blood disorder drugmaker fell 12% ahead of the opening bell, hitting $25.05 per share. 
The company announced Wednesday that it boosted its underwritten public offering of 5,102,041 shares of its common stock at a price to the public of $24.50 per share. This will likely raise $125 million for the company, according to its press release.