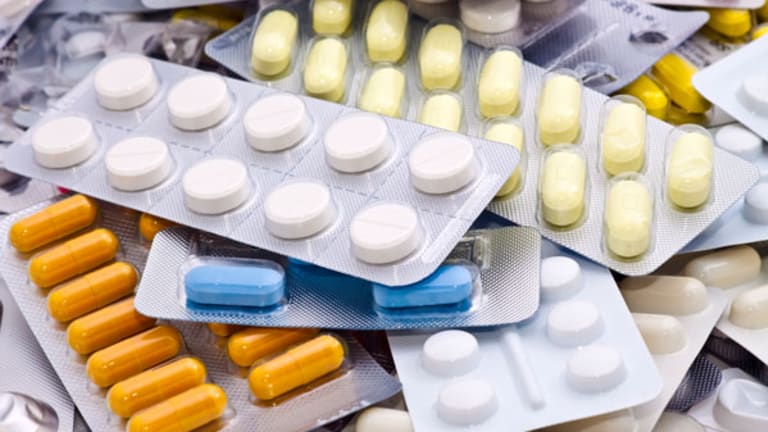 Arena Pharma's Own Data Point to Weight-Loss Drug Rejection
More reasons to doubt Arena's ability to convince FDA to approve its obesity drug lorcaserin.
SAN DIEGO (TheStreet) -- Last week's column on
Vivus
(ARNA) - Get Free Report
and
Arena Pharmaceuticals
undefined
drew some strong reactions from the Arena faithful, almost all of whom were spitting mad that I dared say publicly what almost everyone else already believes:
Arena's weight-loss drug lorcaserin isn't going to be approved any time soon.
FDA, however, is getting ready to approve Vivus' Qnexa.
In particular, the "Areniacs" accused me of lying about lorcaserin and being paid off to write disparaging, false and misleading statements about Arena by short sellers and other criminal market manipulators. This paragraph, in particular, raised a fuss:
"Lorcaserin isn't much more than a placebo (a paltry 3% weight loss) with the added bonus of causing tumors in rats. Arena's has failed to disprove a link between the lorcaserin-fueled rat tumors and the potential for breast cancer in humans, despite the company's claims to the contrary. And let's not forget the risk of heart valve damage that still lingers over lorcaserin, a chemical cousin to the infamous and dangerous fenfluramine."
A personal injury lawyer from Michigan was so upset that he got together with a bunch of Arena retail shareholders -- financially conflicted all -- and wrote me a letter demanding a retraction to my "terrorist style hit-piece
sic designed to put lorcaserin 10 mg BID in false light."
10 Stocks That Could Rise in Market Decline >>
Apparently, writing a column predicting the rejection of a weight-loss drug because it doesn't help people lose weight and is potentially unsafe is a terrorist act.
A retraction is not going to happen, but I will follow up and explain more fully why I believe FDA isn't going to approve lorcaserin based on the data available.
Some cautious words from Arena's recently filed 10-K to get started:
"We expect the FDA to conduct a benefit-risk assessment based upon the totality of the new and previously provided data to determine the approvability of lorcaserin. It is important to note that the
FDA may analyze or weigh the data differently than we or others do.
(Emphasis mine.)
"Others" include Arena bulls who post obsessively on stock message boards.
More warnings from Arena:
"In addition, the analyses we included in the resubmitted lorcaserin NDA include estimates based on certain assumptions and extrapolations. The FDA may accept our assumptions and extrapolations or
may use different ones in analyzing the data, which could lead the FDA to reach different conclusions.
(Emphasis mine.)
4 Stocks That Are Real Sleepers in 2012 >>
We already know FDA reached a "different conclusion" about lorcaserin during the first review. The drug was rejected. In doing so, FDA raised a number of safety issues and concerns focused mostly on lorcaserin causing tumors in rats and the potential risk for similar tumor formation (including breast cancer) in humans.
Arena re-analyzed old rat data and conducted some new rat studies to collect more data to alleviate the FDA's concerns about lorcaserin-fueled tumor growth. Arena bulls are convinced the new data exonerate lorcaserin. I look at the same data and walk away believing the opposite. At best, these new data are inconclusive i.e. the data neither confirm nor reject lorcaserin's link to tumor formation. That's not good, and coupled with concerns about lorcaserin's potential to cause heart valve damage and weight-loss efficacy not much greater than placebo, FDA will reject lorcaserin a second time.
Let's take a look at the evidence to support the "lorcaserin is not approvable" thesis:
From Arena's 10-K:
"In rats given lorcaserin, the incidences of certain tumors, including benign and malignant tumors of the mammary gland, were increased relative to placebo. In female rats, the specific diagnoses (i.e., benign or malignant) differed between an initial pathologist's analysis of the tissues on an ongoing basis during the study and the final peer-reviewed diagnoses reported in the study report and included in the original NDA. The FDA recommended that the tissue samples be re-adjudicated to provide greater certainty for the diagnoses of benign and malignant mammary tumors.
"We convened a pathology working group, or PWG, that consisted of five independent veterinary pathologists to re-adjudicate the female rat mammary tumor diagnoses in the rat carcinogenicity study. The FDA reviewed and agreed to the PWG membership and procedures."
Let's stop here for a second to address the mistaken notion that that FDA chose the pathologists to sit on the PWG, or otherwise endorsed the group's finding. That's false. Arena chose, hired (and most importantly) paid for the pathologists. FDA may not have objected to the makeup of this group, but make no mistake, these pathologists work for Arena.
With that said, I'm happy to endorse the independence and unbiased diligence of the PWG. After re-examining the slides of rat tumor samples from Arena's original animal studies:
"The PWG concluded that the incidence of mammary adenocarcinoma in the high-dose, or 100 mg/kg/day, female group and the increased incidence of mammary fibroadenoma in each of the low-, mid- and high-dose, or 10, 30, and 100 mg/kg/day, respectively, female groups were lorcaserin-related," according to Arena's 10-K.
Translated: Lorcaserin at the highest dose caused rat breast cancer (mammary adenocarcinoma). Lorcaserin at every dose studied (low, mid and high), caused benign breast tumors (mammary fibroadenoma) to form.
These were not the only tumors that the PWG found in rats after re-examining the old slides. Lorcaserin was also associated with higher rates of mammary adenoma (a benign tumor at all doses; as well as higher rate of carcinosarcoma (cancer) at the high dose.
Next, Arena tried to address FDA concerns about the relationship between the lorcaserin dose (low, mid and high) and the "aggressiveness" of rat breast cancer (mammary adenocarcinoma) formation.
From Arena's 10-K:
"The PWG considered measures of aggressiveness for mammary adenocarcinoma, which included time-to-tumor diagnosis, or latency; number of animals with more than one primary tumor, or multiplicity; and number of animals with mammary adenocarcinoma metastases in, or spread to, the lung.
Latency was significantly shortened from control when analyzed as a trend across lorcaserin doses; we performed a post hoc analysis of latency for individual doses that showed only the high dose differed significantly from control."
(Emphasis mine.)
Translation: Rat breast cancer grew
faster
in rats treated with lorcaserin compared to rats treated with a control. Arena thinks high-dose lorcaserin is the culprit but that conclusion came only after a "post hoc analysis" was performed.
Is this another spot where FDA may do its own analysis and reach a different, more troublesome conclusion?
More on the PWG analysis, again from Arena's 10-K:
"Multiplicity was greater than control in the high-dose group, but not in the low- or mid-dose groups (10.8%, 9.2%, 9.2% and 22.7% in the control, low-, mid- and high-dose groups, respectively).
Translation: Only rats treated with high doses of lorcaserin had more than one primary tumor compared to control.
More:
"Among all of the animals in each dose group, the incidence of lung metastases from mammary adenocarcinoma was 0%, 1.5%, 7.7% and 6.7% (control, low-, mid-, and high-dose groups, respectively), and, among only the animals with mammary adenocarcinoma in each dose group, the incidence of lung metastases from this tumor was 0%, 4.8%, 20.8% and 9.8% (control, low-, mid-, and high-dose groups, respectively); the PWG described the incidence of lung metastases as low for all groups, with basically no difference between the control and the low-dose group and an equivocal increase in the mid- and high-dose groups. "
Translation: Mid-
and
high-dose lorcaserin is linked to lung metastases, or tumors that spread to the lung.
Nonetheless, Arena says, "the PWG reached the conclusion that mammary adenocarcinoma was lorcaserin treatment related only at the high dose."
Says the PWG, but what will FDA say given the existence of data linking all doses of lorcaserin to at least some level of tumor aggressiveness?
Arena conducted an additional analysis of these rat data, looking at time to death due to tumor formation in these same rats. The findings, disclosed in Arena's 10-K, raise more questions:
"Time to death specifically attributed to adenocarcinoma was significantly accelerated only in the high-dose group. In the second analysis, time to death due to unspecified mammary tumor was accelerated in the mid-dose group as well, although, as discussed above, the incidence of adenocarcinoma was not increased over control in the mid-dose group."
Question: The incidence of rat breast cancer (adenocarcinoma) may not have been elevated in rats treated with the middle dose of lorcaserin but were these fewer tumors more aggressive and caused the rats to die faster?
Arena wants to assure everyone that only high-dose lorcaserin is linked to rat tumor growth, but again, the middle dose of the drug keeps getting implicated.
Arena summarizes the work of the PWG in its 10-K:
"
We believe
the PWG's re-adjudication and their and our related analyses found that mammary adenocarcinoma was only lorcaserin treatment related at the high dose, establishing a safety margin of 24-fold between human lorcaserin exposures at the intended therapeutic dose and exposures in rats at the highest dose not associated with malignant mammary adenocarcinoma." (Emphasis mine.)
"We believe" doesn't mean, "FDA believes."
Arena's "belief" also assumes a clear understanding of how lorcaserin blood levels in rats translate into similar blood levels in humans. Arena provides no additional evidence to demonstrate confidence in that assumption.
Up to this point, we've been talking mainly about lorcaserin causing adenocarcinomas, or malignant (cancerous) tumors in rats, but any tumor growth that potentially occurs in humans, even the benign variety, is a concern. Doctors can't necessarily distinguish between benign and malignant tumors without an exam and biopsy, which means additional costs, anxiety and treatment for patients.
From Arena's 10-K:
"With respect to fibroadenoma
benign tumors, the PWG re-adjudication did not establish a safety margin for these benign tumors since they were
increased over control at all lorcaserin doses tested.
The PWG determined that, in addition to incidence,
tumor multiplicity was increased in all lorcaserin groups
, and that
tumor latency was significantly decreased as a trend across all lorcaserin dose groups.
A separate analysis we performed also showed that tumor latency was significantly decreased in each treatment group." (Emphasis mine.)
Uh oh... You get this? Arena tells us that lorcaserin, regardless of the dose, caused more benign tumors to form in rats compared to control. These tumors grew fast, emerged sooner and were more frequent.
And this is not a problem because...?
Moving on to the question of why lorcaserin is causing the growth of tumors in rats. Arena blames prolactin, a reproductive hormone. Lorcaserin increases the effects of prolactin, which in turn, causes evidence of abnormal growth of cells in the rat mammary glands, or so Arena claims.
To test the hypotheses, the company conducted new rat studies that compared the prolactin-boosting effects of lorcaserin against perphenazine, a schizophrenia drug known to increase prolactin levels and cause changes in rat breast tissue.
Once again, back to Arena's 10-K:
"After optimizing methodology in the pilot experiments, we conducted a three-month study of intact female rats. The prolactin content in the pituitary gland was measured after dosing lorcaserin, perphenazine, or control for 7, 28, 60 and 90 days, and plasma prolactin concentrations were measured at various time points throughout the study. Lorcaserin at all doses tested (10, 30 and 100 mg/kg/day, or the low-, mid- and high-dose, respectively) increased pituitary prolactin content relative to control at all time points after 7 days; these increases were significant for all lorcaserin doses at Day 90. Lorcaserin also significantly increased plasma prolactin compared to control at 20 hours after dosing for up to 10 days at the high dose."
If Arena's theory about lorcaserin boosting prolactin levels is correct, the drug should act very much like perphenazine, but the data excerpted above are inconsistent. Lorcaserin-treated mice at all doses exhibit increases in pituitary prolactin content relative to control but only the high dose of lorcaserin caused an increase in levels of plasma prolactin compared to control -- and even then, only for a short period of time (10 days), not 28, 60 or 90 days.
Did plasma levels of prolactin in high dose lorcaserin-treated mice fall after 10 days? Or did the mice die so quickly that plasma levels couldn't be measured at 28, 60 and 90 days? Arena doesn't say but without the data, this experiment is incomplete and therefore inconclusive.
Arena then examined the rat breast tissue to see if any cellular changes could be observed which would hint at increased prolactin levels causing tumor formation. Some, but not all, of these examinations yielded positive results.
In particular, Arena notes, "Low-dose lorcaserin significantly increased PCNA staining at Day 90, and mid-dose lorcaserin increased the signal at Day 28. High-dose lorcaserin did not significantly affect PCNA staining in this study. An increase in PCNA staining indicates cellular proliferation."
Odd. Arena insists that high dose lorcaserin is the culprit, yet it had not affect on PCNA staining but low- and mid-dose lorcaserin did -- significantly.
This is another example of data inconsistency that raises questions because lorcaserin isn't acting quite like perphenazine, even though it should if Arena's theory is valid.
Here's how perphenazine performed in this study, as described by Arena:
"The positive control, perphenazine, caused significant elevations of plasma prolactin at all time points, more pronounced morphological changes at Days 28 and 90 and significantly decreased pituitary prolactin content at Days 28 and 90. Perphenazine significantly increased lobular structures and decreased terminal ducts in whole mount preparations, significantly increased lobular hyperplasia in H&E sections and significantly increased PCNA immunostaining of mammary tissue on Days 28 and 90."
Then there's this Arena 10-K disclosure:
"A smaller study in male rats did not show consistent effects on pituitary or plasma prolactin or mammary morphological changes with lorcaserin or perphenazine treatment. Since the positive control had no effect relative to control, this experiment does not contribute to our interpretation of the prolactin hypothesis."
Translation: This study in male rats was a total failure so we're just going to make believe it never happened even though it should have shown consistent and similar results to the studies we did in female rats in order for our prolactin-lorcaserin theory to make sense.
Enough about rats and tumors, let's move on to the issue of heart valve damage, or valvulopathy. During the first review, FDA and some of the experts at the agency's advisory panel meeting expressed concern about lorcaserin's potential to cause heart valve damage, based on data from Arena's two phase III studies known as Bloom and Blossom. Arena, of course, disagreed, expressing the view that lorcaserin was designed in a way to avoid the valvulopathy issues that caused fenfluramine, a similar drug, to be yanked off the market.
Last November, Arena released data from a third, late-stage study known as Bloom-DM, which showed lorcaserin-treated patients with more heart valve problems than patients treated with a placebo. FDA did not have the Bloom-DM data during lorcaserin's first review but Arena included these data in its resubmission.
Again, let's go to Arena's 10-K. Pardon the lengthy excerpt:
"Data from our two large Phase 3 lorcaserin trials of one and two years in duration, BLOOM and BLOSSOM, including the proportions of patients that developed FDA-defined valvulopathy, were included in our original lorcaserin NDA. There are different ways of analyzing the valvulopathy data from our trials. The pre-specified statistical analysis plan for the NDA provided that the risk difference between lorcaserin and placebo using Baseline and Week 52 echocardiograms would be evaluated using a non-inferiority model that would rule out a greater than 50% increase over the assumed placebo risk of FDA-defined valvulopathy. The assumed placebo risk of FDA-defined valvulopathy was derived from the Data Safety Monitoring Board, or DSMB, interim review of six-month data from BLOOM. Using this analysis, the combined data from BLOOM and BLOSSOM demonstrated that lorcaserin was non-inferior to placebo.
Using a relative risk analysis of the Baseline and Week 52 data, which the FDA has used previously and may favor over the above analysis, these trials ruled out an increase of more than 55% in the relative risk for FDA-defined valvulopathy with lorcaserin."
(Emphasis mine.)
The last sentence, highlighted, is the most relevant. FDA set the safety bar at ruling out a
greater than 50% increase
in risk for valvulopathy. Arena said its analysis of the Bloom and Blossom studies ruled out a 55% risk, meaning lorcaserin was safe.
As I said above, there was discussion and disasgreement from advisory panel members who believed Arena actually fell just short of the valvulopathy safety margin.
Okay, but what happens when valvulopathy data from the new Bloom-DM study are added to the mix? Again, here's what Arena discloses in its 10-K:
"Our other one-year Phase 3 clinical trial, BLOOM-DM, was not designed to include enough patients to be adequately powered to detect meaningful differences in the incidence of valvulopathy. Rather, we pre-specified a combined analysis of echocardiographic changes in all three Phase 3 trials. We integrated into our lorcaserin NDA resubmission the results of BLOOM-DM, which include additional data relating to heart valves and pulmonary artery pressures. Using the analysis of risk difference that we used for our original NDA, the pooled data from BLOOM, BLOSSOM and BLOOM-DM would rule out a greater than 50% increase over the assumed placebo risk of FDA-defined valvulopathy.
Using a relative risk analysis, the pooled data from all three trials ruled out an increase of more than 67% in the relative risk of FDA-defined valvulopathy. Statistical methods that consider all echocardiograms rather than restricting the analysis to Baseline and Week 52 produced risk ratio or hazard ratio estimates of 1.08 -- 1.09, ruling out a 44% increase in risk of FDA-defined valvulopathy.
(Emphasis mine.)
Discrepancies! Depending on how the pooled data from the three trials are analyzed, lorcaserin either clears the FDA's valvulopathy risk safety hurdle or it doesn't. Importantly, Arena, in its own regulatory filing, acknowledges that lorcaserin may indeed have a heart-valve safety problem.
For more discussion on lorcaserin and the risk of valvulopathy, I suggest reading this old
Arena column from Forbes' Matt Herper
.
Lastly, a brief discussion of lorcaserin's mediocre efficacy. Patients in the first two phase III studies (Bloom and Blossom) lost just 3.6% and 3.1% of their body weight (placebo adjusted) which falls short of one of two FDA-mandated efficacy guidelines for obesity drugs. Forty-seven percent of lorcaserin patients achieved a 5% weight loss in the two studies, which is double the weight loss achieved by placebo patients in one study (Bloom) but less than double in the second study (Blossom).
On this basis alone, Arena had barely the efficacy data required to file lorcaserin for approval. FDA, in its first review, called lorcaserin's weight loss efficacy "marginal" and many of the advisory panel members concurred.
The new Bloom-DM data don't help, particularly since this study enrolled patients who were obese and suffering from Type 2 diabetes. In other words, these patients more accurately represented the real world in which obese patients suffer from multiple weight-related health issues.
The lorcaserin weight loss (placebo adjusted) in Bloom-DM was just 3%, the worst efficacy data from all three late-stage studies. Moreover, only 37% of lorcaserin patients achieved 5% weight loss -- again, the drug's worst performance in the three studies. Lorcaserin -- a weight loss drug that doesn't really help obese people lose weight, but which may exacerbate heart valve problems or fuel the growth of tumors. Not exactly the best risk-benefit equation.
--Written by Adam Feuerstein in Boston.
>To contact the writer of this article, click here:
Adam Feuerstein
.
>To follow the writer on Twitter, go to
http://twitter.com/adamfeuerstein
.
Adam Feuerstein writes regularly for TheStreet. In keeping with company editorial policy, he doesn't own or short individual stocks, although he owns stock in TheStreet. He also doesn't invest in hedge funds or other private investment partnerships. Feuerstein appreciates your feedback;
to send him an email.