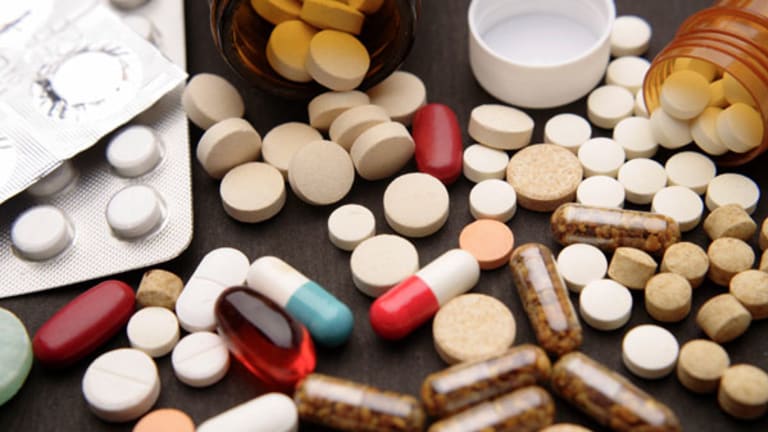 Arena Pharma And The Fat Lady's Song
Advice to lorcaserin bulls: Cherish the moment but sell Arena, says TheStreet contributor Nate Sadeghi.
Updated with current stock price.
NEW YORK (
) -- Last month,
Arena Pharmaceuticals
(ARNA) - Get Free Report
received a positive vote from the FDA's Endocrinologic and Metabolic Drugs Advisory Committee for the use of lorcaserin to treat obesity. The company did an admirable job parrying panelists' questions and the FDA's skepticism and earned an 18-to-4 recommendation for approval, with one abstention. On Wednesday, Arena faces its next hurdle: the Prescription Drug User Fee Act (PDUFA) date for lorcaserin, better known as the FDA's approval decision date for the obesity drug.
Lorcaserin might receive final approval this week, but I think a three-month delay or another complete response letter (CRL) is more likely. As I have said in the past, I expect the FDA will require a Risk Evaluation and Mitigation Strategy (REMS) to minimize inappropriate use of the drug and the risk of an unexpected safety debacle. (The sting of repeated obesity drug fiascos --
American Home Products'
fenfluramine-phentermine, known as Fen-phen, and
Abbott's
(ABT) - Get Free Report
Meridia in the U.S., and
Sanofi's
(SNY) - Get Free Report
rimonabant in Europe -- won't go away any time soon.) Ultimately though, I think lorcaserin will be approved for sale in the US (and probably Europe, although a decision from European regulators won't come until early-to-mid 2013).
My advice to lorcaserin bulls would be to cherish the moment but sell the stock. (Some investors are doing just that; Arena shares fell 15% Friday after and another 1% Monday after nearly tripling since the FDA panel.) This is as good as it gets. If you're one of the lucky few that can find shares to borrow, congrats -- you've got a good short.
I doubt lorcaserin will be the mega-blockbuster that bulls expect. History is on my side -- no obesity drug has ever even come close to reaching $1 billion in US sales -- and the company's clinical data contain some worrisome red flags. (Admittedly, I didn't think lorcaserin would be approved until after I read the FDA briefing documents; the comments section will likely overflow with vitriol from those who wrongly think that background disqualifies my opinion.)
My primary concern is the drug's modest effect size. In Arena's Phase III studies, named BLOOM and BLOSSOM, lorcaserin recipients lost only 3.7% and 3.0% of their body weight, respectively, after adjusting for the placebo group (all patients in the study also had intensive dietary counseling). That's not a very big impact, especially given the baseline demographics (patients, roughly 80% of whom were female, weighed 220 lbs on average).
For comparison, patients treated with
Vivus'
undefined
Qnexa -- a combination of phentermine and the anti-seizure medication topiramate that also received a positive Advisory Committee vote this year -- lost 3.5% to 9.3% of baseline body weight in the company's two Phase III trials, depending on the dose (Vivus explored three doses). Qnexa should receive FDA approval this year as well and will also likely need a REMS; the drug's PDUFA date is in mid-July.
Bulls will point out that 23% of lorcaserin-treated patients in BLOOM lost more than 10% of baseline body weight at one year, compared to only 8% of patients in the control arm (the results from BLOSSOM are similar). Those data are, in my view, the primary reason for lorcaserin's positive FDA panel vote (I consider safety an enabling factor; toxicity can prevent approval, but a drug must show some evidence of efficacy to get a favorable recommendation). Unfortunately, many patients regained significant weight in the second year of the BLOOM trial (one third of the "responders" that lost ≥ 5% of baseline body weight failed to maintain that threshold after two years). Lorcaserin induces major, sustained weight loss in only a tiny subgroup of patients.
Of further concern is the fact that, even in the tightly controlled environment of Arena's pivotal trials, 43% of patients in the lorcaserin arms dropped out after one year; an additional 25% of "completers" included in the second year of the BLOOM trial dropped out early as well. Nearly all of the discontinuations were explicit or implicit patient choice unrelated to side effects. (Far fewer patients in Vivus' Phase III trials stopped treatment early.) This worrying statistic suggests that obese patients either don't perceive lorcaserin's effect or showcases obesity's rampant recidivism. I suspect both, but either way, it's not good for lorcaserin's commercial prospects; discontinuation rates will skyrocket once the drug is on the market (patients in clinical trials receive extremely intensive care to minimize dropouts).
Investors should also remember that Arena receives only roughly a third of lorcaserin sales; marketing partner Eisai gets the rest. Thus, even if lorcaserin reached $1.2 billion in revenues -- double the peak sales of Roche's similarly effective but side effect-laden obesity drug Orlistat -- despite a superior competitor (Vivus' Qnexa) and the albatross of history, Arena would net only $400 million. That's not bad, but it doesn't justify the company's $1.8 billion market capitalization.
I'm not a huge fan of obesity drugs. Despite the astonishing scale of the obesity epidemic in the U.S., I think the best long-term solution is a systematic overhaul of our society's interaction with food and exercise, not a pill that can't even maintain a modest effect for the vast majority of patients that take it. Obesity wasn't rampant, or even an issue, in the 1970s when I was a child; this is an avoidable condition and is the direct result of unfortunate lifestyle -- increased portion sizes, intensely marketed and heavily subsidized processed foods, and the ubiquitous sugar bombs from corporate behemoths like Coca-Cola.
Until this environment changes, Arena executives might as well be trying to climb a greased fire pole. Lorcaserin might be approvable, but it doesn't solve the problem even for the people that get a benefit. The 220 lbs woman who loses 10% of her body weight still weighs almost 200 lbs, and will likely gain back much of the weight even if she stays on drug. The key reason lorcaserin won't be a mega-blockbuster is actually quite simple: at some point, patients realize when the treatment isn't doing much good.
Disclosure: Sadeghi has no positions in any of the stocks mentioned in this article.
Follow Nathan Sadeghi-Nejad on
.
Nathan Sadeghi-Nejad has 15 years experience as a professional health-care investor, most recently as a sector head for Highside Capital. He has worked on the sell side (with independent research boutiques Sturza's Medical Research and Avalon Research) and the buyside (at Kilkenny Capital prior to Highside). Sadeghi-Nejad is a graduate of Columbia University and lives in New York. You can follow him on Twitter @natesadeghi.