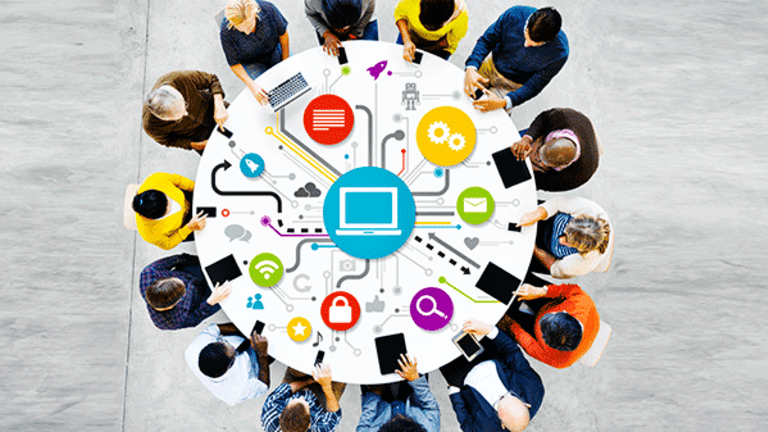 Are You Ready for the Internet of Things?
IoT is making homes, cars and entire industries smarter, but do your light bulbs and toothbrushes really need to be connected?
In the coming months, cable TV operator and NBCUniversal parent Comcast (CMCSA) - Get Comcast Corporation Class A Common Stock Report will begin testing a service that will help utility companies remotely read meters, monitor pollution and noise and perform other tasks using devices connected to the Internet.
The communications and entertainment powerhouse is part of a diverse and growing field of companies that will be connecting everything from cars, garage door openers, oil rigs, airplanes and nearly every object with a consumer or industrial use to the Internet. The networked devices can monitor and relay external factors such as temperature, internal data such as fuel tank capacity or the need for repairs, and perform tasks such as locking doors or starting a car engine.

Apple (AAPL) - Get Apple Inc. Report , Alphabet's (GOOGL) - Get Alphabet Inc. Report Google, Samsung (SSNLF) and Amazon (AMZN) - Get Amazon.com Inc. Report are battling for smart homes. Tesla (TSLA) - Get Tesla Inc. Report , BMW, General Motors (GM) - Get General Motors Company Report , Google and others are racing towards the launch of autonomous cars. And Cisco (CSCO) - Get Cisco Systems Inc. Report , Hewlett-Packard Enterprise (HPE) - Get Hewlett Packard Enterprise Company Report , IBM (IBM) - Get International Business Machines Corporation Report , Intel (INTC) - Get Intel Corporation Report , Dell, Verizon (VZ) - Get Verizon Communications Inc. Report , AT&T (T) - Get AT&T Inc. Report and others are pursuing a range of IoT opportunities in consumer, industrial and corporate markets.
"It is affecting basically every industry, to a degree, and is affecting consumer markets," said Gartner analyst Peter Middleton.
Gartner expects that more than 20 billion devices will be part of the Internet of Things by 2020, with about two-thirds in the hands of consumers and the rest put to commercial and industrial use.  Networking giant Cisco is even more ambitious, targeting 50 billion networked devices in the same time frame.
Comcast, Apple, Alphabet, Cisco, and Hewlett-Packard Enterprises are holdings in Jim Cramer'sAction Alerts PLUS Charitable Trust Portfolio. Want to be alerted before Cramer buys or sells CMCSA, AAPL, GOOGL, CSCO, or HPE? Learn more now.
The bold projections may remind us of the early predictions of the Internet Super Highway in the 1990's and to the subsequent Internet bust. In businesses such as managing fleets of trucks to manufacturing and operating utilities, the Internet of Things has already demonstrated a return on investment, however. The question now, though, is how many objects that people, businesses and governments use actually need to be networked? 
While the ultimate impact will be far-reaching, Middleton expects it to take 15 to 20 years for the market to develop and mature. "Think of personal computers first being introduced in the late 1970's," he said. "Our vision of what you could do with a PC was fairly limited."
While more devices may ultimately be deployed in the consumer market, Middleton suggested, the big money is in industry. Utilities can use IoT to control power plants and the electrical grid, and to read meters. Telematics can ensure that trucking fleets save gas and time on the road. Manufacturers can monitor their production, but can also provide services to customers after the sale.
Even when industries can see the economic benefits of IoT, however, managers may take a measured approached to deploying the technology. "When you talk about the manufacturing sector, you are talking about trillions of dollars in capital investment," 451 Research analyst Christian Renaud said. "Not all of it is going to be fully depreciated in the next 12 months." Companies are more likely to put money into IoT, he suggested, once the spending already on their books is fully depreciated for tax purposes.
It's worth noting that consumer IoT is puny compared to a mature service like wireless. Gartner forecasts that consumers will spend $4.5 billion on IoT services this year. In wireless, which itself was a nascent market a few decades ago, Gartner forecasts $670 billion in consumer spending.
"Everyone is trying to connect everything at the moment," Gartner's Jessica Eckholm said. "We're probably going to look back and ask do we need a connected toothbrush?"
Meanwhile, the home has become a battleground for tech giants Apple, Google, Samsung and Amazon.
Most home IoT users have a few à la carte devices or have rigged a DIY network to run their connected devices, Eckholm said. By 2020, though, Gartner expects 85% of home setups to operate around a hub like Apple's HomeKit or Google Home.
The smart home will eventually become "super predictive" and controlled by voice or motion sensors, she suggested.
"When your home is starting to learn everything about you your family, how many dogs you have, we're kind of moving into an artificial-intelligence, predictive scenario," she said. "Consumers are going to take a little bit of convincing for this."
Consumers may feel overwhelmed by the changes. "You're not going to be able to buy a not-smart product," Renaud said.
"Really the big quandary is if I just want to buy something for $50 and not buy something for $10 with a $10 a month charge," he said predicting a backlash. "People go, 'Look, I've got 100 devices in my house and I can't spend $10 a month for each.'"
Cars are perhaps the ultimate consumer IoT device. Tesla, BMW, GM, Google and others all aim to have self-driving cars operating within the next few years.
The technology may get there before regulators and modern culture are ready, however, suggested 451 Research's Renaud. "You get into really squishy, almost science fiction ethical issues," he said. "You're in your autonomous car reading your newspaper. The choice for the car is swerve and hit a tree or run over a bunch of children -- and if I swerve and hit the tree it might kill you."
IoT poses more than ethical hazards, however. When everything from your car to your light bulb to components in the local power plant are networked, hackers have an endless variety of ways into home or corporate networks.
Hackers can attack systems that control cars. Virtual peeping toms can hijack home security cameras. Last December, a cyber attack shut down the power grid in parts of Western Ukraine.
Moreover, all of this data will strain networks and cloud computing infrastructure.
One solution is so-called fog computing, named not for an acronym but for stretching the metaphor of the cloud. Rather than transmit data over the Internet to cloud infrastructure in a remote data center, some of the computing will occur in the "fog," with nodes that, like literal fog, are closer to the people and devices than clouds.
Fog nodes could be deployed in factories or on power or railroad infrastructure. While some data would be sent to cloud for storage, much of the computing would happen nearby without placing as much strain on networks. 
For all of the hacks and networking headaches involved, the Internet of Things will provide some comforts -- albeit, likely with a recurring cost. 
Owners of cars by Toyota's (TM) - Get Toyota Motor Corporation Report Lexus, for instance, can remotely start up their cars and warm or cool the temperature via a smart phone app. "It works OK; I just wish it weren't a subscriptions service," said 451's Renaud of the service, which costs upwards of $250 a year after a complimentary first year.