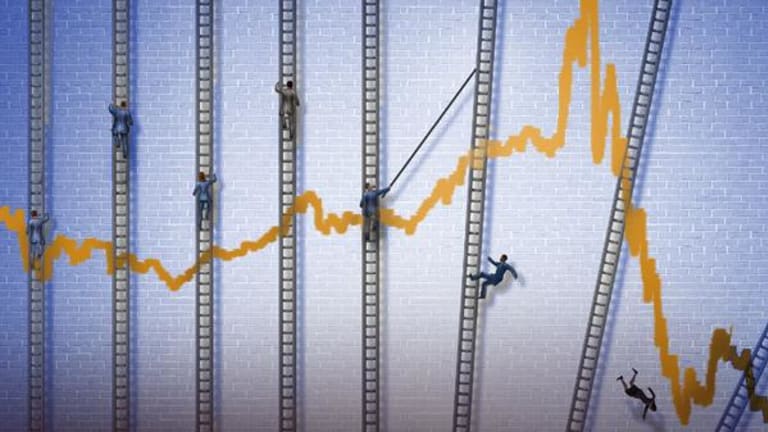 Are We Headed for a Bear Market? These 4 Charts Say No.
These four big stocks are teetering on the edge of breakout territory in April--they look primed to lead the market higher.
This rally is getting a little long in the tooth.
According to some measures, we're staring down the second-longest bull market in history--the big S&P 500 index has handed investors total returns of 250% since bottoming back in March 2009. That 2,956-day rally has dragged on longer than any other since 1932. But don't start planning your exit strategy just yet ...
As Ritholtz Wealth Management CIO Barry Ritholtz points out, this hasn't exactly been an uninterrupted eight-year run for stocks.
Likewise, there's plenty of bearish sentiment to go around right now, with AAII's Bearish Investor Sentiment Index pushing just below 40%--minus a couple of short-lived blips, that's the highest proportion of bears on record since 2012.
Just as importantly, we're not seeing overtly bearish price action in the big stocks that make up the lion's share of the major market indices. Quite the contrary, in fact.
One thing that stock bears do have right is that we're undoubtedly in a stock picker's market right now--in other words, the specific stocks you own have everything to do with how your portfolio holds up in this environment. For every stock blasting higher, there's another ready to kick off a correction. Stock selection matters.
So, to figure out which big-name stocks look ready to outperform in the weeks ahead, we're turning to the charts for a technical look at four that look primed to lead the S&P higher this spring ...
First, a quick note on the technical toolbox we're using here: technical analysis is a study of the market itself. Since the market is ultimately the only mechanism that determines a stock's price, technical analysis is a valuable tool even in the roughest of trading conditions. Technical charts are used every day by proprietary trading floors, Wall Street's biggest financial firms, and individual investors to get an edge on the market. And research shows that skilled technical traders can bank gains as much as 90% of the time.
Every week, I take an in-depth look at big names that are telling important technical stories. Here's this week's look at four big stocks to trade ...
Nike Inc.
Nike Inc. (NKE) - Get NIKE, Inc. (NKE) Reportis a great example of what's happening in the broader stock market right now. This $92 billion athletic apparel stock has been in correction mode, alongside the rest of the market, shedding about 5% from its peak three weeks ago. But, much like the S&P, Nike's uptrend is alive and well this spring. Even more importantly, this stock is testing a major price floor at the bottom of its uptrend.
Simply put, Nike is still a "buy the dips stock"--and we're coming off a buyable dip here.
The uptrend in Nike is formed by a pair of parallel trendlines that have identified the high probability range for shares of Nike to remain stuck within since this stock bottomed back in November. Critically, trendline support at the bottom of the price channel has remained inviolate. Every test of trendline support has provided Nike bulls with a low-risk, high reward opportunity to double down on this trade. And shares are testing support for the umpteenth time this week.
From here, it makes sense to buy the next bounce higher in Nike. If you decide to pull the trigger on this trade, the 200-day moving average is a logical place to park a protective stop. That's because, if the 200-day gets violated, the uptrend in Nike has been too.
Anheuser Busch InBev
We're seeing the exact same simple price setup in shares of $184 billion beer brewer Anheuser Busch InBev NV (BUD) - Get Anheuser-Busch InBev SA/NV Sponsored ADR Report. Like Nike, AB InBev bottomed back in the fall, and shares have been trending higher ever since. Now, this stock is testing trendline support for the sixth time--the next bounce higher is the buy signal to pull the trigger on.
Actually waiting for that bounce is important for two key reasons: it's the spot where shares have the most room to move up before they hit resistance, and it's the spot where the risk is the least (because shares have the least room to move lower before the channel breaks, invalidating the upside trade). Remember, all trend lines do eventually break, but by actually waiting for the bounce to happen first, you're ensuring AB InBev can actually still catch a bid along that line before you put your money on shares.
The 50-day moving average has been acting like a perfect proxy for trendline support since February. If you decide to pull the trigger on the AB InBev trade, that's the spot to park your stop loss.
Union Pacific Corp.
Over in the transports sector, shares of $85 billion railroad stock Union Pacific Corp. (UNP) - Get Union Pacific Corporation Reportare looking bullish. Shares have spent most of 2017 tracking sideways, but that's been the cap-off to a year of strong performance: Union Pacific us up more than 35.7% on a total returns basis in the last 12 months. Don't worry if you've missed that move--shares are signaling a second leg higher in April.
Union Pacific has spent most of 2017 forming an ascending triangle pattern, a bullish continuation setup that signals higher ground ahead. Basically, as UNP has bounced between those two technically significant price levels, this stock has been getting squeezed closer and closer to a breakout through resistance up at the $110 level. When that happens, we've got our buy signal.
Remember to be reactionary here--don't try to get in ahead of the breakout signal. Union Pacific Corp. doesn't become a high-probability upside mover until shares are able to muster the strength to catch a bid above $110. Shares are close this week, but they're not quite there as of this writing ...
Orange SA
It's not just U.S. stocks driving the big market averages--large-cap U.S.-listed companies that do their business overseas also play an important role in where "the market" ends up at the end of 2017. And we're witnessing a long-awaited about-face in Eurozone stocks right now. Case in point: French telco Orange SA (ORAN) - Get Orange SA Sponsored ADR Report. This big stock is finally looking "bottomy" in the long-term after a persistent downtrend in 2016.
Orange is currently forming an inverse head-and-shoulders pattern, a classic reversal setup that signals exhaustion among sellers. The pattern is formed by two swing lows that bottom out at approximately the same level (the shoulders), separated by a lower low (the head). The buy signal comes on a move through Orange's neckline at $16.
Orange's price setup is very long-term--it started forming all the way back during last summer. Because of that, it comes with long-term trading implications once the breakout through $16 happens. That's good reason to keep an eye on this trade as shares finish carving out their right shoulder.
At the time of publication, author had no positions in the stocks mentioned.