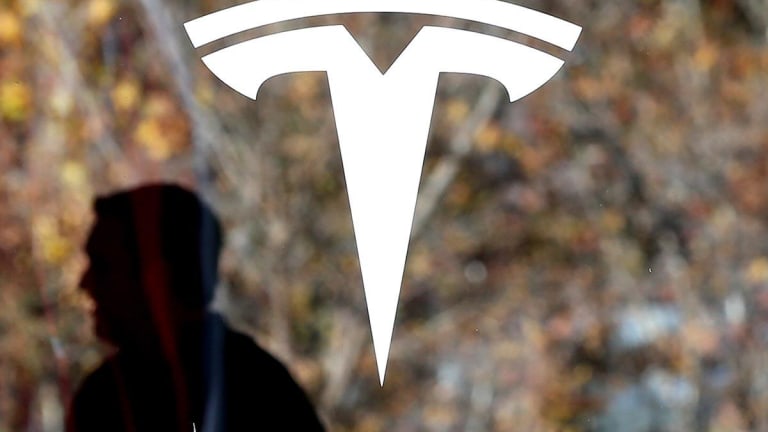 Are These 3 Tech Stock Giants Worth the Bet?
How is the risk vs reward of the leading tech stocks playing out right now?
When isn't it time for tech?
With tech under pressure a bit on trade war fears, it could be a good time for investors to scoop up some bargains.
Here we dove into TipRanks' market data to get a grasp on which tech stocks are primed for more red-hot momentum, and which are bogged down by risk.
Tesla
Tesla (TSLA) CEO Elon Musk tweeted on Sunday a seemingly happy update to investors: "7000 cars, 7 days" from the "Tesla team." 
With Musk and co. now eyeing 6,000 units per week by the close of this month, the ambitious tech leader also has investors expecting positive GAAP net income and cash flow by the third quarter. Could 2018 be Tesla's year to not just be a name of legendary branding, but also a true profits maker? Investors may still need to see that this success can keep flowing before fully getting on board behind the tech name.
Notably, one of Wall Street's top analysts Rajvindra Gill of Needham has his eyebrows arched as to the sustainability for the company's long-anticipated Model 3 home run. Gill is skeptical on Tesla, wondering if the giant can "sustain this level of production for more than a week and at what cost?" Specifically, the analyst draws attention to word of a capacity constraint casting a shadow on batteries.
More on Tesla's Future Via TheStreet
It is the very kind of issue that could turn production rates sluggish, warns Gill. This top analyst wagers Tesla is not out of the woods quite yet with production hassles. Gill is not the only one less than impressed with Tesla's latest win. 
Yet, Rob Cihra of Guggenheim reiterates a Buy rating on Tesla's stock on the heels of the company unlocking such a key achievement, especially considering that the Model 3 production journey until now has been laced with hellish challenges. With a fixed cost of production getting increasingly absorbed, leading to a nice pop in margins, Cihra is betting on "leverage" awaiting the car maker in the back half of 2018. 
Ultimately, our data reveals that Wall Street will need to see more proof in the pudding from Tesla. The 'Hold' rated stock has earned five buy ratings out of 15 analysts in the last three months, with a majority of seven maintaining a hold and three issuing a sell. Consider that the consensus average price target lands at $301.67, marking nearly 7% in loss potential from where the stock is currently trading. 
Alibaba 
Alibaba (BABA) is a Chinese tech giant that has experienced an impressive 136% vault in just two years' time. The company has benefited from a strong one-two punch of soaring profit margins meets quick-fire revenue gains. Tech rival Amazon (AMZN) jumped just under 130% in the last two years, for juxtaposition.
However, Blue Lotus Research Institute founder Eric Wen wonders if Chinese e-commerce website Pinduoduo (PDD) could prove to be enticing competition to Alibaba platform Taobao, which may be the more "complicated" site for "people in the third- and fourth-tier cities, especially elderly people." 
That said, most voices around the Street echo with bullish perspective when it comes to Alibaba's market opportunity ahead. In fact, just at the close of May, Raymond James' Aaron Kessler, one of Wall Street's top analysts pinpointed the Chinese stock giant as a "top large cap pick." Kessler raised the price target on Alibaba from $250 to $300, which suggests a confident 60% in upside potential from where the stock is currently trading. 
"We believe Alibaba has multiple take rate levers including increased personalization and targeting, increasing ad load, increased competition for ad slots, additional inventory expansion, as well as increases in commission rates on Tmall," Kessler said. Bottom line for Kessler: this tech player stands to be the "biggest winner" in an ever-growing Chinese e-commerce arena.
MKM's Rob Sanderson echoes Kessler's upbeat stance on Alibaba, reiterating a Buy rating on the stock with a price target of $280. This is a tech leader that is looking at a robust competitive advantage, as Sanderson believes Alibaba is "years ahead of any competitor in driving digital commerce forward." Sanderson sees a stock pick that the market has massively undervalued on new retail potential. 
Our data shows off a 'Strong Buy' stock that has garnered unanimous bullish conviction on the Street. In the last three months, all 12 analysts polled rate a buy on Alibaba stock. With a return potential of 35%, the stock's consensus target price of $254.25 points to positive sentiment baked into analysts' expectations. 
Alphabet
Alphabet (GOOGL) is ready to secure its leadership role in the tech battle down the line, where increasingly it appears transportation will be a key battleground for red hot tech giants. On Sunday, news broke that Alphabet is driving into the scooter arena, investing in Lime's electric scooter service. The company already holds a leadership position in the autonomous space with Waymo.
Morgan Stanley analyst Brian Nowak weighs in on another corner, advocating for Alphabet to get a wave of devices and smart speakers into consumer homes. It would be a solid defense for protecting Alphabet's retail ad sales stomping grounds by giving away inexpensive Google Home Mini devices to "every U.S. (arguably global) household." 
Two standout threats Nowak spots looming over Google: the rise of voice shopping coupled with Amazon's anticipated installed base upper hand. Bigger picture, long-term gains could be under pressure for Alphabet, especially considering its "high-monetizing retail search category."
By the close of the year, the analyst forecasts rival Amazon will have its hooks in 62% of the U.S. smart speaker market compared to Alphabet's 33%. Meanwhile, Nowak estimates over 70% of domestic households are primed to own a smart speaker boasting voice commerce features within the next four years. The tech titan could merely pay $3.3 billion, which to Nowak is a "small price to pay" when looking at the potential of the reward at play. 
The analyst in fact is even more bullish on the company when assessing its long-term prospects to lift profits. Nowak sees the stock rising 10% from current levels to $1,250. 
Overall, our data shows an overwhelmingly bullish camp backing this tech titan. The 'Strong Buy' stock has amassed 11 buy ratings in the last three months, with just three analysts playing it safe with a hold rating. The 12-month average price target stands tall at $1,263.18, marking nearly 12% in return potential for the stock. 
TipRanks.com offers exclusive insights for investors by focusing on the moves of experts: Analysts, Insiders, Bloggers, Hedge Fund Managers and more. See what the experts are saying about your stocks now at TipRanks.com. Author: Julie Lamb.