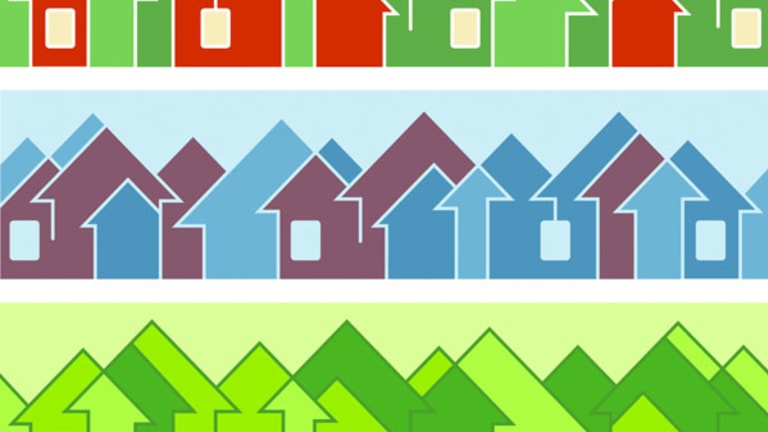 NEW YORK (
) -- The Standard & Poor's/Case-Shiller national home price indexes have made progress this year.
From the doldrums of being 20% below a 2005 high to start the year, the national composite index and composite index of the top 20 metro region have recovered by more than 10% in the period from January through October.
But is the recovery in home prices sustainable? If it is, that's obviously good news for the big builders, including
D.R. Horton
(DHI) - Get D.R. Horton, Inc. Report
,
KB Home
,
Toll Brothers
(TOL) - Get Toll Brothers, Inc. Report
and
M.D.C. Holdings
(MDC) - Get M.D.C. Holdings, Inc. Report
.
California, the most beaten down of all the states facing foreclosure levels never seen before, has also been on the comeback trail.
California, the biggest housing market in the U.S., has recovered by a whopping 40% since its low point coming into 2010.
The most recent foreclosure data from RealtyTrac showed significant gains made by California in stemming the tide of foreclosures, too.
Still, some housing market experts fear the worst headed into 2010, namely, that the gains made by the housing market and reflected in the Case-Shiller index trends are in fact evidence of an artificial recovery. A double dip in home prices could occur in 2010.
Bose George, an analyst with Keefe, Bruyette & Woods, said if home prices stabilized in 2010, and if the Case-Shiller trend is a real trend, and if the indexes are not to take a double down dip next year, these would be huge factors in speeding the pace of recovery in the sector. So there are lots of "ifs" with which to contend. And KBW's George added that with the huge pipeline of foreclosures still looming, there will be a huge overhang even with a successful campaign of modifications. "The Case-Shiller outlook is hard to see," George said.
It is all ultimately linked to the mortgage market and the rate of foreclosure.
Certainly, the number of mortgages being taken out has slowed.
The total level of mortgage debt, also tied to home price appreciation, is not growing, either.
The foreclosure pipeline, though, looks to provide a nasty New Year's hangover.
A peek at delinquency rates doesn't inspire much confidence either.
KBW expects monthly foreclosure filings to remain near historical highs, which will continue to place pressure on a recovery in home prices. The pipeline of potential foreclosure filings remains high, as the delinquent loan data implies.
So has recovery in home prices across the nation, and in some bellwether states like California, gotten ahead of itself? Is a double-dip in home prices inevitable based on the expected foreclosure tide?
We asked David Blitzer, chief economist at Standard & Poor's, who studies the Case-Shiller data, for his 2010 call. For one, Blitzer said that foreclosure activity is virtually impossible to peg, and defies most economic analysis due to its local nature.
Overall, Blitzer sees signs of stability. "There is room for a slightly optimistic outlook. At least, I don't think home prices will plummet," Blitzer said.
And as to the potential for a double dip? Blitzer said he would place the chance of the double dip occurring at less than 50%, and closer to 35% if pressed to place a number on the likelihood.
"It's not the odds-on bet; the odds-on bet is a slow, frustrating recovery in home prices, though it's hard to build an overwhelming case that everything will get much better," Blitzer said.
Blitzer is a realist, however, and said that even amidst positive signs, the risks to a sustained recovery in home prices remain high, and a reversal lasting six to seven months is not out of the question.
"There has been a momentum swing to the positive for most cities, but foreclosures remain a big swing factor in the home market," Blitzer said.
-- Reported by Eric Rosenbaum in New York.
RELATED STORIES:
>>Homebuilder Stocks to Watch in 2010
>>Time to Start or Stop Trading Housing Starts?
>>Podcast: Foreclosures to Frighten in 2010
>>See our new stock quote page.
Follow TheStreet.com on
and become a fan on
Copyright 2009 TheStreet.com Inc. All rights reserved. This material may not be published, broadcast, rewritten, or redistributed.