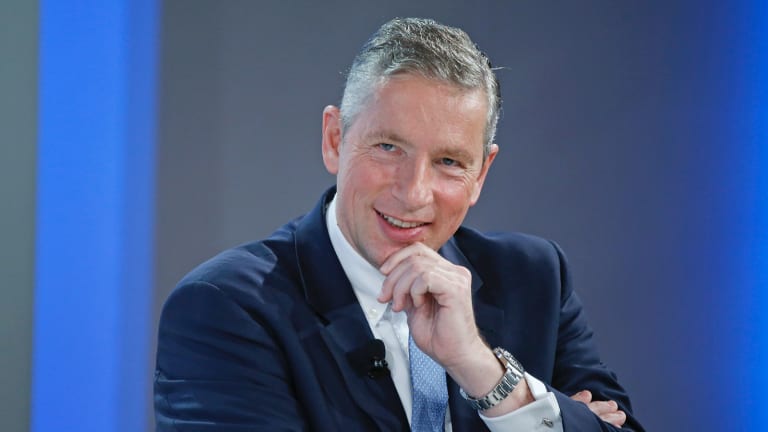 Arconic CEO Is Reportedly Targeted by Activists
The aluminum products manufacturer, spun out of Alcoa last fall, has been under pressure from activists to improve margins. Investors are reportedly targeting CEO Klaus Kleinfeld as well.
Investors are reportedly pushing for the ouster of Arconic (ARNC) - Get Free Report CEO Klaus Kleinfeld, the architect of a series of transactions by Alcoa (AA) - Get Free Report to diversify the company away from commodity metals and the subsequent spinoff that created Arconic.
Paul Singer's Elliott Management, an investor in Alcoa prior to the November split that created Arconic, in recent months has raised its stake in the spinoff from 7.5% to more than 10%, with sources saying that the firm was focusing discussions with management on how to improve margins. The Wall Street Journal reported Monday that a number of major Arconic shareholders blame Kleinfeld for the company's poor results of late, noting a history of missed forecasts dating back to before the split.
Elliott already has three board seats at Arconic as part of a standstill agreement reached with Alcoa in early 2016. The report said that the agreement prohibiting further confrontation with the company has ended, allowing for the possibility that the firm will seek additional board seats prior to Arconic's Feb. 5 nominating deadline.
The Wall Street Journal did not specify whether it was Elliott who is pushing for Kleinfeld's ouster, or other investors.
Arconic, in a statement, defended Kleinfeld's eight-year plus tenure first at Alcoa and now Arconic, saying that "he restructured the commodity businesses to dramatically increase profitability, and he built the value-add businesses to create the company Arconic is today."
The company said that margins at the Arconic businesses have doubled during Kleinfeld's tenure, noting that the CEO and his team extracted $4.4 billion in costs at Alcoa while at the helm.
Arconic releases its first results as an independent on Tuesday evening. In October, during Alcoa's last full quarter before the split, the business disappointed analysts due to what the company described as temporary delays and other customer-specific issues.
Kleinfeld has argued that the "aluminization" of the auto business, as manufacturers increasingly turn to the lightweight metal to meet stricter fuel economy guidelines, and demand for aerospace components would help improve results in future quarters.
The company said at its investor day in December that raising margins was a priority in 2017.
Arconic is a part of Jim Cramer's Action Alerts PLUS portfolio. Cramer on Monday morning prior to the Journal report said that though the company's post-split earnings Tuesday could cause confusion and selling, he believes any selloff could lead to excellent opportunities for long-term investors.
Arconic has proprietary methods for transforming aluminum into products and compositions most people never knew could be done. Cramer added that Arconic has a lot of exposure to aerospace, which has plenty of long-term growth as well.