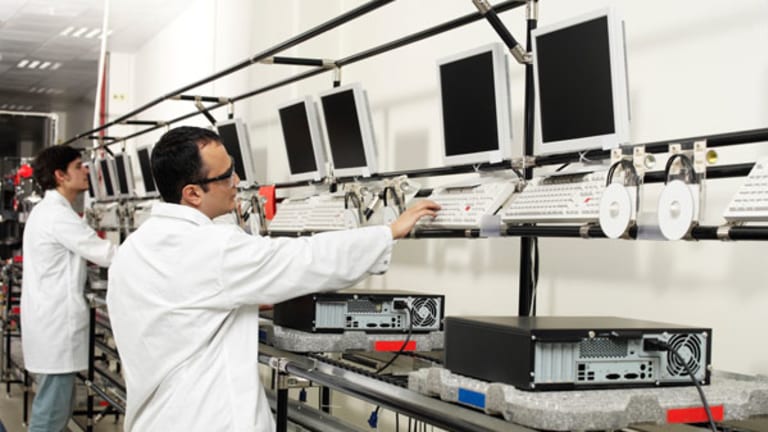 Architects Paint Bleak Construction Picture
An index of architectural bookings shows another steep monthly decline, calling into question hopes for a speedy economic recovery.
WASHINGTON (TheStreet) -- Offering a window into the future health of a basket of American industrial icons, including Caterpillar (CAT) - Get Free Report, U.S. Steel (X) - Get Free Report and Freeport McMoRan Copper and Gold (FCX) - Get Free Report, a trade group representing domestic architectural firms said on Wednesday that their billings continued to drop sharply in January.
Because it takes nine to 12 months on average for construction to begin after an architect is booked to design a building (the average includes both residential and commercial projects), the index provides at least one narrow glance through the keyhole at how the construction industry will look a year from now.
That picture is worrisome, the group said, and may cast doubt on the belief that economic recovery has become a fait accompli.
The American Institute of Architects said its monthly Architecture Billings Index stood at 42.5 in January, worse than the revised December score of 45.4. Like many such indicators, anything below 50 indicates a retraction -- in this case, it reflects a decline in the number of commissions architectural firms have received for the design of new projects.
As it turns out, however, residential construction improved, showing a growth reading of 50.1 -- an unusual bright spot on a day in which fresh data showed that
new-home sales reached their lowest level in January
since record-keeping began.
Instead, the January architects' weakness came entirely from non-residential projects, with the commercial and industrial sector posting a 44.9 score.
The most immediate culprit for the lack of work at drafting tables nationwide was obvious: banks still don't want to lend money to big commercial-project developers. As a group, they're seen as risky borrowers, no matter their individual success in the past at turning a dollar on such things as shopping malls or corporate parks or parking lots so vast they're cambered to fit the curve of the earth.
"Projects are being delayed or canceled because lending institutions are placing unusually stringent equity requirements on new developments," said the trade group's chief economist, Ken Baker, in a statement. "This is even happening to financially sound companies with strong credit ratings."
When fit, the U.S. commercial construction business uses everything from earthmovers to steel rebar to copper wire -- and in great quantity.
If the AIA's recent figures are accurate, manufacturers selling into the U.S. construction industry may need to keep allaying investors' fears by telling them that emerging markets (China, especially) will continue to pick up the American slack, as many of those companies have been doing since last year.
-- Written by Scott Eden in New York
Follow TheStreet.com on
and become a fan on