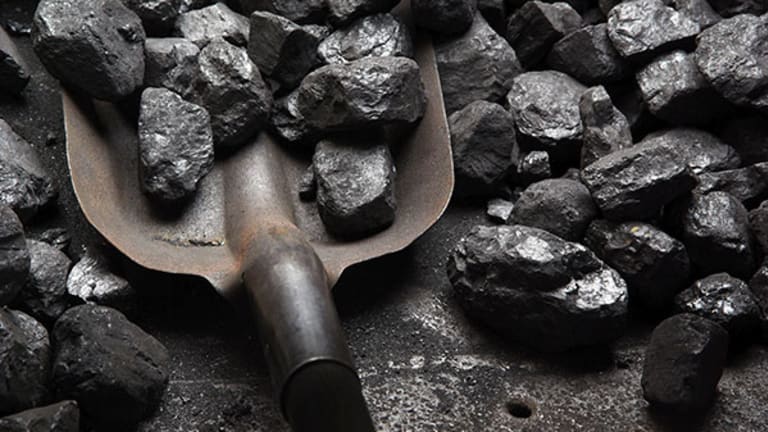 Arch Coal (ARCH) Jumping After Big MKM Partners Call
Recovering coal prices have made MKM Partners a big believer in the recently-reorganized coal producer.
Shares of Arch Coal (ARCH) - Get Free Report popped 2.19% to $81.58 in Tuesday morning trading after MKM Partners made a big call on the recently-reorganized coal company.
Arch - the country's second-largest coal company - emerged from Chapter 11 just over two months ago.
Perfect timing, MKM analyst Daniel Scott argued in a note circulated to investors Tuesday morning.
"We believe a prolonged downturn in commodity prices is reversing just as the company exited bankruptcy, setting the stage for solid performance going forward with the benefit of a clean balance sheet," Scott wrote.
Arch cut over $4.5 billion in debt after it filed for Chapter 11 in Missouri in January amid a collapse in the prices of both thermal coal (which is burned for steam and used by electric utility companies) and coking coal (which is used for steelmaking). Much of its debt load can be chalked up to its 2011 $3.4 billion purchase of the International Coal Group, a conglomerate created by distressed investor and Secretary of Commerce-Designate Wilbur Ross.
"Arch wasn't alone in paying up for coking coal exposure and wasn't alone when the high debt levels forced a bankruptcy reorganization," Scott wrote, adding that Arch now only carries around $363 million in debt on its balance sheet. "And while others are also cleaning up balance sheets in the courts, many operators continue to struggle, allowing a stronger participant to be opportunistic."
Indeed, the only American coal producer with more scale than Arch, Peabody Energy (BTUUQ), is working through a Missouri Chapter 11 case of its own.
Scott has slapped a $103 price target and "buy" rating on Arch, arguing that a recovery in pricing for coal mined from the Powder River Basin in Montana and Wyoming - where Arch has access to about 1.3 billion tons in proven and probable reserves - gives the company plenty of room to run.
"An important point is that even when the [coal pricing] cycle was at its low point and debt was unsustainable, all of the company operating regions were still cash flow positive," he wrote. "This should serve the company well now that the balance sheet has been cleared up and prices have recovered."
The company's commodity price dependency still poses a risk, however.
"Should prices fall to levels seen just a few months ago... it would likely adversely impact Arch's financial results," Scott added.
data by