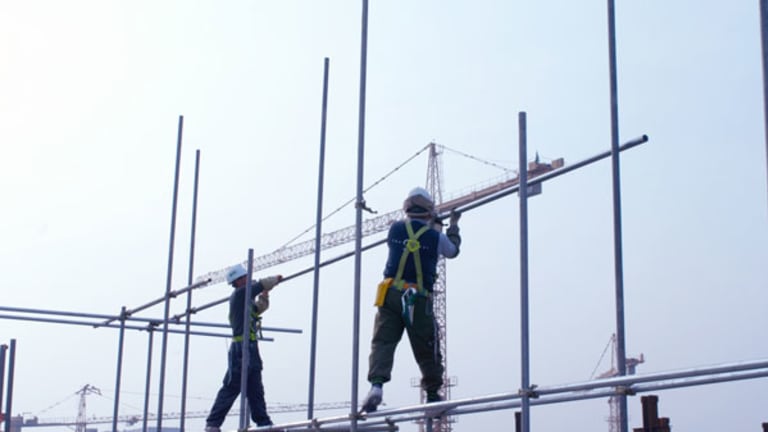 Arcelor Mittal vs. U.S. Steel: Analyst's Toolkit
Arcelor Mittal seems to have an edge on smaller rival U.S. Steel, but the devil is in the details.
Arcelor Mittal seems to have an edge on smaller rival U.S. Steel, but the devil is in the details.
BOSTON (
) -- Steel companies have been hit harder than most during the longest recession in almost a century.
As construction and car manufacturing ground to a halt, so did demand for the hard stuff. Former high-flying stocks like
Arcelor Mittal
(MT) - Get Report
and
U.S. Steel
(X) - Get Report
fell as much as 84% from a peak in June 2008 to May of this year.
Few industries are as cyclical, or dependent on the economy, as basic materials. On the upside, those companies' stocks will run faster than those in many other industries as the economy starts to grow again. As economists forecast the U.S. will rebound in 2010, investors may want to consider scooping up these stocks now that they're on sale.
The question is, which steel stock has the strength to rise to its previous heights from its lowly level?
Beta
Arcelor Mittal:
1.6;
U.S. Steel:
1.48.
With a beta of 1.6, Arcelor Mittal will most likely pop more than U.S. Steel when the real rebound hits. The potential for extra gains comes at a risk. (Beta is a measure of a stock's volatility.) These two stocks are close enough that the difference between their beta values is negligible.
Capital Asset Pricing Model
Arcelor Mittal:
13.91%;
U.S. Steel:
13.12%.
As a result of the higher beta value, the capital asset pricing model projects the required return for Arcelor Mittal to be almost 0.8% higher than that for U.S. Steel. Each stock has bested its target return this year, with Arcelor Mittal screaming past its mark with a return of 38.5% and U.S. Steel exceeding its gauge by a mere 2.4%. U.S. Steel seems weak when compared with Arcelor Mittal's supercharged gains.
Sustainable Growth
Arcelor Mittal:
-0.9%;
U.S. Steel:
5%.
This is where some of the numbers can get whacky. Since Arcelor Mittal posted losses over the past 12 months, its growth rate is projected to be negative, while U.S. Steel is forecast to grow at 5%. Positive growth is superior to negative growth, of course, though the time period under review included one of the worst economic collapses since the Great Depression.
Arcelor Mittal will most likely record positive growth over the next 12 months, considering that almost any economic condition will be better than last year's. That said, U.S. Steel's superior earnings during the meltdown have left it well-heeled and ready to grow in the coming year. This point goes to U.S. Steel.
Residual Income
Arcelor Mittal:
-$5.87;
U.S. Steel:
-$2.31.
Both companies suffer by posting a return on equity that's less than the required return on equity. For a basic materials company, that's expected during a recession. U.S. Steel's residual income looks more appealing since it's not quite as negative as Arcelor Mittal's. However, neither would entice investors. For now, U.S. Steel has the edge for being less bad.
Sharpe Ratio
Arcelor Mittal:
2.68;
U.S. Steel:
0.93.
This metric, at long last, has a clear winner. Arcelor Mittal's investors have been compensated with an additional 1.75% of return for every unit of risk compared with U.S. Steel. Therefore, even though Arcelor Mittal has a higher beta value and is riskier as a result, its investors are better compensated for that risk. That's a major point for Arcelor Mittal since the point of stock selection is to improve returns while minimizing risks.
Free Cash Flow
Arcelor Mittal:
$0.84;
U.S. Steel:
$ -0.62.
Since Arcelor Mittal is almost 10 times larger than U.S. Steel, it's difficult to compare free cash flow at face value. It makes more sense to look at the numbers as free cash flow per share.
On a per-share basis, cash flow for Arcelor Mittal is positive while U.S. Steel's is negative. When examining trends, though, the companies take turns leading the other. That could be due to a multitude of reasons, including financing and investing schedules. Since they are so close, we can call it a draw.
Accruals Ratio
Arcelor Mittal:
2.4%;
U.S. Steel:
-0.67%.
U.S. Steel makes its best case for being the superior investment. It has had a negative accruals ratio, indicating strong earnings quality, for the past year. While Arcelor Mittal's accruals ratio has also been negative at times, it's also become positive at points, signaling lower-quality earnings.
Since U.S. Steel has a better track record for earnings during the downturn to begin with, the accruals ratio revelation shows that U.S. Steel will most likely continue this trend. Consistency is one of the most important traits to look for in a potential investment.
PVGO
Arcelor Mittal:
$38.39 (110.3%);
U.S. Steel:
$15.84 (36.2%).
The present value of growth opportunities, known as PVGO, for Arcelor Mittal shows that investors are valuing the stock based solely on the potential for future opportunities. That's because Arcelor Mittal's losses can't support a valuation since no one will invest money in a company that is definitely going to lose it. U.S. Steel's PVGO shows that less than half of its value is derived from future expansion.
Combining these figures with earnings quality, it would seem U.S. Steel's growth that's priced into its shares is far more certain than that of Arcelor Mittal.
Arcelor Mittal is getting a lot of interest based on its wild increase so far this year. But some of the numbers don't yet support that price jump. When the rebound takes hold, U.S. Steel may well be more appealing.
Prior to joining TheStreet.com Ratings, David MacDougall was an analyst at Cambridge Associates, an investment consulting firm, where he worked with private equity and venture capital funds. He graduated cum laude from Northeastern University with a bachelor's degree in finance and is a Level II CFA candidate.