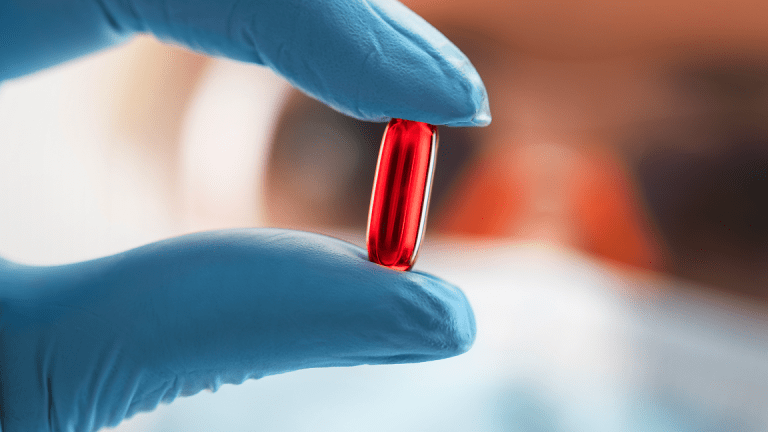 Aquinox Pharma Shares Plunge 85% After Failed Test Results
The company said it will be halting all further development of its bladder pain drug rosiptor.
The company said it will be halting all further development of its bladder pain drug rosiptor.
Aquinox Pharmaceuticals  (AQXP)  plummeted more than 80% Wednesday after late-stage trial results for its bladder pain drug failed to perform better than the placebo in patients. 
"We will be halting all further development of rosiptor," David Main, CEO of Aquinox, said in a conference call Wednesday morning. The company will also stop administering rosiptor in its trial with patients afflicted with chronic prostatitis because Aquinox does not think it will benefit them in any way, Main said.
After the market closed, shares were down 85% to $2.34, their lowest level since Aug. 7, 2015 and the largest-single day drop in the company's history. Analysts had a consensus 'Buy' rating on the stock as of mid-May, but that will likely change based on the dismal trial results for its rosiptor drug.
Results showed rosiptor did not meet its goal of average change in reducing bladder pain in female patients by week 12 of the trial.
Main called the results disappointing and said the company would be reevaluating its pipeline of drugs and other options it can take to provide future guidance for the company, according to a company press release.
Designed to reduce inflammation associated with interstitial cystitis/bladder pain syndrome, rosiptor was Aquinox's most promising drug candidate. Development of rosiptor and other products advancing to clinical trials has cost the company $213.1 million, according to the company's 2018 first-quarter earnings report. 
Rosiptor showed some promise after patients reported urinary frequency and daily pain decreased compared to the placebo for the first six weeks of its Phase II trials. However, by week 12 of the trials, there was no discernible difference in how rosiptor performed compared to the placebo.
"When you look at the drug and the placebo, the patients improved from start to finish, but it didn't matter whether they took the placebo or drug," Main said.
Rosiptor's failure at this stage in its development does not bode well for Aquinox, which has struggled financially for years. The company has not "generated product revenue or profitability since its inception" in 2003 and predicts it will keep incurring profit losses "for the foreseeable future," according to the most recent earnings report.
Aquinox had pinned hopes on rosiptor to be the financial savior of the company, pending regulatory approval, but it's unclear now what the next step will be for the pharmaceutical firm.