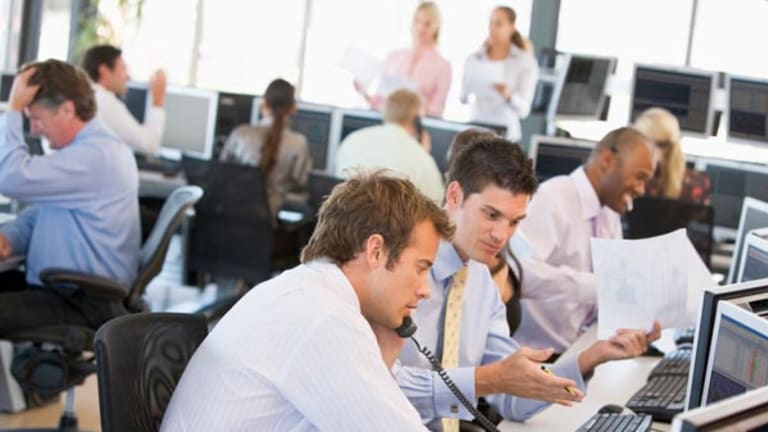 Publish date:
April 6 Premarket Briefing: 10 Things You Should Know
U.S. stock futures are sinking on the first day of trading after a starkly weak jobs report.
U.S. stock futures are sinking on the first day of trading after a starkly weak jobs report.
Updated from 6:56 a.m. EDT.
NEW YORK (TheStreet) -- Here are 10 things you should know for Monday, April 6:
1. -- U.S. stock futures are sinking on the first day of trading after a starkly weak jobs report on the Good Friday market holiday.
European markets remain closed for the Easter Monday holiday.
2. -- The economic calendar in the U.S. on Monday includes Gallup U.S. Consumer Spending data at 8:30 a.m., Markit's PMI services index numbers at 9:45 a.m., and ISM non-manufacturing survey data at 10 a.m.
3. -- U.S. stocks on Thursday closed with minor gains ahead of a markedly weak jobs report on Friday. The stock market was closed on the Good Friday holiday.
The Dow Jones Industrial Average (DIA) - Get Report rose 0.37% to 17,763.24 on Thursday. The S&P 500 (SPY) - Get Report closed up 0.35% to 2,066.96. The Nasdaq (QQQ) - Get Report increased 0.14% to 4,886.94.
4. -- Monday will be the first trading session after the release of very weak employment numbers on Friday. Only 126,000 jobs were added in March, far fewer than the 247,000 expected by analysts. The jobs numbers broke a 12-month streak in which the economy added more than 200,000 jobs a month. The unemployment rate stayed at 5.5%. Average hourly wages grew a modest 7% to $24.86 an hour.
Investors will be considering how weak the jobs numbers make the economy look. They will also be looking at which sectors are showing the greatest weakness; construction and manufacturing in particular have been suffering. The weaker numbers may also delay the Federal Reserve's plan to raise interest rates when the economy is sufficiently strong.
5. -- Law enforcement has contacted several top Herbalife (HLF) - Get Report sellers about their business practices. CNBC is reporting that the company offered its sellers legal assistance. At the same time, Herbalife has been under investigation for irregular trading and market manipulation.
Activist investor Bill Ackman of Pershing Square Capital Management has been on a campaign for the last two years to short Herbalife, including making a $1 billion bet that the stock will fall. However, Ackman's company is now under scrutiny for possible market manipulation as well.
In premarket trading, Herbalife was falling by 7.3%.
6. -- Electronics maker Sharp (SHCAY) may ask a Japanese government-backed fund for financial support to spin off its liquid-crystal display business. Sharp is a supplier for Apple (AAPL) - Get Report but is in financial straits after three years of losses out of the past four years.
By spinning off its LCD division, Sharp would be seeking a more streamlined operation that would allow easier performance tracking.
7. -- U.S. oil refiners seem poised to continue the record pace of gas production, which is at the highest level in the 80 years the government has tracked output. Storage facilities are filling up, which could depress gas prices further. Refiners are hoping that the traditionally more busy summer driving season burns up some of the oversupply.
At the same time, Saudi Arabia is raising oil prices in its exports to Asia.
In premarket trading, West Texas Intermediate crude oil was trading over $50, while Brent crude was over $56.
8. -- Greece owes an important debt repayment this week to the International Monetary Fund. Despite some initial concern, the IMF's Christine Lagarde met with Greek finance minister Yanis Varoufakis and said that the debt would be paid.
The Greek government is still waiting on European approval of a series of financial reforms. If the European government approves the changes, Greece will have an extension on repayment of its heavy debt load.
9. -- In the midst of tax season, the IRS has warned that phone scammers are taking advantage of the impending April 15 tax deadline to harass potential victims.
"Our way of contacting you is by letter," said IRS Commissioner John Koskinen in a talk last week.
10. -- When aluminum producer Alcoa (AA) - Get Report reports its earnings on Wednesday, it will mark the unofficial opening of earnings season. Analysts expect Alcoa to earn 25 cents per share this quarter, a drop from last quarter but up from a year ago.
Several retailers will also report earnings this week, including
Bed Bath & Beyond
(BBBY) - Get Report
and
Rite Aid
(RAD) - Get Report
.