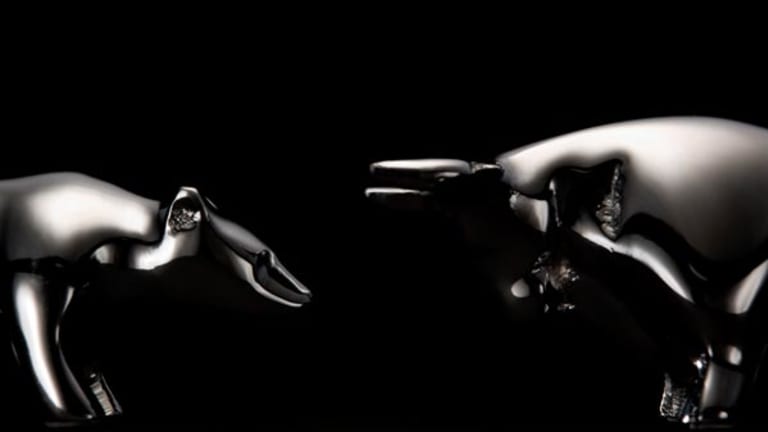 April 22 Premarket Briefing: 10 Things You Should Know
U.S. stock futures are dropping on a busy earnings day with multiple housing and real estate reports.
U.S. stock futures are dropping on a busy earnings day with multiple housing and real estate reports.
Updated from 7:05 a.m.
NEW YORK (TheStreet) -- Here are 10 things you should know for Wednesday, April 22:
1. -- U.S. stock futures were dropping on a busy earnings day with multiple housing and real estate reports.
European stocks opened at new highs, then plummeted over domestic worries and a continued fear of a Greek exit from the eurozone.
2. -- The economic calendar in the U.S. on Wednesday includes the Mortgage Bankers' Association mortgage applications data at 7 a.m., the Federal Housing Finance Agency house price index at 9 a.m., existing home sales data at 10 a.m. and the Energy Information Administration petroleum status report at 10:30 a.m.
3. -- U.S. stocks on Tuesday closed mixed in a big day for earnings.
The Dow Jones Industrial Average (DIA) - Get Report sank 0.47% to 17,949.59. The S&P 500 (SPY) - Get Report closed off 0.15% to 2,097.29. The Nasdaq (QQQ) - Get Report rose 0.39% to 5,014.10.
4. -- Google (GOOG) - Get Report (GOOGL) - Get Report will announce an expansion into a wireless service as soon as Wednesday, according to a report in the Wall Street Journal. And the service looks ready to charge customers only for the minutes they actually use. The service will rely on Sprint (S) - Get Report and T-Mobile (TMUS) - Get Report networks to carry the calls.
The new move would shake up the mobile phone business, which makes money on minutes that customers pay for but don't use. The industry is in a price war already, so Google's entry into the market will likely reshape the industry further. Google has already affected the mobile phone market through creating its popular Android OS for mobile phones.
In premarket trading, Google's GOOG share class was down 0.19%.
5. -- "Everything store" Amazon (AMZN) - Get Report has moved into yet another field of e-commerce: hotel booking. Amazon launched Amazon Destinations as part of its Amazon Local service, without much fanfare. The site helps customers book nearby, short-term getaways.
Amazon's new site will compete against Expedia (EXPE) - Get Report, Orbitz (OWW) and Priceline.com's (PCLN) Booking.com, which offer similar deals on hotels and short-term trips.
In premarket trading, Amazon stock was rising 0.18%.
6. -- Oil services company Baker Hughes (BHI) is the latest oil company to announce large-scale layoffs. Baker Hughes will cut 17% of its workforce, or 10,500 jobs, the company said. The firings are part of a bid to save $700 million a year as oil prices slump and domestic oil production declines.
In premarket trading, Baker Hughes stock was down 0.07%.
7. -- A high-frequency futures trader faces an extradition hearing in London for his role in the "flash crash" of May 6, 2010, when the Dow Jones Industrial Average dropped almost 9% in a few minutes and then rebounded. The U.S. Department of Justice says Navinder Singh Sarao manipulated markets by placing and then withdrawing huge futures orders, known as "spoofing," in a bid to drive S&P 500 futures down and make money on futures contracts.
The DOJ heard about Sarao's role in the flash crash due to an anonymous tip. Regulators have been looking into the crash from the moment it happened.
8. -- The Bank of England will hold interest rates at their record low of 0.5% for now, although officials said they had hopes that a European recovery would eventually restart inflation. British consumer price inflation is at a low of 0%.
9. -- The carmaker market has had some shakeups at the top. Rolls Royce (RYCEY) replaced its CEO, John Rishton, with a board member, Warren East. The new CEO, East, was previously the CEO of ARM Holdings (ARMH) . Rolls Royce has been cutting jobs after a sales drop.
In a similar move, Volvo (VOLVY) announced that it will replace its CEO, Olof Persson, with Martin Lundstedt in October. Lundstedt runs the truckmaker Scania (SVKBF) .
In premarket trading, Rolls Royce ADRs were level, as were Volvo ADRs. Yes the stocks were bounding upward in European trading by 3.3% and 13.5%, respectively.
10. -- A slew of earnings reports come in today, including Abbot Laboratories (ABT) - Get Report, Bank of New York Mellon  (BK) - Get Report, Boeing (BA) - Get Report, Coca-Cola  (KO) - Get Report and McDonald's (MCD) - Get Report before the opening bell. After the closing bell, AT&T (T) - Get Report, eBay  (EBAY) - Get Report, Facebook  (FB) - Get Report and Qualcomm (QCOM) - Get Report all report earnings.