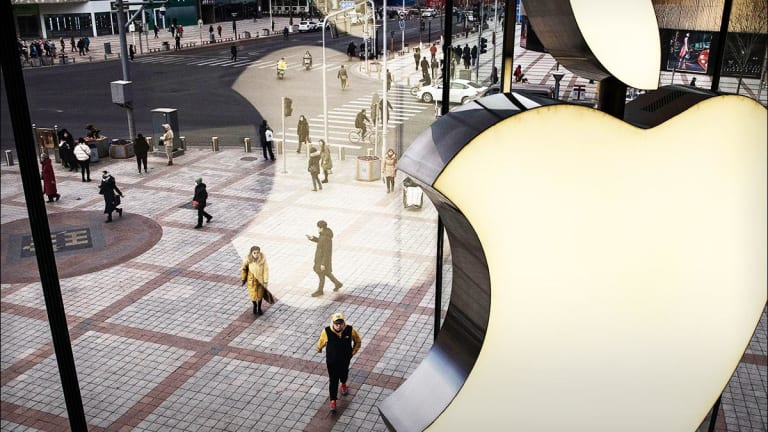 Apple's Zero-Cash Goal Could Be a Cause for Concern in a Few Years
Apple has $130 billion in net cash, which it pledges to bring to zero at an unspecified time. But how will the company please investors on the way to that singular event, which may come in 2023, and thereafter?
Apple  (AAPL) - Get Apple Inc. Report  has a $130-billon problem, and it could impact the company's stock down the line.
The tech giant has said it plans to reduce its net cash position to zero, a process that could take several years to address. The question is what happens then, and what happens on the way to that event?
A very large acquisition seems unlikely for Apple, which has never done huge deals. Hence, the reduction of Apple's cash will likely happen through buying back stock and paying dividends, as has been its practice. 
A vexing trade-off may face Apple: some investors might want more cash sooner, but that would hasten the inevitable -- the arrival of a day when Apple doesn't have as much money to spend on buybacks and dividends.
Come 2023, will investors balk at an Apple suddenly less generous with its capital returns? And if Apple puts off that day as much as possible, plodding along with no significant increase in capital returns, will it lose the support of those fickle buyers hungry for shares with meaningful dividend buyback increases every year? 
It's a prospect few are focused on, given a myriad of other pressing challenges, such as the overall slowing of the smartphone market, and increased competition from Samsung Electronics (SSNLF) and Huawei.
Apple had $245 billion of gross cash and equivalents, including long-term securities, at the end of December, according to its most recent earnings statement. It had roughly $115 billion of long-term debt and commercial paper. That yields a net cash position of $130 billion, down from $163 billion a year earlier, according to Apple's capital returns data. 
In January's conference call with analysts, chief financial officer Luca Maestri reiterated the intention the company has been putting forward for almost a year now: "It is our plan to reach a net cash neutral position over time," he said.
Shebly Seyrafi, who follows the company for FBN Securities, explains the math. Apple's capital return program is running at about $100 billion annually, as he sees it. The company is probably going to generate about $70 billion in free cash flow this year. If Apple spends all its free cash flow on buybacks and dividends, that implies another $30 billion drawdown of gross cash. Divide $130 billion in net cash by a drawdown of $30 billion annually, and it would take just over four years to burn off the balance. 
There's some risk investors could be worried when that threshold comes, he concedes.
"If [Apple] caps their capital returns at $100 billion in 2023, because they're at net cash of zero, and they're not willing to go negative, investors could care to the extent that there has been a rotation [into the stock] by investors who care more about dividends," Seyrafi says. Investors might also care about the prospect that Apple would have less ability to "juice up" its earnings per share with buybacks, observes Seyrafi.
April or May is usually the time when Apple updates its capital returns program. Last year saw a big hike to that plan. The company hiked its buyback authorization by $100 billion, while raising its dividend by 16%, both larger increases than the $50 billion and 10.5%, respectively, in 2017.
Analysts don't seem to expect fireworks again this year, although it's possible the company can be more aggressive this year, given that the stock is 25% off from its highs at a recent $173, says Seyrafi. An open question is just how much of Apple's cash is offshore. A year ago, it was 94% of gross cash. But Apple hasn't disclosed the percentage in recent quarters. While one would expect some repatriation, given Congress's revised tax rates, this could be a limiting factor.
Regardless of what happens next, Apple is still a "buy" for many because of that gusher of buybacks. "It's a great floor under the share price," says Laura Martin of Needham & Co., who has a $180 price target.
FBN's Seyrafi is similarly bullish, with a $190 price target and an Outperform rating. With Apple's enterprise value (market cap less debt) of $687 billion or so, and with nearly $70 billion in free cash flow per year, "the company is giving you a 10% return while you wait," he says.
"That's very attractive, even with all the challenges they have."
"Expectations are low," notes Seyrafi. "You want to buy stock when there are problems, and by the time they fix those problems, the stock will be much higher."
Apple is a holding in Jim Cramer'sAction Alerts PLUS Charitable Trust Portfolio. Want to be alerted before Cramer buys or sells AAPL? Learn more now.
A Special Invitation:Do you want to learn more about planning for and living retirement from the nation's top experts, including Ed Slott and Robert Powell, the editor of TheStreet's Retirement Daily? Want to learn how to create tax-efficient income in retirement and how to manage and mitigate all the risks you'll face in retirement? Then sign up to attend TheStreet's Retirement Strategies Symposium on April 6 in New York City. For a limited time, you can attend this extraordinary symposium for $149 - a cost savings of $50 off the general admission price of $199.
You can see the full day's agenda, learn about the guest speakers and sign up HERE for this special event.
Tiernan Ray neither owns nor trades any shares of any companies mentioned in the article.