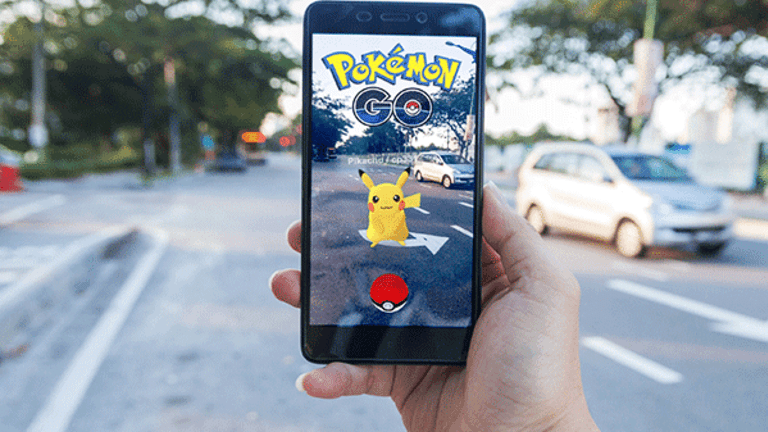 Apple Blowing Away Google in Augmented Reality?
For now, Apple's AR platform is better-positioned for takeoff than Google's. But things could look different down the line.
Considering how many years Alphabet Inc./Google (GOOGL) - Get Alphabet Inc. Class A Report has spent tinkering away at augmented reality (AR) solutions, it was a little stunning to see Apple Inc. (AAPL) - Get Apple Inc. (AAPL) Report steal a march on Google in June by unveiling what's now likely to be the first AR platform to be embraced by tens (and quite possibly hundreds) of millions of consumers. But Google, to its credit, just swallowed its pride and dramatically overhauled its AR strategy in response to Apple's move.
In the short-term at least, Apple's AR platform is likely to see stronger consumer and developer adoption than Google's for reasons that go well beyond the fact it was unveiled a little earlier. In the long-term, though, Apple and Google's early battles for AR leadership will probably feel like a distant memory. The bigger story will be how much AR -- whether on phones, tablets or headsets paired with phones -- will have led many consumers to rethink what mobile devices are good for.
This column originally appeared on August 30 on Real Money, our premium site for active traders. Click here to get more great columns like this.
In many respects, Apple's ARKit platform for iOS, unveiled at the company's WWDC developers conference, has much in common with Google's ARCore platform for Android, unveiled just this week. Both let developers write AR apps -- that is, apps that can place virtual objects within a user's real-world view, much as a game like Pokemon Go does -- that don't need specialized hardware to work; the cameras and motion sensors found on many existing smartphones and tablets are good enough. That makes the platforms quite different from Google's older Tango AR platform, which is powerful but requires specialized components and thus has limited hardware support.
Both ARKit and ARCore work with cameras and sensors to do things like accurately place virtual objects on surfaces, measure the distance between objects, track a device's movements and analyze an environment's lighting to optimize how a virtual object looks. "I think a developer who's built something for ARCore would find it pretty straightforward to bring it to ARKit and vice versa," insists Google AR/VR chief Clay Bavor.
But when one contrasts the first demos Google provided for ARCore with the first apps that developers have written for ARKit, it looks as if Google still has some catching up to do. At first glance, Google's promo video for ARCore looks impressive enough: It shows things like animated Wizard of Oz characters standing next to actual people and users manipulating cartoon-like 3D objects (a home, mountains, etc.) placed on a table. However, as CNET observes, that pales compared to some of the things pulled off by ARKit apps in development.
These things include creating a digital measuring tape for real-world objects, building a game that requires navigating a character through a virtual puzzle by moving one's iPhone or iPad around and (as shown by an app for AMC's The Walking Dead) creating objects that only appear at a certain point during an app experience. And if reports about the iPhone 8 featuring cameras supporting 3D depth-sensing are accurate, iPhone 8 users might also be able to create 3D scans of real-world objects that can later be added to AR apps. Qualcomm Inc. (QCOM) - Get QUALCOMM Incorporated Report is working on something similar for Snapdragon processors meant for Android phones, but it will take time for the technology to make its way to real-world devices.
More of What's Trending on TheStreet:
There's also the issue of scale. ARKit supports any iPhone or iPad featuring Apple's A9 processor or something better. In practice, that means any iPhone launched since the 6S, and any iPad launched since the original 12.9-inch iPad Pro. Thus, hundreds of millions of iDevices will support ARKit as soon as they upgrade to iOS 11, which launches in September.
For now, ARCore only supports Google Pixel phones and Samsung Galaxy S8 models running Android 7.0 (Nougat) or above. Google says it's "targeting" support for 100 million Android devices -- about 5% of active Android devices -- by the time ARCore comes out of preview mode, which is set for this winter.
As TechCrunch's Matthew Panzarino points out, hardware support is a more daunting challenge for Google than Apple, since it needs to support a wide variety of processors, cameras and motion sensors used by Android devices while making sure the processing is done efficiently enough to keep performance or power draw from being issues. Apple, which only needs to support its A-series processors and image and motion sensors from one or two suppliers, and whose vertical integration helps its devices run iOS code efficiently, has it easier.
For at least the next several months, and perhaps longer, ARKit and the apps due to support it should provide Apple with a unique selling point for its newer hardware. Both to Android users and to users of older iPhones and iPads. Over the long run, however, Google, aided by Moore's Law and the time-tested ability of its engineers to gradually improve the efficiency of their mobile code, should be able to deliver a comparable experience for many mid-range and high-end Android users via ARCore.
From that perspective, what really matters for Apple and Google is the extent to which compelling AR apps grow the amount of time spent by consumers on mobile devices and create new opportunities for monetizing apps. While some of the first AR apps will no doubt seem gimmicky, others shine a light on the tremendous potential that exists in areas such as commerce, education and gaming.
Just as Pokemon Go turned into a gold mine for Nintendo and developer Niantic, AR games relying on ARKit and ARCore could produce revenue either via paid download or in-app purchases of virtual objects (Apple or Google would get a 30% cut). Likewise, an IKEA ARKit app that lets users see what furniture would look like if set in their homes and a Food Network app that lets users set a virtual dessert on a table could be a sign of the kind of AR commerce experiences Amazon.com Inc. (AMZN) - Get Amazon.com, Inc. Report and others will support in time.
What Jim Cramer thinks about Apple's new products. 
For Google and Facebook Inc. (FB) - Get Facebook, Inc. Class A Report , owners of the two biggest mobile ad networks, there should eventually be opportunities to connect developers with advertisers willing to pay to have their virtual objects placed within AR apps and games. Here, Snap Inc.'s (SNAP) - Get Snap, Inc. Class A Report success selling "sponsored" lenses and filters for photos and videos is likely a sign of things to come.
Down the line, AR glasses that can surface content on top of a real-world view without requiring that an app be loaded should also be an important part of the story. Bloomberg reported earlier this year that Apple is working on a pair that could launch in 2018. Google, of course, saw its Glass AR platform sputter thanks to a mixture of poor PR and execution. But Glass has nonetheless gained a foothold in the business world, and could provide a foundation for a second push in this space.
Microsoft Corp. (MSFT) - Get Microsoft Corporation (MSFT) Report is also out there with its HoloLens AR headset. But the fact HoloLens is currently meant just for indoor use, together with Microsoft's lack of a popular mobile OS, puts the company in a tough spot.
Regardless of how the AR glasses market plays out, the AR experiences due to be delivered on smartphones should be enough to occupy the imaginations of developers and consumers in the short-term. For now, Apple will play a bigger role than Google in doing this, but things should even out within a couple years' time, if not sooner.
Jim Cramer and the AAP team hold positions in Apple, Alphabet and Facebook for their
Action Alerts PLUS Charitable Trust Portfolio
.