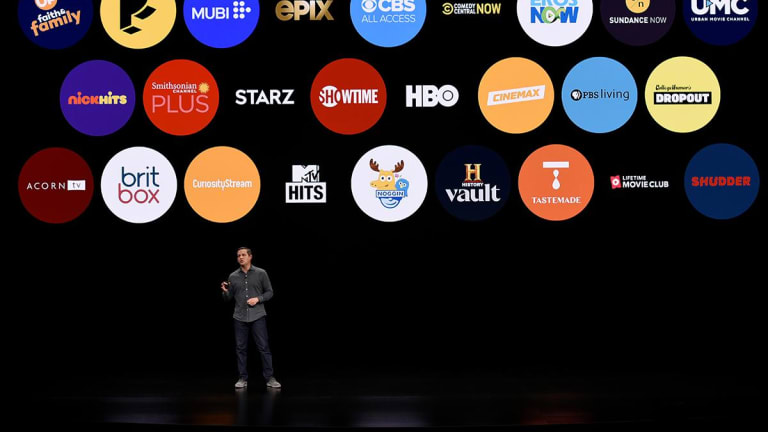 Apple Is One of the Most Undervalued Opportunities in Tech Right Now
Apple remains out of favor with investors and trading too cheaply relative to its Services opportunity.
Apple's (AAPL) - Get Apple Inc. Report meaningful announcement on Monday of its determination to be an asset-light services business was largely met with investor apathy. On the other hand, I believe that Apple is one of the most undervalued opportunities in tech right now.
The Big Event
Apple's "It's show time" on Monday was a landmark event. Apple is essentially offering its one billion-plus active installed base reasons to remain part of its ecosystem. Apple's event described how video, magazines, newspapers and games will all soon be consumed through its platform.
Admittedly, there was so much hype and rumors being circulated pre-event that it ultimately failed to live up to those high expectations. Nevertheless, it was the moment that Apple needed to signal to investors that the battle to take on the entertainment industry was on.
Are Services Meaningful?
As is widely known, Apple's iPhone sales have been stagnant for a while. Apple's market for mobile devices had largely saturated, but Apple's ecosystem has a huge and loyal following. Thus, its Services are a reason for its customer base to remain part of the convenience its sticky ecosystem offers.
For Apple, this means two things. First, Apple's pivot from a hardware company to an asset-light company is now officially underway. Secondly, and potentially more significantly, investors should not expect Apple's operating margins of high 20s% to meaningfully improve -- at least for some years.
Revenue Growth but Weaker Margins
While Apple was focused on being a hardware company, it had spent years, if not more than a decade attempting to optimize its manufacturing and distribution chain. If we look back at the strides that Apple made from around fiscal 2016, when its operating margins were less than 11%, to its latest trailing twelve months of 26%, we can see just how long it takes to iron out a business model, even for a company with as much talent as Apple.
Similarly, despite spending $12 billion on content during 2018, Netflix's (NFLX) - Get Netflix Inc. Report operating margins are still around 10%, with the goal of getting these margins up to 13% by year-end 2019. And even then, we should note, Netflix is in the privileged position of being able to post heavy cash losses while investors are all too happy to accept an "accounting" profit.
On the other hand, Apple, with iPhone sales stagnating, absolutely needs to post both strong margins and solid free cash flow for investors to be satisfied. Apple has as its goal to get Services revenue up to $50 billion by 2020. And even that amount of revenue would only account for less than 20% of its total revenue stream.
Furthermore, as we have seen over the last few years, the fight for scripted content is not only fierce but incredibly expensive too. Even well-financed Alphabet's (GOOGL) - Get Alphabet Inc. Report YouTube has decided to call it a day on original content.
Investing Through Uncertainty
As value investors, we are taught time and time again that there is a huge difference between a risky investment and an uncertain investment. Realistically, Apple has all the traits of an uncertain investment, with huge question marks over whether Apple will ultimately succeed in pivoting its business strategy away from selling gadgets to selling entertainment. But the fact remains that the risks of investing in Apple have already largely been accounted for at its current valuation.
As the table above shows, investors are exuberant when it comes to Netflix, paying up more than 10 times its trailing revenue, which is up from its 5-year historical average of 7.3 times. Netflix is able to boast having close to 150 million subscribers, with expected 2019 revenue of approximately $20 billion. But how do these figures compare with Apple's net cash position of $130 billion in revenue, one billion active installed devices and a price that's just 3.5 times trailing revenue? I contend that there is no realistic comparison and that it is difficult to make the case for Apple being a risky investment at present.
The Bottom Line
Bill Gates said that we overestimate the change that will occur in the next two years and underestimate the change that will occur in the next ten. Apple TV+ has been speculated to be a Netflix killer. The truth of the matter is that it takes a while for any significant business model change to gain traction. But that does not mean that it won't.
Yet investors, for now, remain unenthused and uninterested in investing in this strong cash flow generating compounder while it's trading cheaply.
Apple and Alphabet are holdings in Jim Cramer'sAction Alerts PLUS Charitable Trust Portfolio. Want to be alerted before Cramer buys or sells AAPL or GOOGL? Learn more now.
Will You Have Enough Money to Retire?
Want to learn about retirement planning from some of the nation's top experts? Join TheStreet's Robert "Mr. Retirement" Powell live in New York on April 6 for our Retirement Strategies Symposium. For a limited time, tickets are available for $99 for this full-day event. Check out the agenda, learn about the speakers and sign up here.
I have no position in any stocks mentioned.